The living room is a multifaceted space – its purpose can be redefined with every use. Whether it's your morning gym, your midday office or your evening family playground, the living room is the welcoming heart of the household.
Such an important space should reflect your passions and your style, exhibiting your wonderful sense of individuality. We know that you will strive to find perfection with your living room décor and we are delighted to help you find the ideal designer rug that will add a touch of magic to your space.
Know the purpose of your living room rug
Begin the journey of finding your ideal rug with the question of how you envision using it. A living room rug will naturally provide you with many benefits but focus your mind on your primary vision.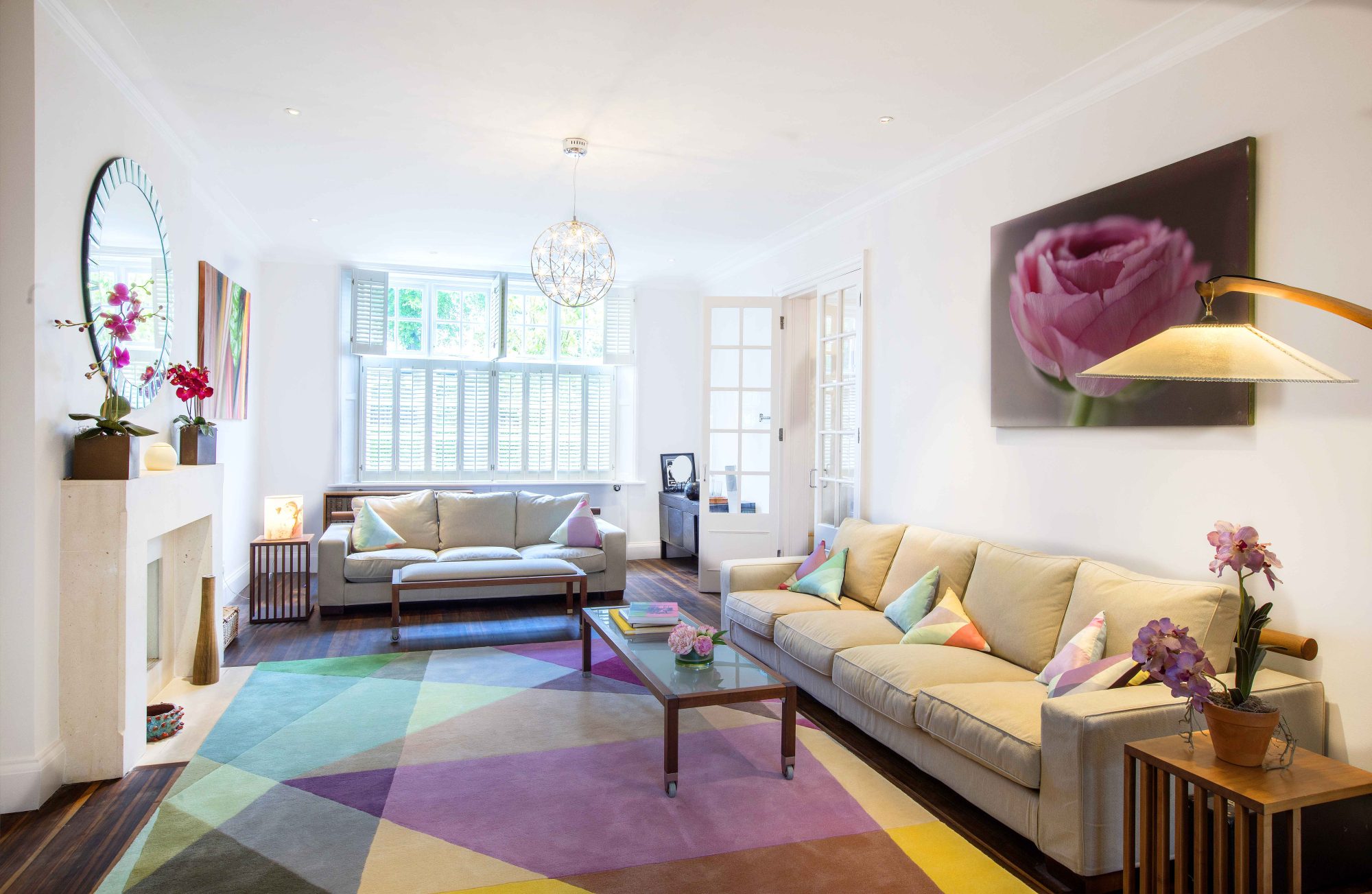 For instance, if your living room is decorated in neutral tones, you may wish to place a vibrant rug to bring a splash of colour and playfulness to the space. Or you may have a lack of texture diversity – in which case a long pile wool rug can add interest and variation. A graphic, modern rug offers the opportunity to integrate more patterns into a living room design that's centred on plain fabrics.
Towards the more practical side, an area rug can act as a sound absorber, improving the acoustics and creating a more tranquil space for you to relax in. For hardwood flooring, a high-quality rug is invaluable in protecting the wood against scratches, dirt build-up and general wear in a high traffic area.
Measure the space for you living room area rug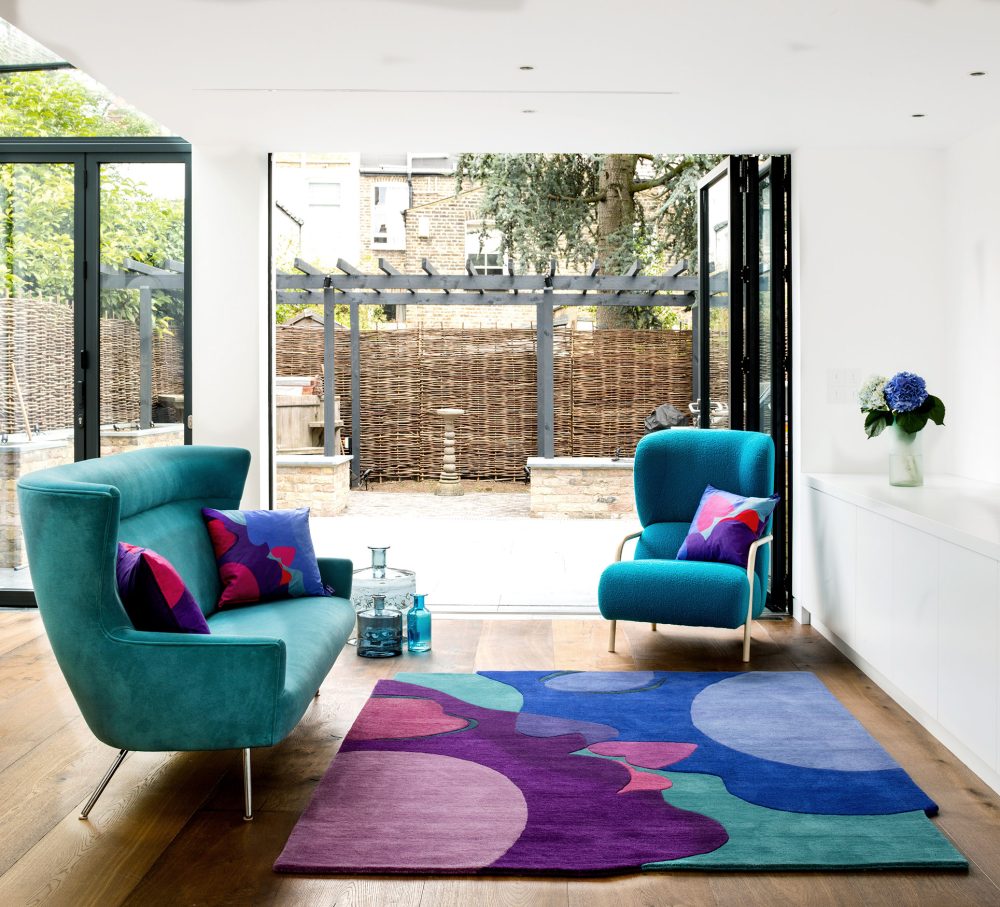 Once you have found your rug's function, you can start looking for the appropriate size. We recommend an area rug if you wish to picture-frame the seating section of the living room. In this case, you will need a rug large enough to be placed underneath the sofa, armchair and coffee table. An area rug will work as an anchor for the furniture, unifying the seating section, so ensure that the front legs of the sofa or armchairs are placed upon the rug.
You may hesitate to purchase a rug that seems too large for your space, to which we say: 'the bigger the better'. However, be sure to leave at least six inches of floor space around the edges of your area rug.
If an area rug really feels too big for your purposes, consider dotting several smaller rugs around the room – underneath the coffee table, in front of the window or by an interesting art piece. Small rugs will bring comfort to your space while accentuating the colours in your accessories – an effortless way to bolster your interior style.
Decide on the living room rug shape
We are always excited to experiment with irregular shapes, as can be seen across our contemporary rug collection and especially in our most popular design: the After Matisse. These graphic collages, translated into floor art through the magic of weaving, are at the cutting-edge of contemporary design and are sure to enhance your décor.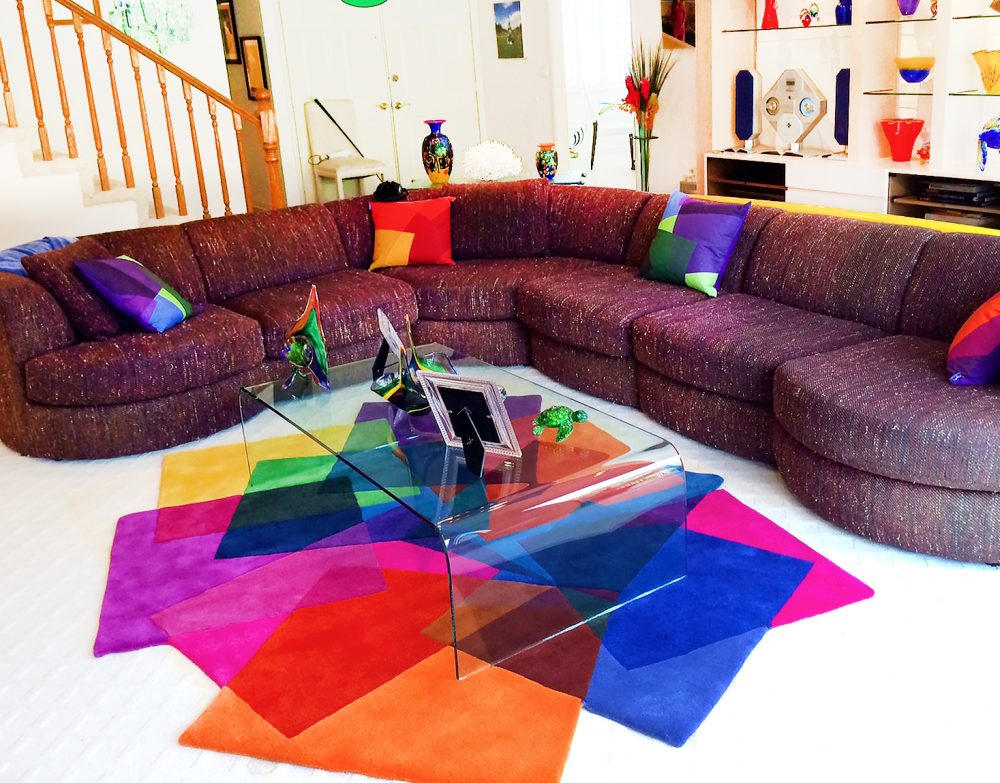 A rectangular rug can bring sophistication when paired with the clean lines of a sleek, modern living room. The softer edges of a round rug will blend seamlessly into a more bohemian interior or when following the curved lines of a modern sofa in a minimalist interior.
Find the right rug colour for your living room
The same care given when choosing paintings for the walls needs to be echoed in your choice of modern rugs for the floors. A contemporary rug is a piece of floor art – it has the power to transform your mood. Therefore, its colours should be considered with care so the atmosphere you create is one you will enjoy relaxing in time and time again.
Thanks to Sonya's colour expertise, our vibrant rugs are created through experimentations in transparency and grounded in colour psychology. Sonya has used her knowledge in a previous guide, Room Colours: How to Use Colour to Change Your Space, to look in-depth at the effect of different colours in your interior design.
In the living room, you may wish to have a rug that complements your primary colour scheme – to find the right fit, identify your colour palette and look for, or customise, a rug to reflect it. However, if you wish for your floor art to become the focal point of the room, opt for bold colours.
Match the patterns and materials of the living room rug
Contrast plays an important part in creating a delightful interior, so your rug material should work in conjunction with the living room furniture whilst also adding depth to the design. If your sitting room is filled with smooth, polished and mirrored surfaces, then a thick-pile wool rug can provide some much-needed textural variation.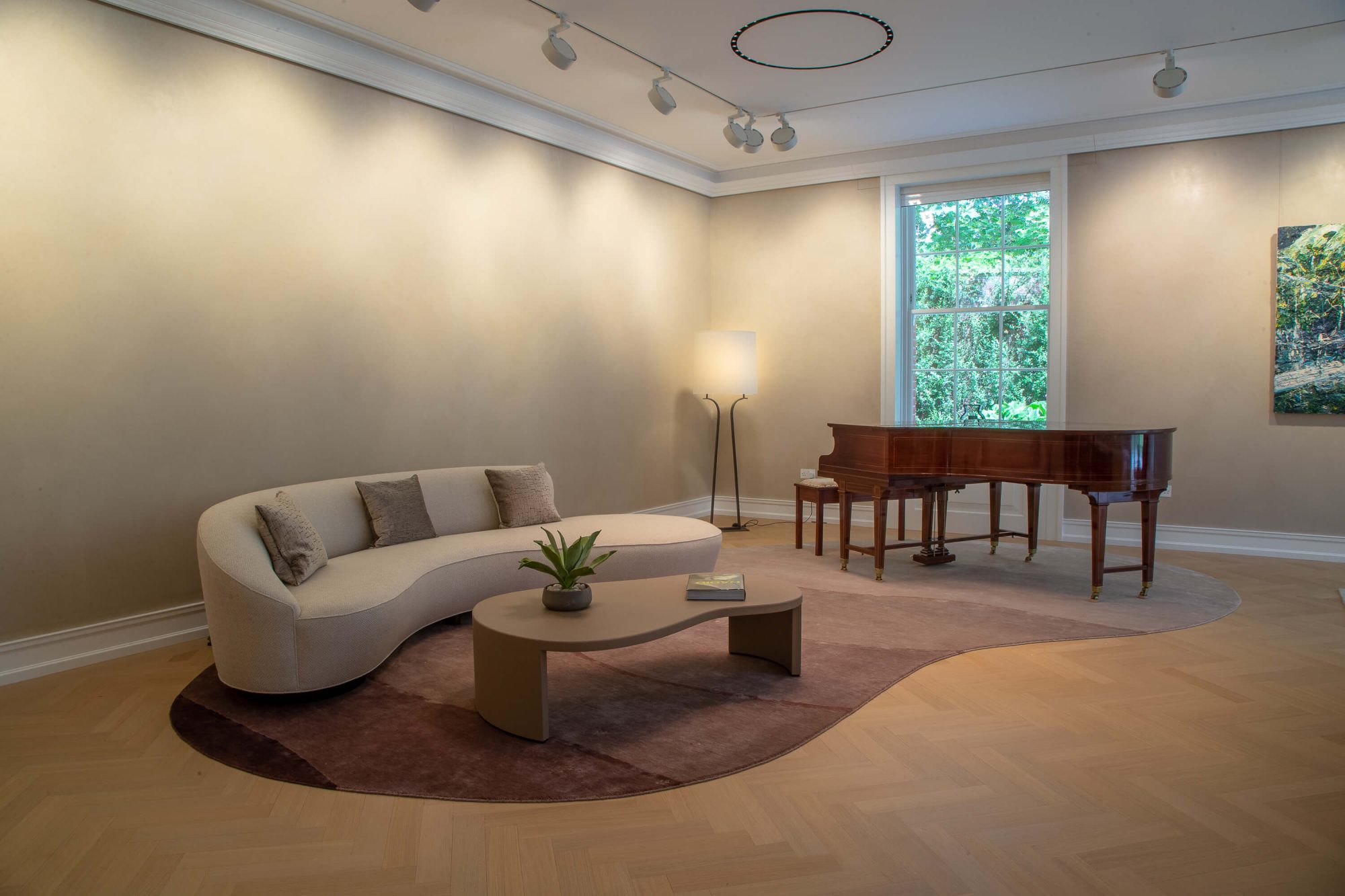 Most of our rugs are hand-knotted or hand-tufted in pure New Zealand wool – one of the most durable, easily cleanable and plush materials for rug making – in other words, ideal for a high traffic area such as the living room. Wool rugs also make for timeless investments when chosen for the quality of their craftsmanship.
Spend the time to get the perfect living room rug
We would be delighted to help you find the perfect rug for your living room with our brand new free Digital Visualisation tool. Just find a design that you love and underneath its 'Add to cart' button will be the option to 'Visualise this rug in your room'.
Once clicked, you will be asked to provide some photographs and measurements of your space along with any other Sonya Winner designs that you love. After submitting the form, we shall take two working days to get back to you with the digital visualisations of your favourite rugs in your space so you can choose the ideal piece.