Have you ever explored our website's ex-display section? Let us tell you more about our 'one off' samples and ex-display pieces…
Our sample and ex-display rugs give our customers the chance to purchase one of Sonya's vibrant contemporary rugs at a deep discount price.
Occasionally one of the designer rugs on sale will be one of our most popular designs at ex-display prices, as well as unseen designs which have only ever been sampled! Our ex-display and sample pieces are offered at a variety of discounts from their retail price.
Sample pieces
We're always creating at the studio, and new designs are frequently woven as trials by our artisan weavers in India. This can include new colour ways of our contemporary rugs, rugs woven in alternative materials such as silk, and prototypes of brand new rug designs.
When we work with new weaving teams their first samples, even though on first impression may look perfect, often do not meet with Sonya's exacting standards. We usually ask new weavers to make a number of samples improving them each time until they reach the luxury quality Sonya and our team are happy with and are confident the weavers can maintain.
When these sample designer rugs arrive at the studio, they are extensively quality checked and examined by Sonya and the studio team to check colour accuracy, shape accuracy and weaving quality. If any rugs do not pass Sonya's quality control these sample rugs are not listed in our main rug shop – instead, we sell them at a reduced price in the ex-display area of our website.
Some of the samples included in our collection include unique designs which were manufactured as tests for new designs – such as this rug, which was an early prototype for our collaboration with Jade Purple Brown.
Every few years we hold a designer rug sale. Buying a sample rug in one of these rug sales or from our ex-display page means that you will own a unique, one-of-a-kind luxury rug from Sonya Winner Studio. Some of the designs in our sample sales will not be manufactured again, and are therefore are one-off represent a way to own a unique luxury rug piece.
Ex Display Rugs
As well as our exclusive sample pieces, our ex-display website section features a variety of rugs that have previously been displayed in our showroom or at exhibitions.
Our ex-display rugs are available in used quality. When they are in use at an exhibition, our luxury rugs may be stepped on many times over the course of a few days! Our ex-showroom rugs have also been subject to being on display – occasionally for years at a time – and this may be reflected by a slightly faded or areas of fluffing.
For example, this Colour Canyon Rug which has been well-loved in our showroom. It is sold as ex-display due to the fading which has occurred due to exposure to sunlight in our south facing shop window which is always bathed in light..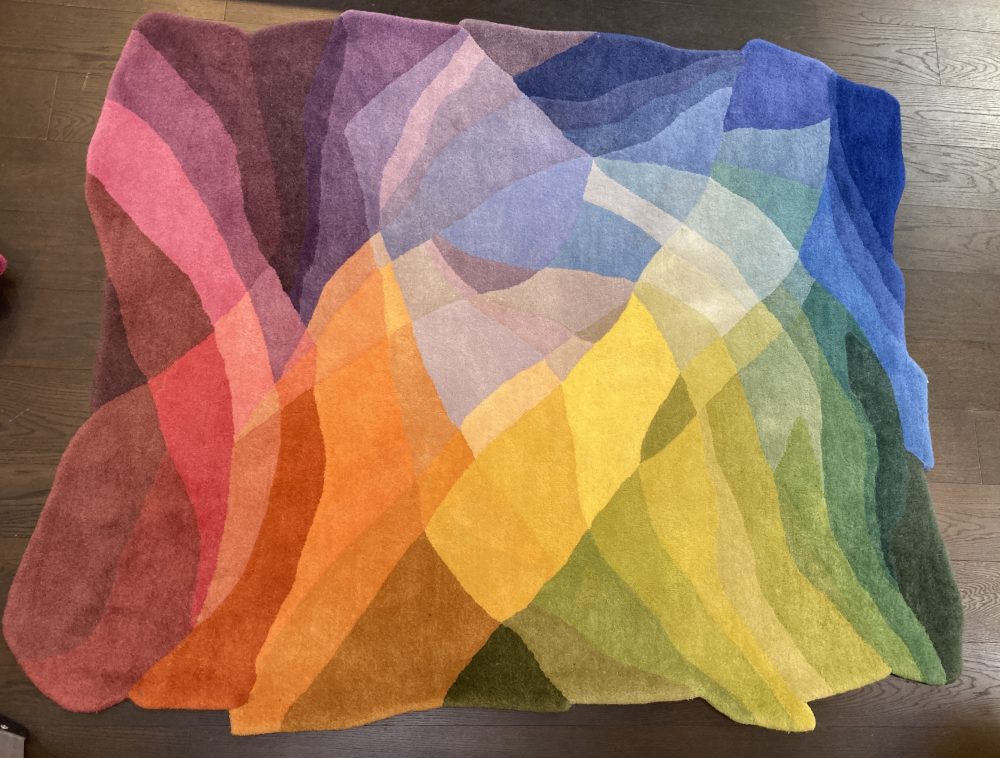 Buying an ex-display rug is a fantastic opportunity to own one of Sonya's vibrant contemporary designs at an unheard of price! These rugs often feature minor imperfections, such as areas of fading or some minor stains or marks. The flaws in these rugs are shown in the pictures online or description in the product description. They are sold as non – returnable items.
Explore our collection of ex-display and sample rugs HERE.