Feng Shui is an ancient art and science developed in China, focusing on the balancing of energies within environments. Its key principles stem from the Chinese philosophy of Taoism. There is evidence that these principles were applied in the design of ancient Chinese homes and towns. It has remained an integral part of Chinese culture through the millenniums and has, in recent years, become a key theory in Western culture.
Though Feng Shui has numerous characteristics, many of its applications surround the orientation and decoration of interiors. In its simplest form, Feng Shui is the arrangement of objects and space within a room to create harmony, balance and attract positive energy to those residing in the home.
So what key factors should be considered when choosing your contemporary rug to cultivate optimal positive energy? Let's start with the Feng Shui basics…
The five elements of Feng Shui
The ancient art of Feng Shui divides the world into five elements: fire, earth, water, wood, and metal. Each of them brings energy that is associated with certain qualities. When imbalanced – where one element is too dominant or another too weak – negative energy is then generated in your home. The aim when applying Feng Shui principles is to balance these elements through placement, shapes, colours, and decoration to bring positive energy into your home.
Element 1 – Fire
The Fire Element epresents passion, fame, and visibility – adding more fire to a home can help you to express yourself.  Sharp, irregular shapes are associated with Fire, complemented by vibrant reds and oranges.
Element 2 – Earth
The Earth Element brings wellbeing – it is stable and grounding.  If you feel anxious, you may need more earth in your home.  The Earth Element is associated with yellow and brown colours, and décor such as plants.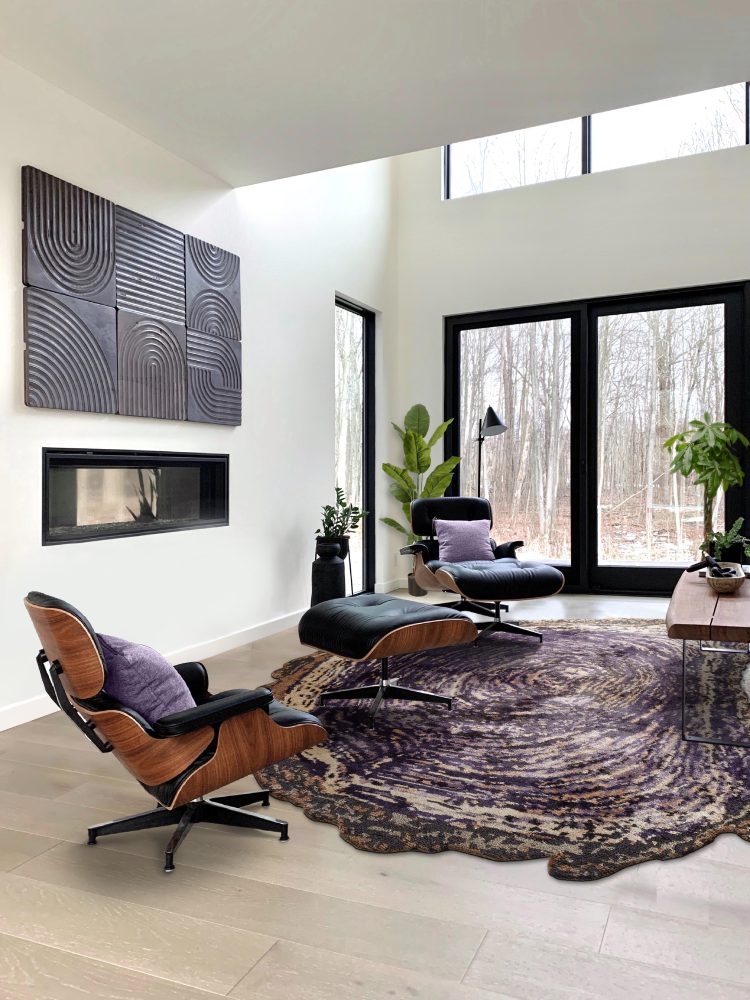 Element 3 – Water
Water is associated with wisdom and depth, helping us to build connections and develop our insight. Colours such as blacks and blues promote the Water Element, as well as fluid, curved shapes.
Element 4 – Wood
Wood relates to flexibility, growth, and healing. If you're hoping for new beginnings, you may need to bring more of the Wood Element into your home.  Wood is connected to greens and teals; this element can also be promoted through plants and greenery.
Element 5 – Metal
Finally, the Metal Element has connections to beauty and joy, and promotes confidence and rationality. Whites and greys relate to metal, as does neutral décor.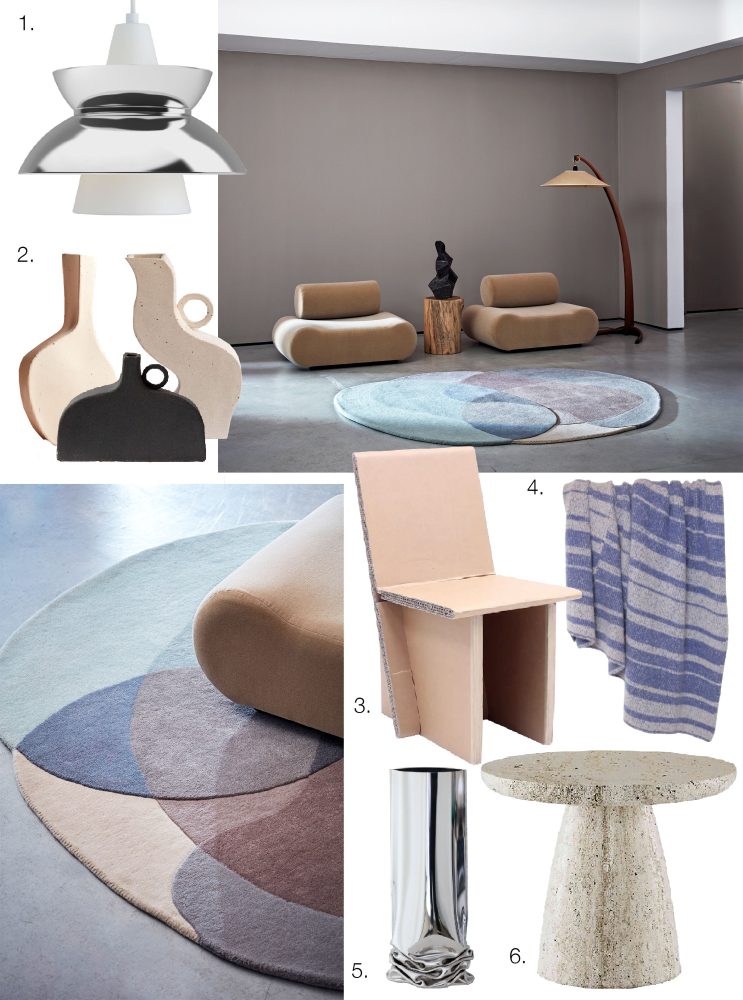 With the characteristics of the five elements in mind, choosing the right luxury rug is key when looking to obtain harmony and positive energy within your home. There are multiple elements to consider within the practice of Feng Shui. Applying these principles when choosing a contemporary rug can help to guide your choice and help you find greater zen.
Luxury Rug colours to enhance Feng Shui
Choosing the perfect colour for your designer rug is essential. Adopting the principles of Feng Shui can ensure the colour of your rug radiates positive energy.
Choosing an area rug in fresh blue shades can attract peace and promote the flow of tranquillity into your home. Choose a blue rug such as our After Albers Cornflower and Aqua Teal Sea rugs to enhance the Water Element and ensure balance and clarity.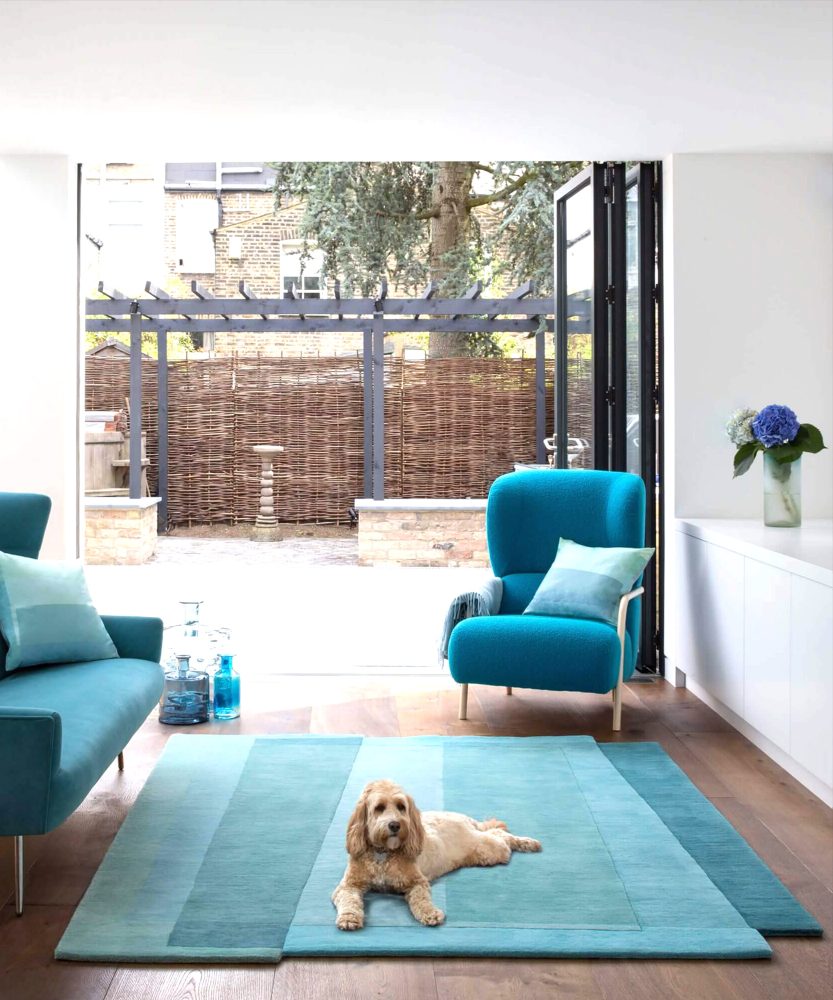 On the other hand, a fiery red wool rug is thought to bring tones of passion, wealth, and vibrancy to a Feng Shui home. A rug rich in reds and orange such as the Circle-ish Sunset can enhance the Fire Element and bring good fortune and passion.
A green colour palette is a great choice for a contemporary rug. Green hues enhance the Wood Element and promote Feng Shui by adding healing qualities and flexibility to a room. To enhance Feng Shui in your home, choose one of our green designer rugs such as the Jellybean Lime, Amoeba Fresh or Capsule Runner Fresh.
Contemporary Rug shapes to promote Feng Shui
There is no underestimating the importance of shape in Feng Shui principles. Designer rugs come in plenty of shapes, so it's wise to consider which shape is right when planning your Feng Shui home.
Square and rectangular rugs are the most common rug shape and one that you may naturally gravitate towards. This shape of a luxury rug is thought to bring balance and calm to a room. Rectangular rugs such as our Rosie Rug, and square rugs like our Rainbow Rug are great contemporary rug choices. They help to promote Feng Shui and bring balance and gravity to a room.
Round rugs are believed to be a positive influence on the Feng Shui of a home. Their lack of corners does not disrupt the 'flow' of a room, and round shapes are believed to be symbolic of peace and spirituality. A round wool rug is perfect for a home looking to promote tranquillity. Our Echoes of Light Green Rug is a great choice for a Feng Shui home. Its fluid spirals and blue tones resonate with the Water Element.
Irregular contemporary rugs are thought to have powerful energy, promoting wealth and structure in a home. Placing an irregular rug as a statement piece in the middle of a room elevates this energy. We are well known for our irregular rugs and as a signature style throughout our contemporary rug collection, an irregular rug design such as our Amoeba Sunset or our After Matisse rugs enhance the Fire Element with their bright colours and asymmetric shapes.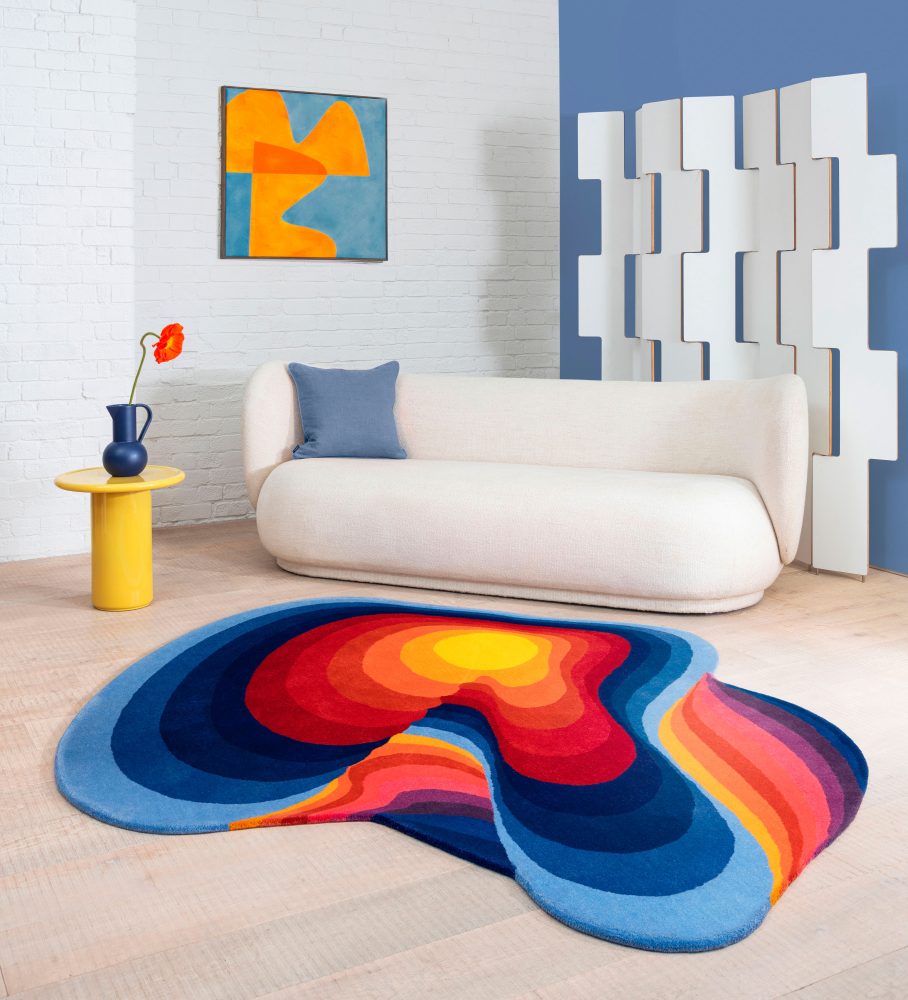 Placing a designer rug in a Feng Shui home
Feng Shui places great importance on the placement of items in the homes. This is true of contemporary rugs – to enhance the positive energy in the room, the rug needs to be chosen and placed correctly.
In smaller entrances and hallways, a small wool rug can help to define the space and fill a compact area. Round rugs are a great choice for larger hallways and entrance areas thanks to their positive influence on the flow of rooms.
Luxury rugs are great for enhancing the Feng Shui of a living room if they are placed correctly. Here, make sure your contemporary rug does not touch any walls, and take the five elements into consideration when choosing your rug. If you want to create a vibrant and creative space, choose a red rug to summon the Fire Element such as our Rothko Deep rug. Want to create a social, cosy space? Opt for a rectangular rug that pulls the furniture into a conversational area such as our Antelope Canyon series.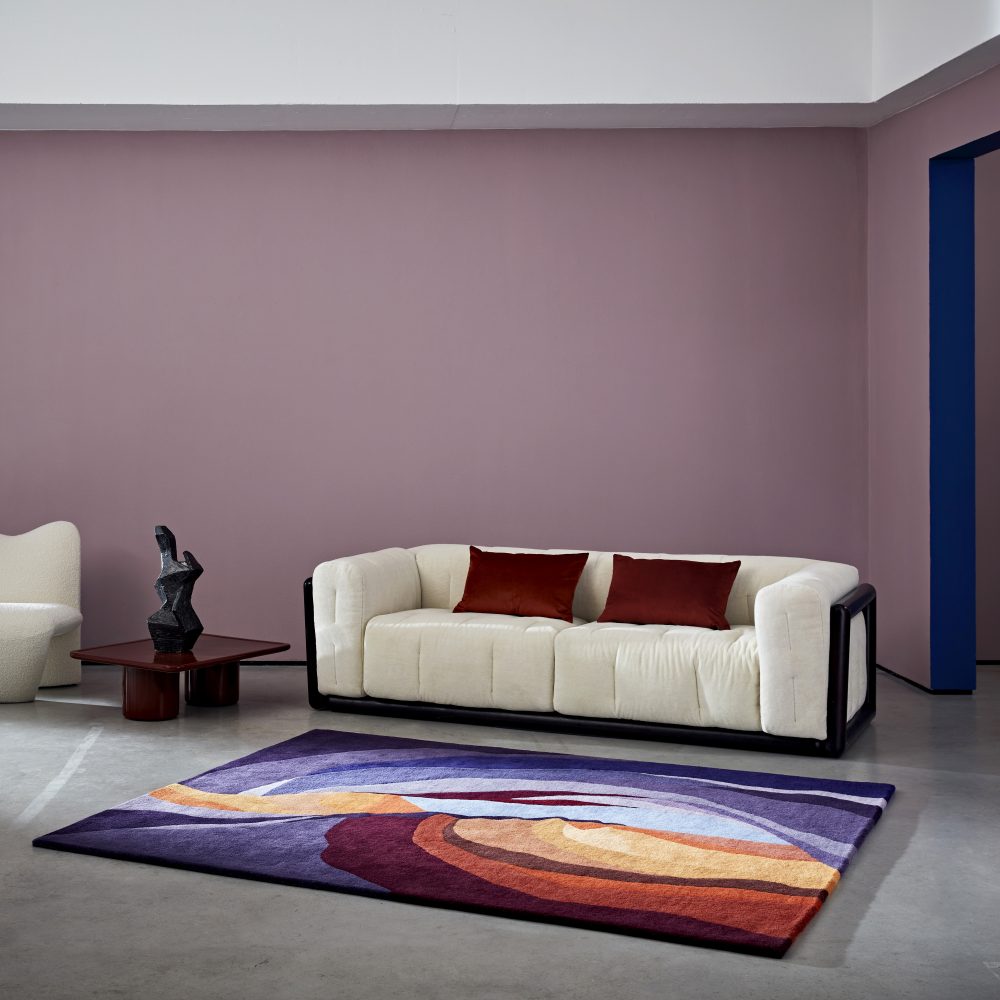 A wool rug is the perfect addition to a bedroom and can enhance its Feng Shui. Soft colours such as pastels, whites, greys, and neutrals will give a relaxed energy to the room through the promotion of the Metal Element. Bedrooms contain lots of sharp angles in their furniture. Adding a round or curved rug can balance the effect of these edges. Our Jellybean Coconut rug would be a perfect choice to bring in the Metal Element of Feng Shui.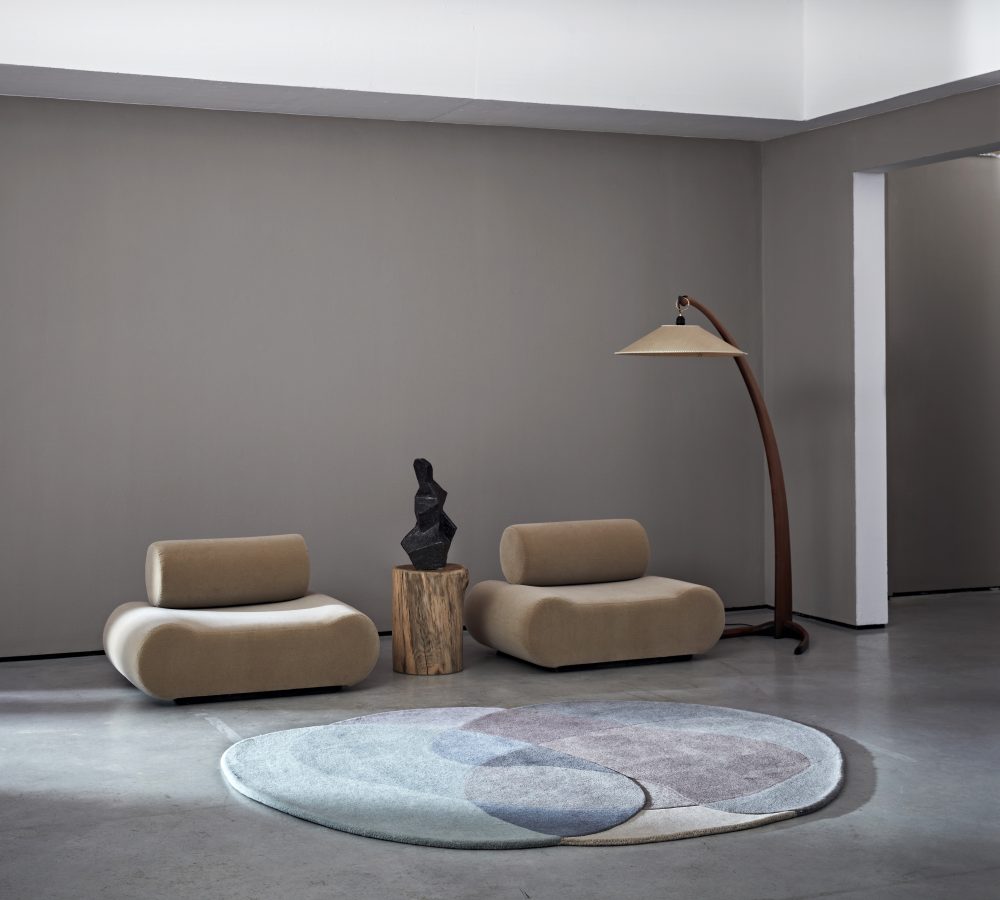 Our guide above covers the initial basics of Feng Shui, but there are many specialist Feng Shui guides which dive deep into the sciences behind the practice. We recommend Feng Shui Plain & Simple: The Only Book You'll Ever Need by Sarah Bartlett, and Feng Shui Modern by Cliff Tan.
Working to balance the five elements through the addition of a contemporary rug can ensure your home radiates Feng Shui. Why not explore our Rug Shop to help you in your search for the perfect rug to create harmony in your home?