"Art has always been my main source of inspiration. I am fascinated by shapes which defy gravity and create visual lightness." – Finn Juhl
Finn Juhl was a Danish architect and interior and industrial designer known particularly for his highly original modern furniture designs. He was a self-taught furniture designer and had a unique way of working, like a sculptor shaping his furniture with movement, life, and organic natural, flowing forms. His work was innovative and original, and it still is considered so today. He is credited as being one of the founders of the Danish Modern movement.
Finn Juhl (1912-1989) was born in Denmark. During his childhood he spent most of his time in art museums and felt a deep connection to art. As a result, he decided that he wanted to be an art historian, but his father encouraged him to instead become an architect.
Finn began his architectural education in the 1930s, which was a time that saw a rise in modern design. Juhl was swept away in the new trends and desired to make his own mark in design, both in architecture and chairs.
He would go on to be so busy as an architect and designer that he never officially finished his studies.
Like his other modernist peers, he had no mentors or design role models. This was an entirely new field for these young designers to shape the way they wanted.
Unlike his design peers, however, he used the traditional modernist design of sleek lines and harsh tones and added a natural element. Juhl took a more organic approach to modernism, softening harsh lines and corners. He evoked nature through shapes and materials.
For the first Finn Juhl chairs designs, which he is best known for now, he discarded measurement references and simply measured his own body to understand how a chair should carry it. This personal approach helped Juhl design some of the most stunning and sleek chairs of the 20th century.
What furniture did Finn Juhl design?
One of the first pieces of furniture Finn Juhl created was the Pelican Chair. This piece was included in the Guild exhibitions for new Danish designers. The exhibition was a chance for new designers to push the boundaries of Danish design.
The entire exhibition was received tentatively and Juhl's chair was originally met with criticism. Despite the negative original reaction, the chair resumed production in 2001. The response to his Pelican Chair led Juhl to set up his own design practice where he wouldn't be hampered by negative reviews.
Sitting low to the ground with solid, short legs, this chair focuses on comfortability and flow. Its shape allows a person to sit in several different ways depending on feeling and mood. It is now produced in various textiles including sheepskin and leather. The chair's downward facing "wings" coming off the main back board give the chair the name Pelican.
Even with a rocky launch, the Pelican chair remains one of Finn Juhl's most popular pieces.
The Finn Juhl Chair 45 first debuted in 1945 and is still regarded as one of the most revolutionising and iconic pieces of Danish furniture design.
This chair was the first of Juhl's experimentation with separating upholstery as much as possible from the wooden frame. This created a distinct and sleek design. In this artist chair, the polished wood of the chair moves organically around the fabric, in an almost bone-like structure. These lines mimic natural forms as seen in trees, in the wind, and even in our bones. The chair's curved backrest continues the organic feel of this piece.
The 45 Chair is a versatile piece that can be used as a the focal point of a room, a desk chair, office chair, or accent chairs.
This piece cemented Finn Juhl's status as one of the most important furniture designers of the 20th century, particularly within the modernist movement.
The Chieftain Chair is widely considered to be Finn Juhl's crowning achievement in chair design. This sculpture chair requires empty space around it to make the statement it was created to make.
Drawing on his own experiments in the relation between the cushioning, seating, and the wooden frame, Juhl continued the theme from the 45 Chair by leaving the pieces minimally connected. He began the sketch for this piece late one night with "just four vertical lines connected to something". By the time several hours passed and it was 3am, he had his first painting of the chair.
But unlike his earlier, smaller pieces, the Chieftain Chair was his opportunity to make something grand.
The chair sits low to the floor, its centre of gravity seemingly pulling it downward. This gives the chair a grounded, confident tone. The arm rests are high and straight outward, another confident display choice. The wooden frame again invokes nature and the chair's size displays power.
The Chieftain Chair was a hit. This piece helped revive the Danish furniture design tradition and introduced this field of design to the wider world. By blending modern designs and natural elements, he brought Danish interior design to the international stage. Now the Danish design store is a staple all over the world!
Blending production and form
With the success of the Chieftain Chair, Finn Juhl's work began being produced for an American audience. Though he was originally sceptical, he allowed his chairs to be mass produced after visiting one of the American factories.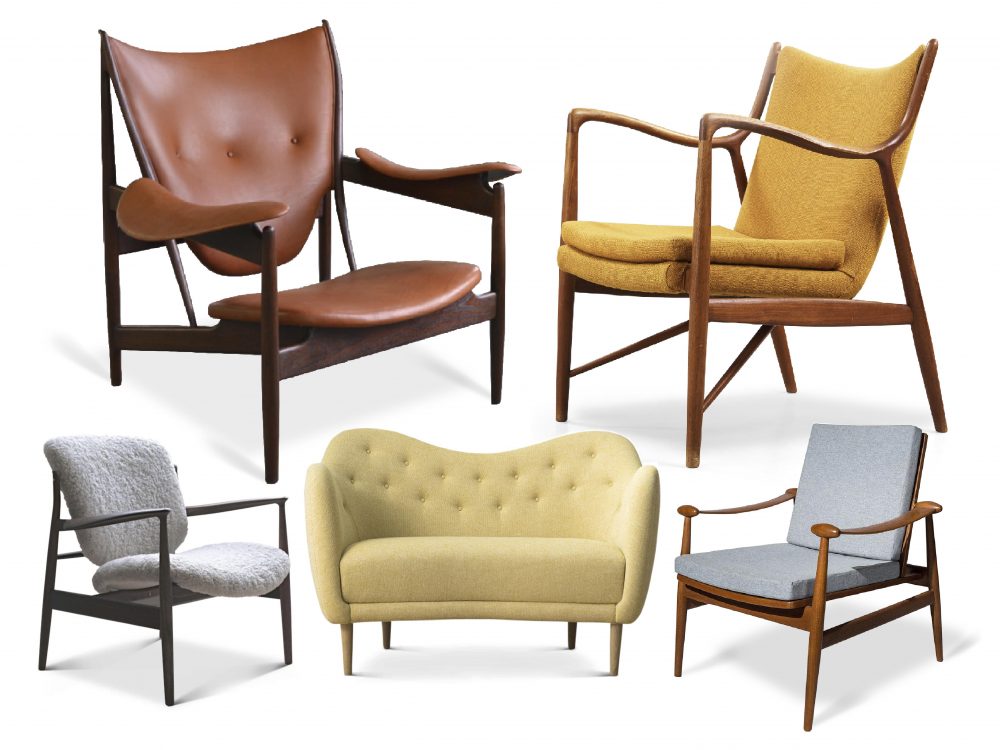 Juhl began designing his chairs specifically for the mass market. Yet, he worked to ensure that he wouldn't lose his natural touch. Juhl's marriage of industrial production and his natural, modernist designs was unlike any other and managed to recreate his personal touch for thousands of consumers.
Juhl's work led to a shift in greater Danish design as more designers committed to designing for mass production. This led to a greater number of consumers having access to well-designed chairs.
Did Finn Juhl receive awards?
Finn Juhl received three gold medals for his design work at the Milan Triennial show.
Returning to his roots in architecture, one of Juhl's crowning achievements was designing the complete interior of the Trusteeship Council Chamber at the UN headquarters in New York from 1951-1952. He also became a visiting professor at the University of Chicago and a member of the Academic Architect Society in 1942.
Juhl's work has had a lasting impact on furniture design. He integrated organic shapes into modern design and softened harsh design trends. His chair designs of the 40's created new trends that spread worldwide.
Finn Juhl's influence at Sonya Winner Studio
We find Juhl's work inspirational, particularly the way he successfully integrates elements from nature into his designs. Sonya is happiest when in nature and uses the shapes and textures of the natural world to inspire many of her modern art rug designs.
The Antelope Canyon Mist Rug is one of our art rugs and is evocative of Juhl's work with natural colours and materials. A Finn Juhl chair focuses on the unaffected colours of leather, wood, and sheepskin. This wool and silk rug draws on the muted colours of the natural work to create a canyon scene.
Juhl's pioneering ideas of blending modern art with the natural and organic shaped the art world and continues to inspire artists everywhere, including Sonya and her art rug work.
Take a look at our shop today to see Sonya's masterful marriage of modern art and natural inspiration in her rugs!
To learn more, try one of the books off this Finn Juhl book list!
Finn Juhl: Life, Work, World (by Christian Bundegaard)
Finn Juhl and His House (by Per H. Hansen)
Watercolours by Finn Juhl (by Anne-Louise Sommer)