Introducing a pet into your home can be full of joy, but with the highs come the lows. There's no doubting that it can get messy sometimes! Before they are fully trained, young animals are unaware of right and wrong, so no area is off limits when they need to relieve themselves! Puppies, kittens and other young animals can often soil themselves in any area they see fit – often returning repeatedly to the same spot! Older animals also find it hard to control their urges in their later years. The soft tufted carpet underfoot often reminds them of the soft grass, and this is when accidents can occur. Therefore, protecting your contemporary rug when you have a new puppy, kitten or other furry friend is of utmost importance. You of course will want to keep your modern carpet looking good as new! But when the problem arises, how do you get pet stains out of rugs?
We want our rugs to be just as much a part of the furniture as any other area of the house so you can relax and enjoy them. Our rugs are very comfy for dogs and cats too – they will enjoy spending time on them and your designer rug is perfect for a domesticated pet to enjoy too. But what do you do when they leave their mark? Knowing how to get pet stains out of rugs and carpets is essential for pet owners. See below our top tips on how to keep your designer rug in perfect condition and looking and smelling fresh. It might seem like an impossible task at the time, but with some homemade carpet cleaner and our expertise, it's a lot easier than you'd think.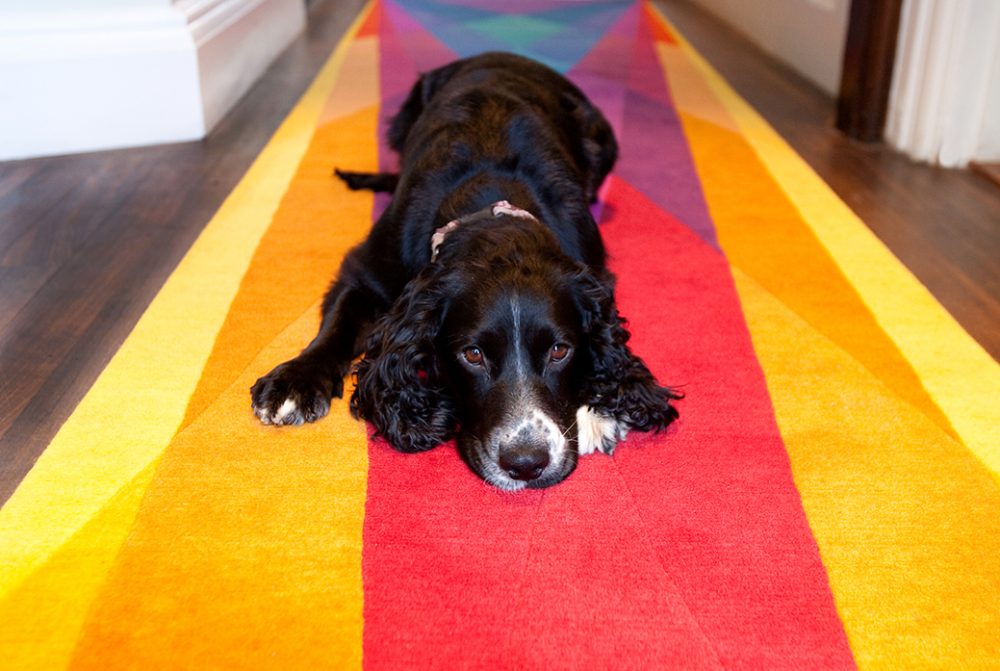 How to remove the tricky stains from your rug
So, your pet has had an accident on your pristine rug. For your cleaning methods to have the best results, you'll want to act fast. To get dog pee out of the carpet, we suggest laying a towel over the area. This absorbs any excess liquid that might be lying on the surface of the rug. Always blot and never rub, as this will push it further into the rug fibres. But what is the best carpet cleaner for dog urine? If you're a fan of the home remedies, a spray bottle of equal parts water and vinegar works extremely well to get pet stains out of designer area rugs. Apply this directly into the stain and and gently work the solution into the rug fibres without scrubbing (as this could damage the rug fibres). Blot this away and leave to dry.
If this doesn't work and there is dog pee on the carpet, combine a solution of hydrogen peroxide with a teaspoon of washing up liquid. Rub this into the soiled area. Then, once again, leave this to dry, and thoroughly vacuum the area.
To stop the stain of pet urine on the rug from spreading further, you can also apply cold water on the area. Cold water disrupts the urine that might be setting inside the carpet fibres. Pour the water from the edges of the stain and then toward the centre. Make sure to cover the whole dog or cat urine stain. Next, you should apply an enzyme cleaner. Various enzyme cleaners for stains can be found at your local supermarket or pet shop. These also highly recommended as they are non-toxic and very helpful for removing stains.
The process for when your animal has defecated on your designer rug isn't much different. Just make sure to remove as much of the excrement as you can before applying the solution. Remember: safety first! Always wear protective gloves when dealing with animal excrement of any kind, and spray the rug with disinfectant to kill off any residual bacteria.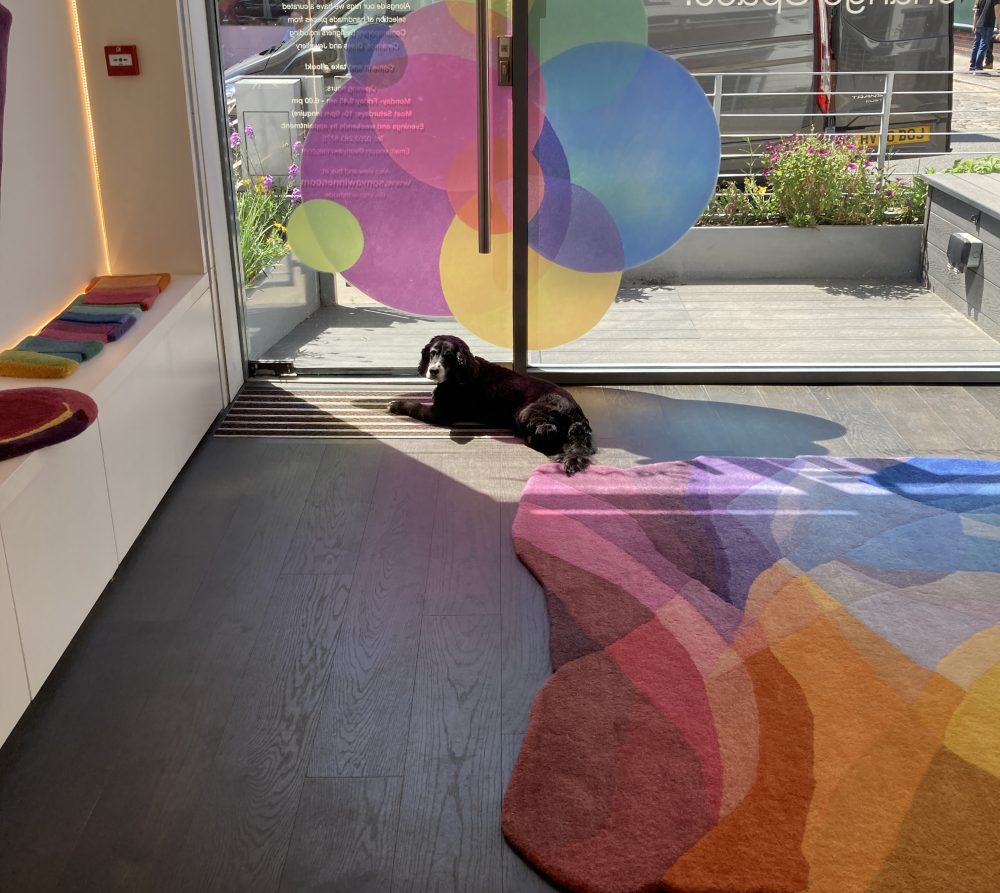 What to do if the smell persists
But wait, the job might not be finished yet. As smells can cling to fibres, there may still be an odour lingering in the air. This is a sign that the urine has sunk deeper into the carpet than your initial clean soaked up.
Using a solution of 50% vinegar and 50% water will help neutralise the smell. Pour or spray this mixture onto the cat or dog urine and allow it to rest for 10 minutes. Then, soak up the liquid with a dry cloth or towel. If this still hasn't neutralised the odour, sprinkle over some baking soda and allow this to sit for a further 10 minutes. Make sure you vacuum the area after! This is particularly important to get rid of the smell completely. Animals often return to the same spot to relieve themselves because the scent is familiar to them.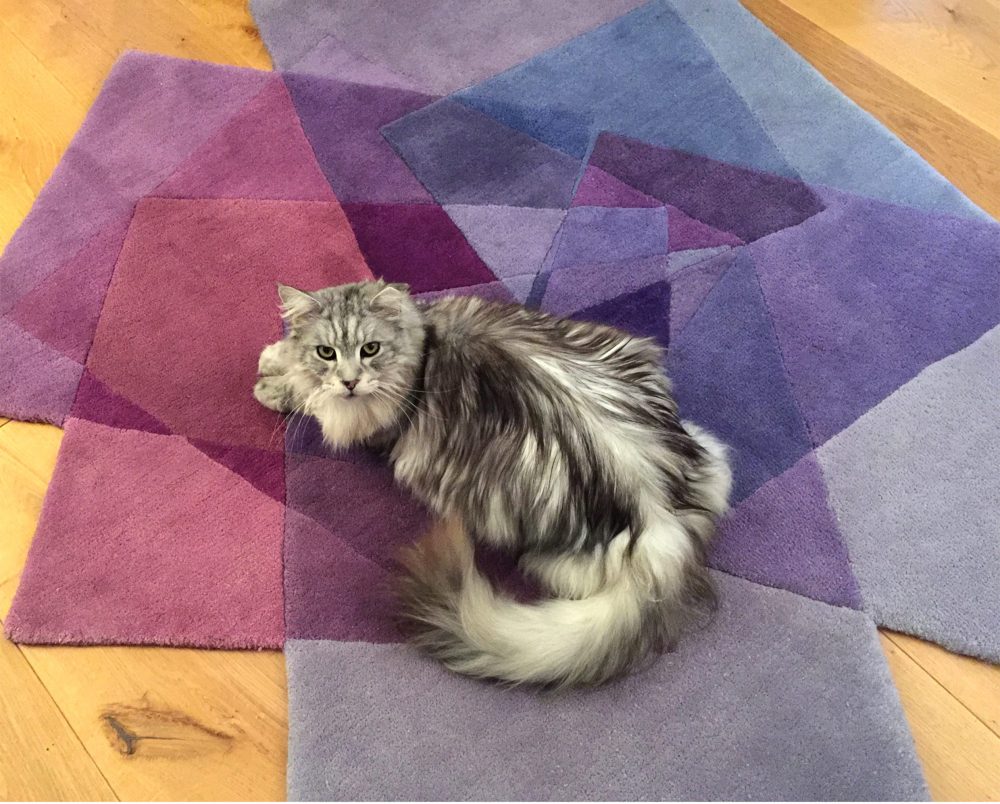 How to stop your rug from getting stained again
Older dogs can have accidents too, and this can be a valid worry for customers who are looking to buy a designer rug but are concerned that their elderly pets will leave their mark – and not in a good way! Instead of tackling the stains and dog pee smells after the accident, you might find it more suitable to prevent the problem before it occurs.
For American customers, we recommend getting your rug MicroSealed. With many locations across the US offering this service, this is a great way to pre-empt any damage and protect your contemporary rugs from spillages, soiling and stains. Other rug sealants are available for use, and whilst over-the-counter sealants do well to protect your rug from getting stained such as ScotchGuard, we recommend taking your contemporary rug to a professional for them to expertly seal it. Always make sure your sealants are pet friendly before using them!
When dealing with high quality materials like the long fibre 100% New Zealand wool yarn our designer rugs are made out of, make sure to check that the cleaning materials you are using are suitable and will not damage your contemporary rug further. We recommend patch testing the products on an inconspicuous area of your rug first as an added precaution.
There's nothing worse than making a stain worse, so if in doubt make sure to consult a professional. If all else fails, we suggest taking your rug to an expert cleaning service. They can carefully deal with any stains and smells your animal might have left behind. If you are in need of any further tips or tricks to get pet stains out of rugs, feel free to contact us. Get in touch via email at enquiries@sonyawinner.com or call us on  +44 (0) 2032838776 and we will do all we can to help. We are open Monday to Friday, 10am – 6pm GMT.