We are thrilled to introduce you to our new collection of contemporary rug designs, created in collaboration with London-based artist Yoni Alter. This collection of six unique art rugs combines Sonya's vibrant colour aesthetics with Yoni's eye for bold and unusual design to create a transformational set of statement pieces.
Yoni's modern art explores the space between the figurative and the abstract. His work combines graphic shapes and vibrant colours, resulting in exciting and uplifting artwork. A collaboration with Yoni was a natural choice for Sonya; his bold art style was a perfect match for Sonya's colourful rug designs.
Yoni Alter's Bold Art Designs
After studying Art and Design in Jerusalem, Yoni moved to London to complete his MA in Graphic Design at the University of the Arts London. London has since become the place that Yoni calls home and has continuously functioned as a key source of inspiration for his works. Many of his bold designs creatively abstract London's architecture and urban landscape, synthesising sharp silhouettes and bright colours to echo the aesthetic of the city.
Yoni's artwork segues between form and space, and his abstract designs always challenge the viewer to look twice. Guided by experimentation, Yoni is constantly seeking new ways of creating visual representations; he has worked across sculpture, painting, print and digital media.
Yoni has worked with some truly iconic brands throughout his career; he has collaborated with the likes of Karl Lagerfeld and Hermès, and his artwork has recently adorned London's double-decker buses and Shoreditch's Boxpark venue.
Though Yoni has explored a number of artistic avenues, this collaboration with Sonya is his first venture into the world of contemporary rug design – and we are delighted to have worked with Yoni on this collection of unique designer rugs!
Sonya Winner's Designer Rugs
Similarly to Yoni, Sonya entered the world of art and design by studying Graphic Design, and spent the early years of her career as a graphic designer before moving into photography.
Sonya's first foray into rug design came when a friend invited her to enter a competition to design a rug celebrating the anniversary of a furniture store. The rug Sonya designed came to be our staple After Matisse Rug – it was an instant hit and was nominated for an Elle Decoration award.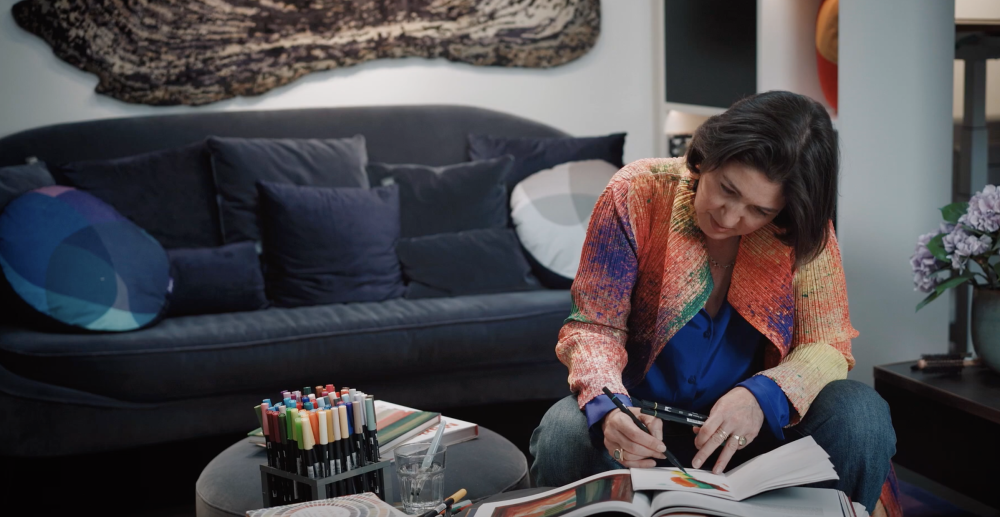 This unique, colourful rug amassed hundreds of enquiries and gave Sonya the incentive to set up her rug design business. The rest is history! Sonya's designer rugs are now known around the world and a colour-loving community has developed.
Sonya has previously collaborated with American artist Jade Purple Brown to create The Wave Rug. This collaboration with Yoni, however, is Sonya's boldest collaboration yet!
The Design Process
What began as a series of messages online soon became a detailed design process as our new collection of contemporary rugs began to take shape. Using Yoni's abstract art pieces as inspiration for the rugs' designs, three shapes were chosen as the foundation of each rug.
Our new collection of Vibrant Contemporary Rugs
The results of the collaboration between Yoni's art and Sonya's design are six uniquely bold modern rugs guaranteed to transform any space!
Every modern rug within this new collection features a bold design and graphic shapes with flowing curves to create soft yet dynamic statement pieces. Each of Sonya and Yoni's three contemporary rug designs are available in two colourways: Fresh and Sunset.
The Fresh colourway is a calming graduation from bright lime and verdant grass greens moving into dreamy sky blues. These colours have the effect of adding light to a room and breathing fresh air into your home.
Like sunshine melting into dusk, the Sunset colourway is made up of a gradient of red and orange hues blending into violet accents. This way of arranging colours tonally creates the illusion of depth, resulting in a striking abstract design. These calming and luxurious colours will add a rich warming atmosphere to any room.
The Amoeba Rug, available in Sunset and Fresh
Available in six sizes or bespoke sizes.
The Circle-ish Rug, available in Sunset and Fresh
Available in six sizes or bespoke sizes.
The Capsule Runner, available in Sunset and Fresh.
Available in five sizes or bespoke sizes.
Our new collection of unique art rugs are available exclusively to purchase on our website www.sonyawinner.com. Alternatively, if you'd like to take a look at our new contemporary rugs in person, they are available to view and purchase directly from our London showroom. We recommend booking an appointment to visit us in advance to ensure we can give you our full attention; you can do this by emailing us at enquiry@sonyawinner.com or calling us on +44 (0) 203 283 8776.