Taeuber-Arp made joy a prominent feature in her work. Using bright colours and shapes, she invoked happy feelings through her textiles and paintings. 
Sophie Taeuber-Arp was a multidisciplinary artist from the 20th century whose visionary artwork made her a key figure in the Dada art movement. The "joyous abstractions" she created brought light to a generally sombre movement.
Where was Sophie Taeuber-Arp from?
Sophie Taeuber Arp was born in Switzerland in 1889. She was taught sewing by her mother who was widowed when Tauber-Arp was two years old. Offered a fine arts education, she declined in favour of studying textile design at a trade school in St. Gallen, Switzerland.
Sophie also had training in dance as well as studying at the School of Arts and Crafts. This education became the foundation for her multidisciplinary artwork.
In 1915, Sophie attended an exhibition at the Tanner Gallery in Zurich where she met Jean Arp, also know as Hans Arp who was already a respected Dada artist. They married in 1922 and she changed her name from Taeuber to Taeuber-Arp.
What artwork did Sophie Taeuber Arp create?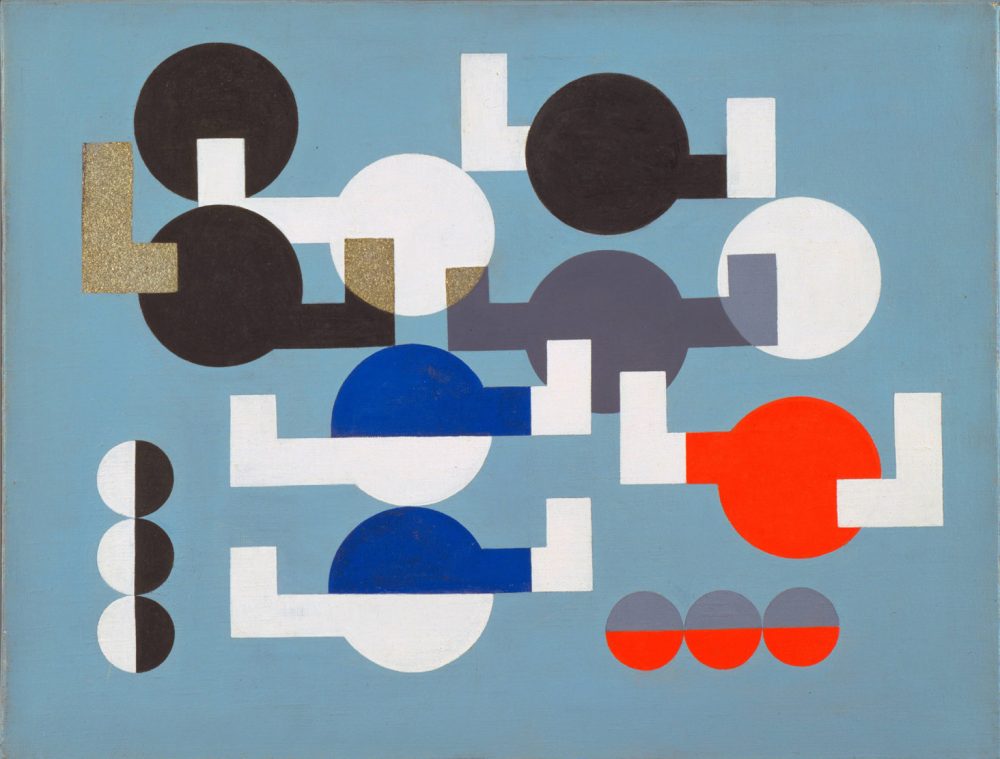 Sophie Taeuber-Arp was one of the key figures of the Dada art movement. The thread runnign throughout her work was her desire to "make the things we own more beautiful".
Taeuber-Arp worked in textiles, creating playful patterns with vibrant colours. Her work in geometric abstraction was pioneering. She designed costumes and sets for various theatres, occasionally taking part in productions herself. Taeuber-Arp also created jewellery, sculptures, puppets, and more.
During World War II, she travelled across Europe to avoid the Nazis. At this time, the only material she could bring with her was paper and pencils. This led to the developments of her sketching skills as she drew what she saw across the continent.
Sophie's most famous work was her set of Dada Heads, abstract creations with bright colours in the shape of heads. These revelled in Dada style art, focusing on absurd, contemporary interpretations of the human form.
Unlike other, more sombre Dada artists, Taeuber-Arp made joy a prominent feature in her work. Using bright colours and shapes, she invoked happy feelings through her textiles and paintings.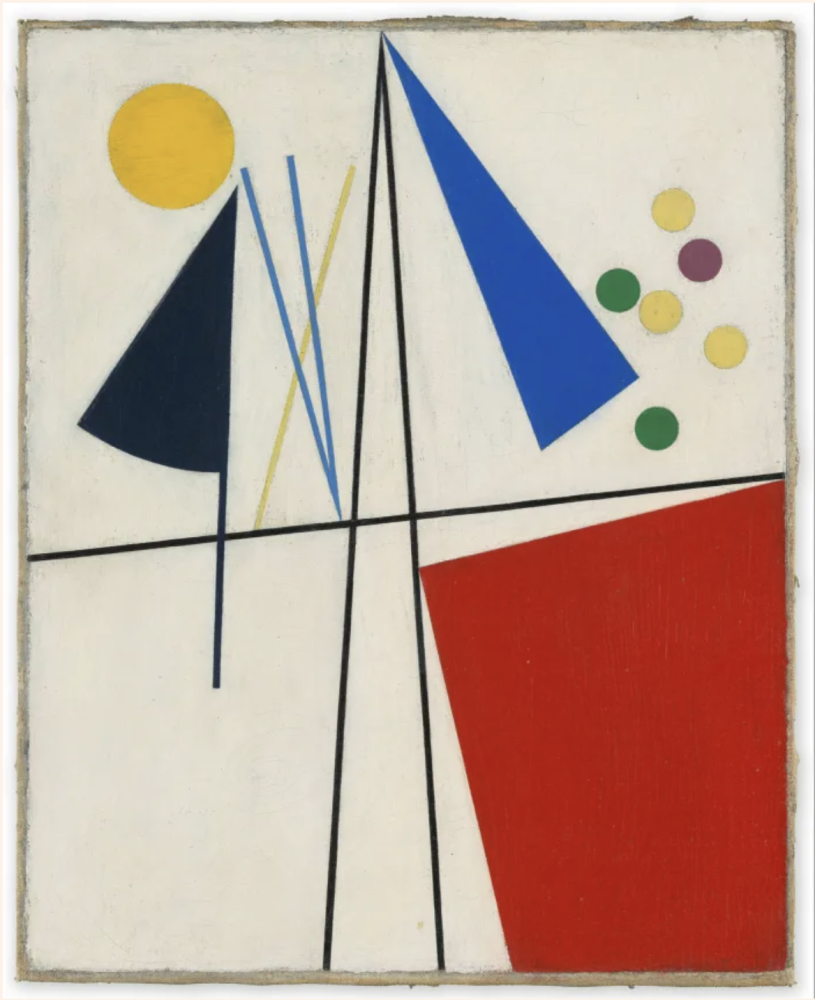 Her textile and graphic works from the 1910s and 1920s are among the earliest constructivist works, along with those of Piet Mondrian and Kasimir Malevich. These sophisticated geometric abstractions reflect a subtle understanding of the interplay between colour and form.
In 1943 at age 53, Sophie Taeuber Arp missed her train going home in Switzerland and decided to stay over in a snow-covered cabin. That night, she died of accidental carbon monoxide poisoning.
In the years after her death, her husband, Hans Arp, gained recognition and was widely celebrated for his Dada work. Sophie's extraordinary work had faded into obscurity until recently. Galleries, including the Tate Modern, have exhibited her work in recent times, leading to new interest in her life and artwork.
Unfortunately, large portions of Sophie's artwork were lost to time. Her dances were unable to be filmed, paper sketches wore away, and her sets were dismantled. But the Tate Modern was able to put together an exhibit of her work that remains.
In 1995, Sophie Taeuber-Arp was the only woman to be featured on Swiss banknotes – her portrait was featured on the 50 Franc note until 2016 – the importance of her work has long been recognised by her homeland!
The Sophie Taeuber-Arp exhibit at the Tate Modern Museum mo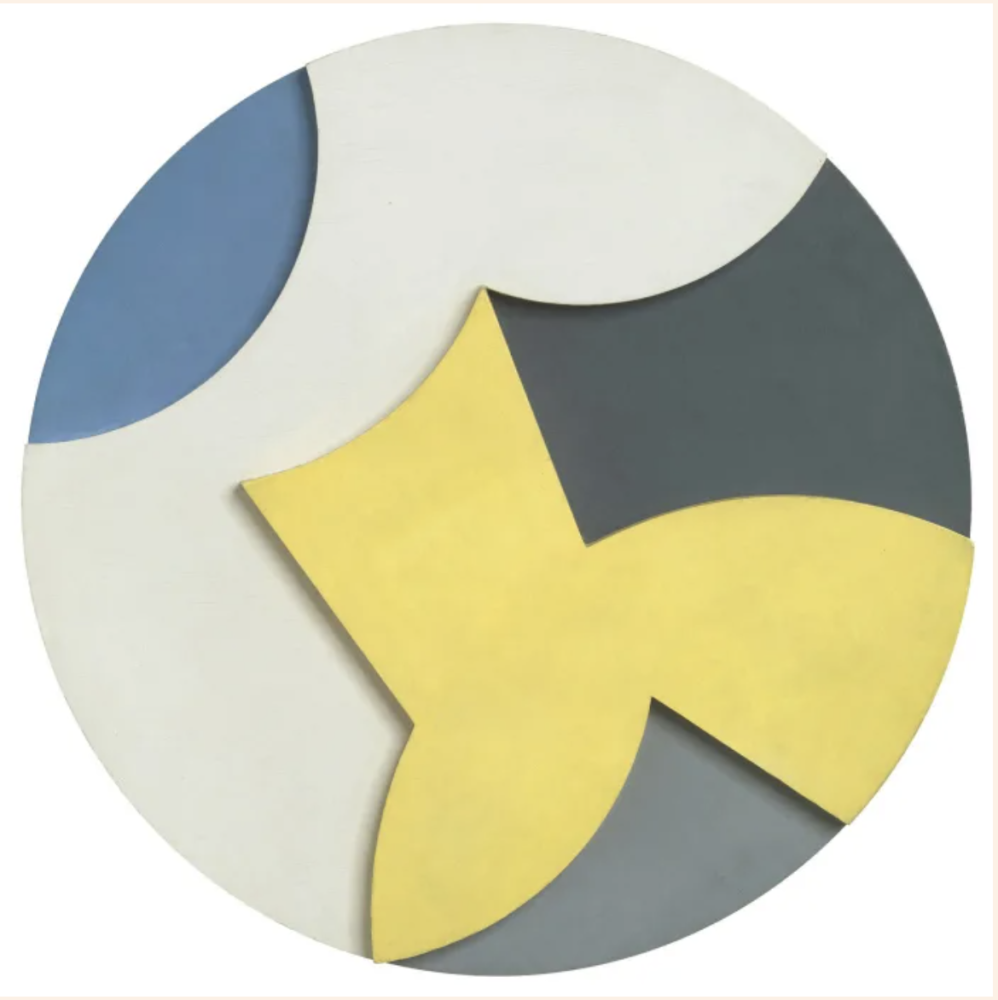 The Tate Modern's exhibition of the works of Sophie Taeuber-Arp was long overdue. This is the first retrospective of her work to ever be held in the UK, bringing together her pieces from all over the European continent and the US.
The Tate used this opportunity to highlight Taeuber-Arp's work within the Dada movement and the importance of remembering female designers in history.
Sophier Taueber-Arp believed that "the beautiful should be useful and vice versa" and that there is no difference between applied and fine art. This is clear through the variety of items in her exhibit.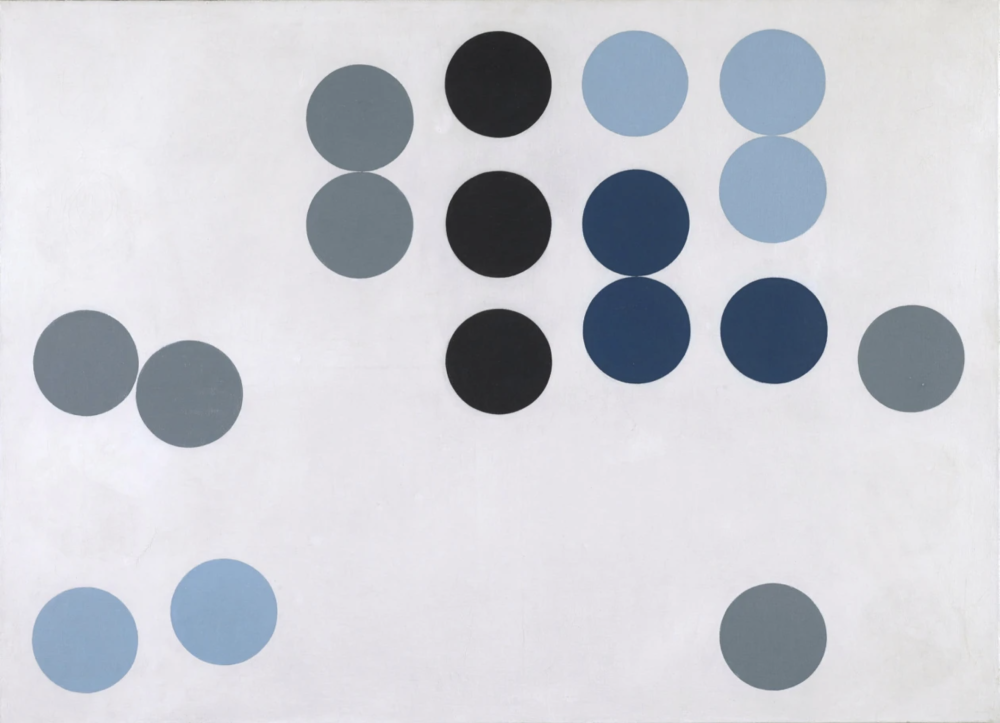 The exhibition opened with the Sophie Taueber-Arp art watercolours, serving as a start for her exploration of happy colour combinations. It then moved on to cross stitch bags and cushion covers, expanding on Sophie's artistic mediums and executions.
There is information about the Five O'Clock Tea Room, an interior design project she executed in 1926. This, of course, was unable to be featured directly as it is located in Strasbourg.
Tying together Taeuber-Arp's various artistic outlets and inspirations, the exhibit at the Tate gave insight into her colourful and exciting life. It demonstrated that her abstract art was always grounded in heartfelt reality. It displays a line of creativity that wove its way through all she did, which continues to inspire today.
The exhibition moved from London to Moma New York and continues there New York 21 November 2021 – 12 March 202
What is Sophie Taeuber-Arp's impact on Sonya's work?
Sophie's style of making "Joy" prominent in her work is something that mirrors the philosophy behind our rugs. Using bold shapes and bright vibrant colours has scientifically be proven to change your mood.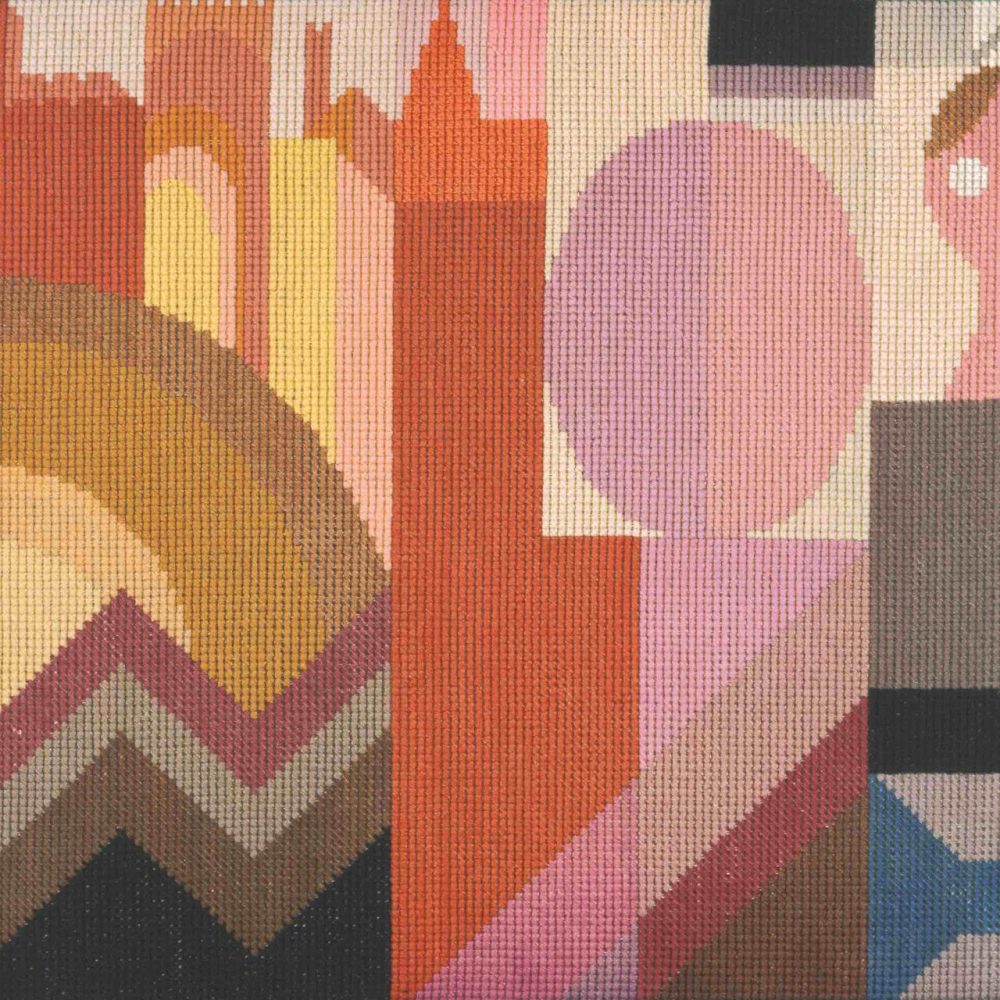 Like Sophie Taeuber-Arp, Sonya and her team believe that art can be all around us in the form of useable objects. A rug becoming an artistic medium is a perfect example of this. Why choose dull items when they can utilise colour and design to enhance your home in addition to being functional? Sonya has honed her use of colour and design over the last 35 year and continues to enjoy exploring and being playful as she creates new colour experiments through the medium of rugs that will immediately transform your home.
The woven pieces that Sonya creates work equally as well displayed on the wall as pieces of art as on the floor. Hanging these textile creations on the wall will add texture, colour, and interest to a room. Take a look at our blog post "Using Designer Rugs as Wall Hangings" for more information on how to hang your rug in your home!
We like to think Sophie would have enjoyed these bright and useful creations of textile art in rug form.
See all of our vibrant and contemporary artwork rugs here!