Bringing nature into your home is a timeless interior design concept – the geometric and organic shapes of nature inspired interiors always remain on trend!
Modern interiors are composed of elegant sleek lines, which are stunning but can often be enhanced by introducing the softness, textures and variety of organic natural themes and textures. A nature rug that embraces the harmony of outdoors is an inspired way to take your modern interior to the next level of comfort and elegance.
Welcoming the natural world into your interior landscape is subtle and very effective way to bring colour and warmth into your rooms. Going beyond floral and leafy themes, experiment with asymmetry, texture and organic materials to bring movement and natural textures to an otherwise ordered interior. Unlike some natural materials such as sisal or seagrass, our 100% pure New Zealand wool rugs are warm and inviting, with a tactile thick pile that is luxurious underfoot.
Nature provides us with an infinite variety of themes to inspire design within your home. We take a look at a few below!
Water Inspired Area Rugs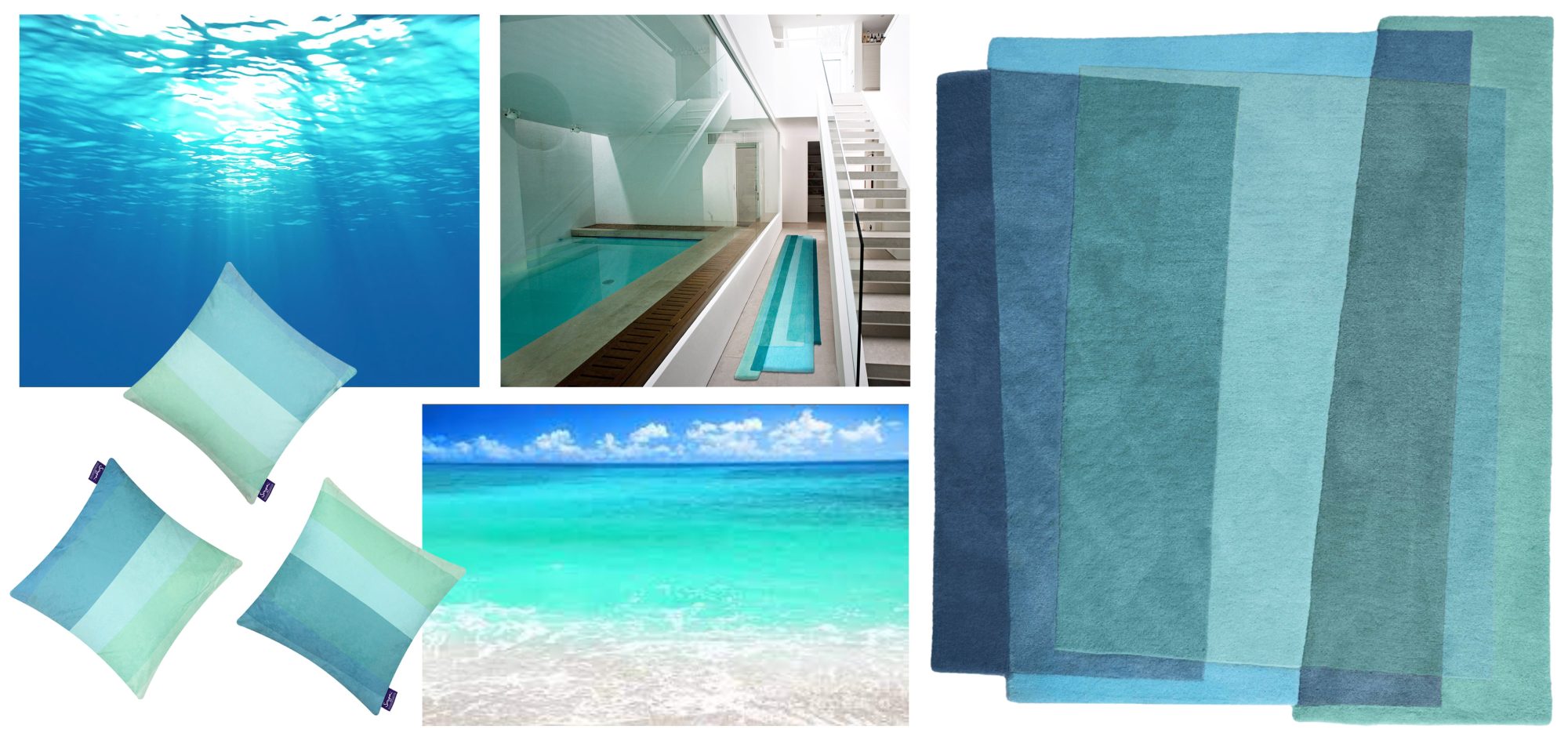 Large area rugs inspired by water make your home serene and tranquil. Calming colours such as turquoise, teal and duck egg blues echo the tones of gentle crystal clear seas. Using a nature inspired rug as your starting point is an excellent way to create a room with a calm interior design. You can then build on this theme adding pieces with complimentary colours – cobalt blue cushions, turquoise throws, blissful blue curtains, or sea inspired art. Accessorise further using nature inspired turquoise vases, and blue light shades to soothe and relax.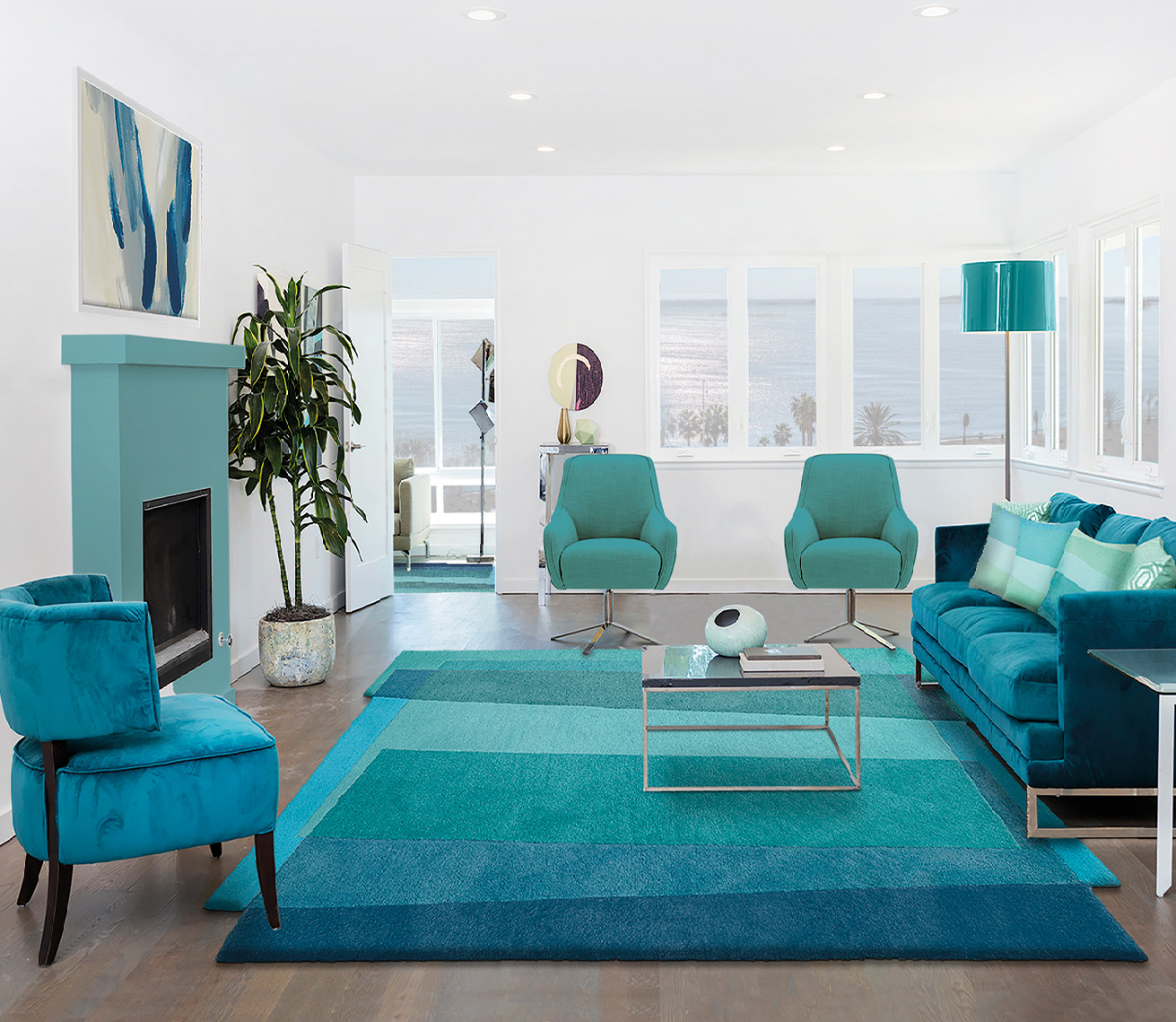 Our Aqua Teal Sea Rug is a calming teal area rug, inspired by the crystal turquoise waters in the small Greek Islands in the Mediterranean where Sonya loves to retreat from the world. This teal rug features Sonya's signature style and ongoing fascination with colour mixing. The rug is created through the juxtaposition of nine individual shades of aqua, teal and blue hand dyed New Zealand yarns. The design gives the impression of transparency and the colours overlapping one another add luminosity and light to your home. Pair with our matching cushions for an added feeling of serenity.
Organic Shapes from Nature
One of the inspiring aspects of the natural world is the collision of unstructured organic shapes and perfect natural geometry. Introduce the warmth and unpredictability of nature by using these freely flowing shapes in your homes design. In the same way a landscape or an ancient gnarled tree is shaped by the elements over thousands of years – the unique quality of natural shapes are timeless, and makes us feel comforted, grounded and at home with our environment, like in our Landscape Rug (featured below).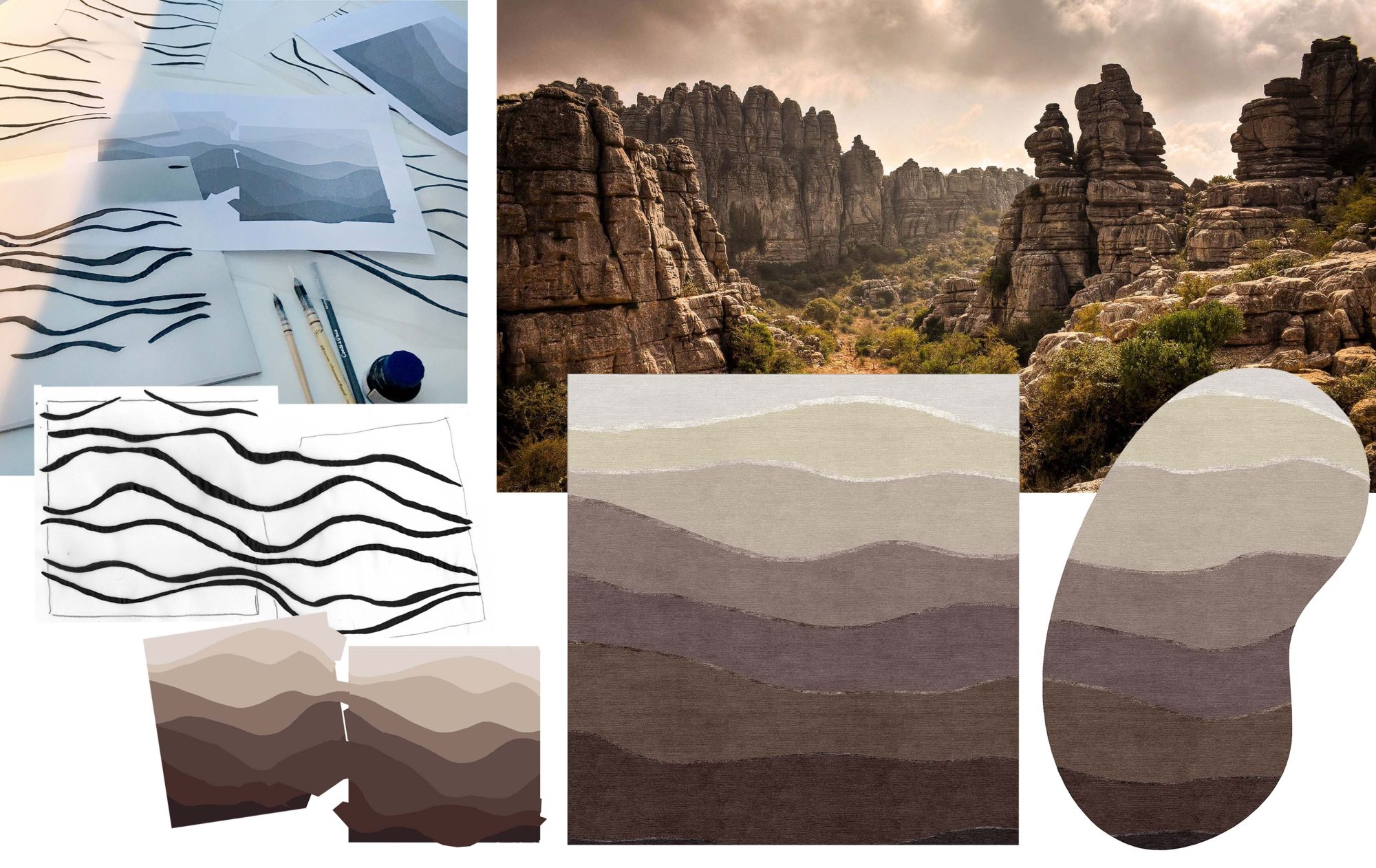 Traveling is another wonderful source of inspiration. The result of a journey around the 'slot canyon' in Arizona is the Antelope Canyon design. The design is created around a dramatic central light pouring in through the top gap in the aged red rock and creating a multitude of mixing colours.
This statement rug has been designed in three different colour ways: Twilight, Pool and Mist, each based on the colours seen on the rocks at different times of the day and the feelings experienced when witnessing them.
The slot canyon (left) and the Antelope Canyon Twilight, Pool and Mist Rugs
The more immediate experience of nature is extremely inspiring too. Our Tree Trunk Rug is composed of organic shapes in loose concentric circles – a stylish interpretation of a cross section of an ancient tree trunk. This rug is hand knotted in silk at100 knots per inch and is a unique and elegant limited edition designer rug. The Tree trunk rug takes the calming shapes and colours of nature and translates them into a timelessly modern floor rug or wall hanging. Inspired by the fascinating complexity of nature and hand crafted by GoodWeave artisan weavers, the Tree Trunk is created using traditional 2000 year old weaving techniques using only natural yarns. This nature rug is as much a piece of art as it is a soft furnishing, the stunningly intricate complexity of the design echoing the wonders of the natural world.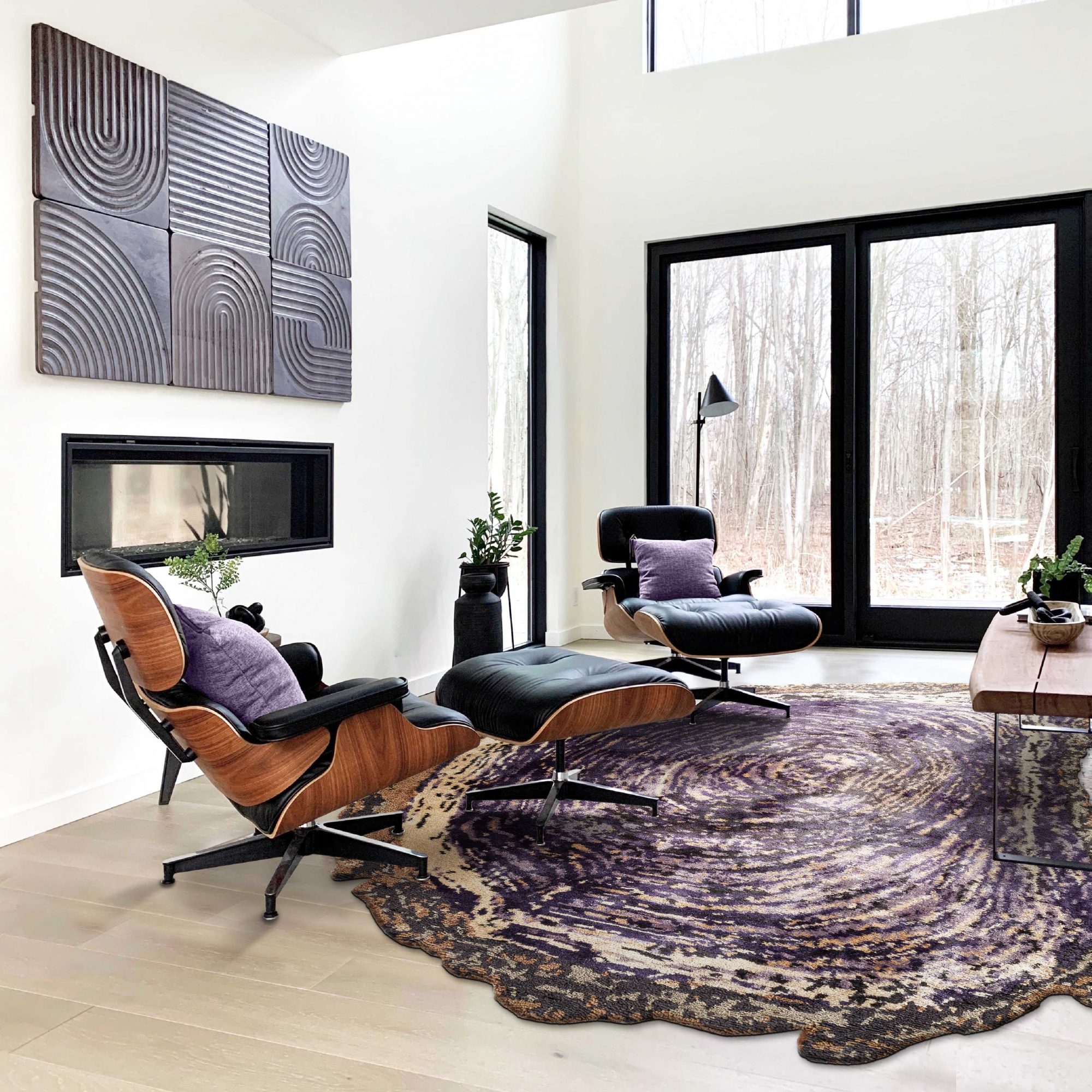 Nature Inspired Colour Palette
The vibrancy of nature is a great place to go to for colour inspiration. From the deep earthy reds of ancient rock, to mesmerising blues of crystal clear water, you can be sure to find stunning and immersive hues. Use the right nature inspired colour palette to create a calming space for contemplation, or inject an element of drama into your home.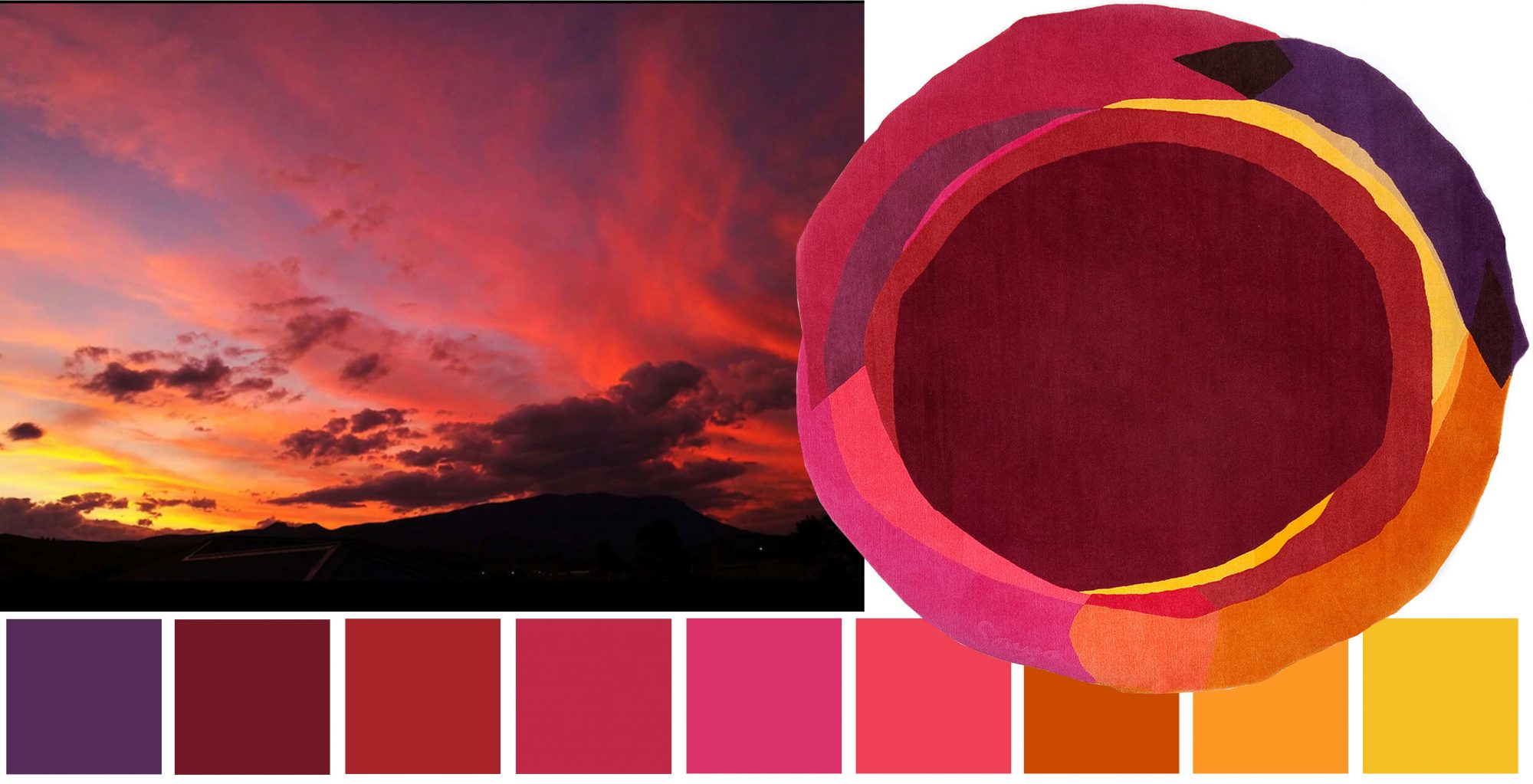 Deep Sunset is a modern round rug inspired by the dramatic colours seen at sunset on a Middle-Eastern beach. The design of this vibrant round rug is based on a deep, rich palette of warm colours, including red and yellow alongside deep purples and pinks. This nature inspired rug is reminiscent of fiery sunsets and long hot summers, a great way to satisfy wanderlust from the comfort of your home.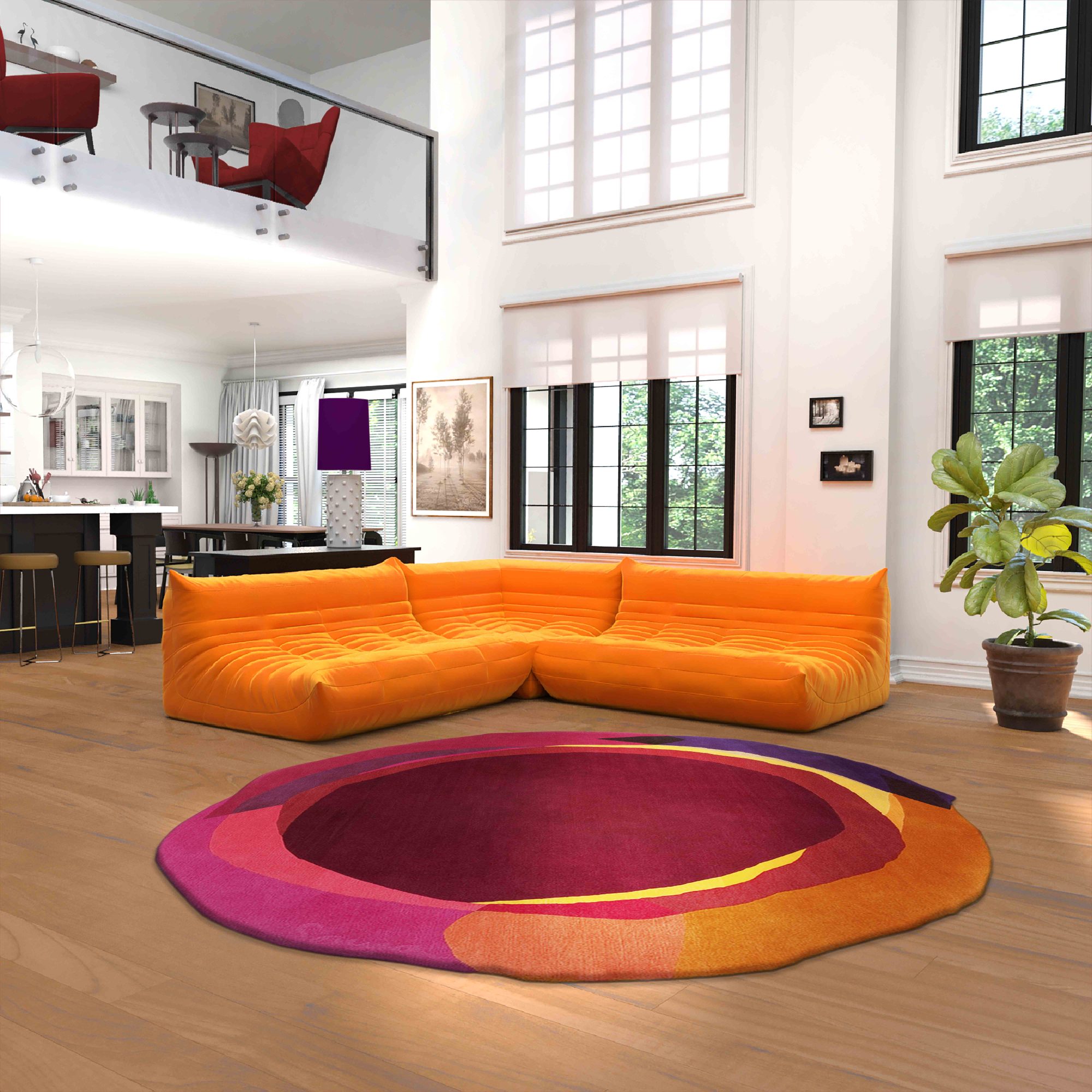 Just as you never tire of the Nature's artistry, you will continue to be uplifted by an interior inspired by the wonders nature has to share with us.