April 2021
We hope that you, your friends and your family are well during these difficult times.
Due to recent surge of Covid cases in India, where the majority of our rugs are been made, the weaving of our designs still continues, but there is a possibility of delays in the lead times. Currently we have many rugs in stock ready to ship and we continue to ship these worldwide using DHL, Fedex and TNT who have a good trackable and insured service.
To check if a rug is in stock click the design you wish to purchase in the "Rug Shop" on the top menu and then click the size you require. You will then see the availability of this size and design- highlighted in the screen grab below with a red oval.
If you wish to order a "Made to Order" size or a "bespoke sized", "bespoke coloured"  rug or a rug with a lead time of 12-14 weeks the current production time may exceed the number of weeks quoted due to lockdown in India.
If you have any queries do email us at: enquiry@sonyawinner.com, call us on: (+44) 203838776 or chat with us over our website – we would love to hear from you.
If you're undecided between different designs or different sizes, or simply if you'd like to see how your favourite rug would look in your home before you purchase, we offer a free Digital Visualisation service to help you make your choice. Email us pictures of your room(s) and we will visualise your selected designs and sizes for you. Read more about how this works here.
As ever, we hope our vibrant designs can uplift your spirits and make you happy, by bringing our Vibrant Contemporary Colour into your home or workplace!
Watch this space for regular updates. Looking forward to hearing from you.
Warmest wishes from Sonya and the team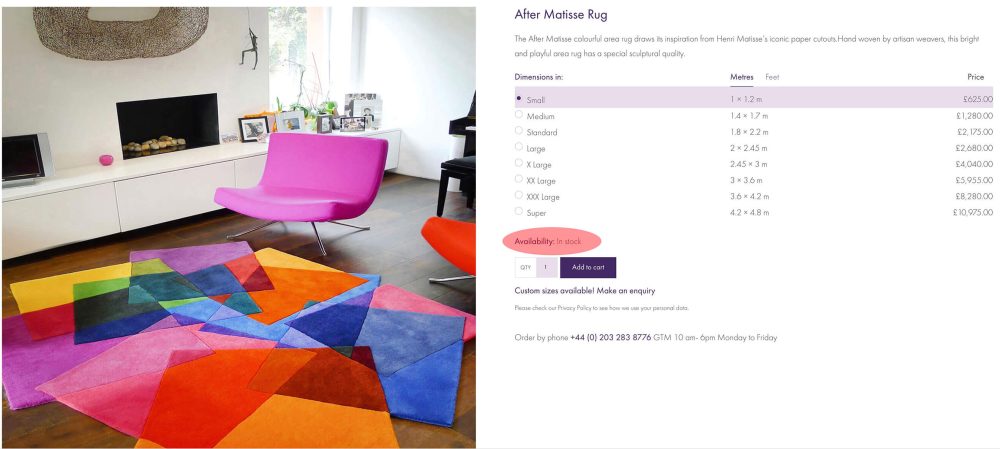 See above highlighted in red how you can check the up to date stock availability on our product pages.