Thick pile wool rugs for modern interiors
Typically modern interior design uses less fabric and absorbent materials than traditional and transitional home design. These days we are replacing fabric curtains with shutters and blinds and fitted carpet with wooden or stone flooring. These materials reflect sound so walking on theses surfaces can be noisy! On top of this many of us are choosing leather sofas and chairs rather than fabric upholstery. These hard flat surfaces reflect sound easily and can create echoes. A great way of improving the acoustics of our modern homes is to include furnishings with sound absorption properties, like sound absorption rugs.
Our beautiful modern homes have sleek clean lines but they can sometime feel cold and and echoey as there is not enough fabric to absorb sound. Good acoustics help us hear conversations clearly and will dull background noise such as footsteps. Improving a room's acoustics with a luxurious thick pile rug makes it so much more inviting and cozy!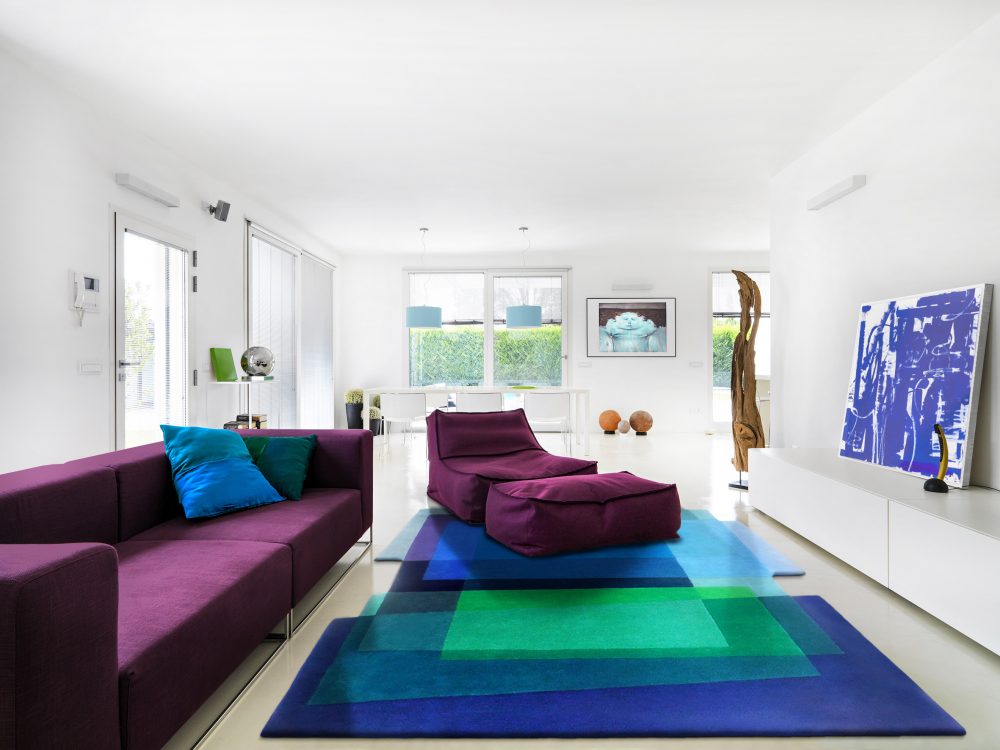 A great alternative to acoustic panels – rugs for sound absorption
Traditionally people have turned to acoustic sound absorbing panels, sound absorbing foam and sometimes sound absorbing curtains to improve acoustics. You can see these sound absorption solutions used on a large scale in concert halls, cinemas and theatres.
Acoustic panels are effective but if you want to find an acoustic solution without involving builders a thick pile rug can make an enormous difference. In fact wool is one of the best materials for absorbing sound so a contemporary thick pile wool rug is one of the best solutions you can find to improve your interior's acoustics.
We recommend a thick 'cut pile' rug with a pile height of over 10 mm – ideally somewhere between 10- 18 mm. This specification is ideal for absorbing sound and making a difference to your home acoustics.
A cut pile rug dampens vibrations by reducing sound transfer from shoes, animals, furniture and voices making a real difference to the acoustics by absorbing sound. The Carpet and Rug Institute claim that, depending on how thick a rug is, it can eliminate footfall noise by up to 100%.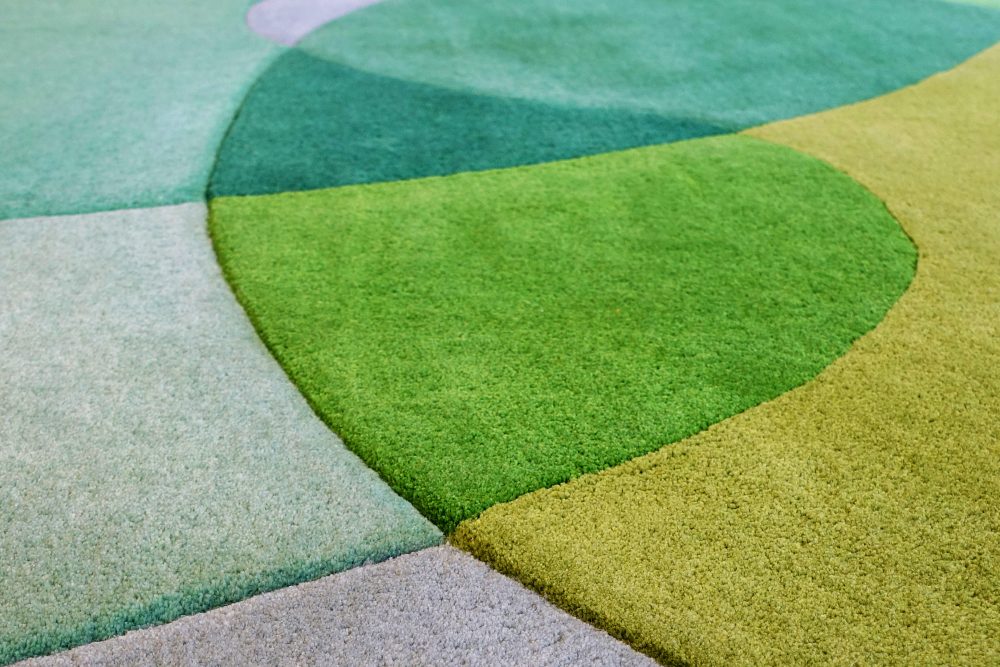 Thick pile rugs – the best pile height for improving acoustics
Sonya Winner's tufted rugs have a minimum pile hight of 10mm – most of our rugs actually have a variety of pile heights within the design ranging from 10mm to 18mm.
Studies on soundproofing carpet have shown that that the higher the pile height the better the sound absorption. Thin pile rugs such as flat weaves and thin knotted rugs don't have the same sound reducing effect as thick tufted rugs. You may also consider a thick shag rug for sound absorption, but these are notorious dust collectors and unlike thick pile rugs you don't have the same capacity for design.
A deep pile carpet or rug will make a world of difference when you are tackling problems with acoustics. The larger the rug the more surface area it has, meaning more fibres to absorb sound so our advice is always go for a larger rug size if you need help with the acoustics in your home.  A large area rug also makes the room appear larger, well balanced and more luxurious.
The benefits of purchasing a contemporary rug go way beyond a way to improve room acoustics! Choosing one of our luxury rugs will also make your home beautiful. Our rugs transform space with colour, light and design, creating a focal point to your room. Our densely tufted rugs also have the benefit of feeling especially luxurious underfoot – with shoes or without.
Download instructions here.