With the cold and gloomy winter months finally behind us, we look forward to welcoming some sunshine and colour back into our homes with some new spring decor. We have carefully selected a few gems to help you get that fresh spring look in your home, drawing inspiration from David Hockney's new spring paintings which are exhibited at the Royal Academy this summer.
David Hockney's spring paintings celebrate the beauty of nature
We are big fans of British artist David Hockney – at 87 years of age he has created a new series of spring paintings using his iPad! If you are not familiar with his works, Hockney creates artworks bursting with colour, constantly exploring new creative methods and materials. In an upcoming exhibition at the Royal Academy of Arts, London – David Hockney: The Arrival of Spring, Normandy 2020 – 116 brand new works are on display, depicting the unfolding of spring. Created from his home in Normandy during the pandemic in the spring of 2020, the paintings are made as a celebration of nature and the seasons and are full of lush greens and sky blues that are optimistic and bright.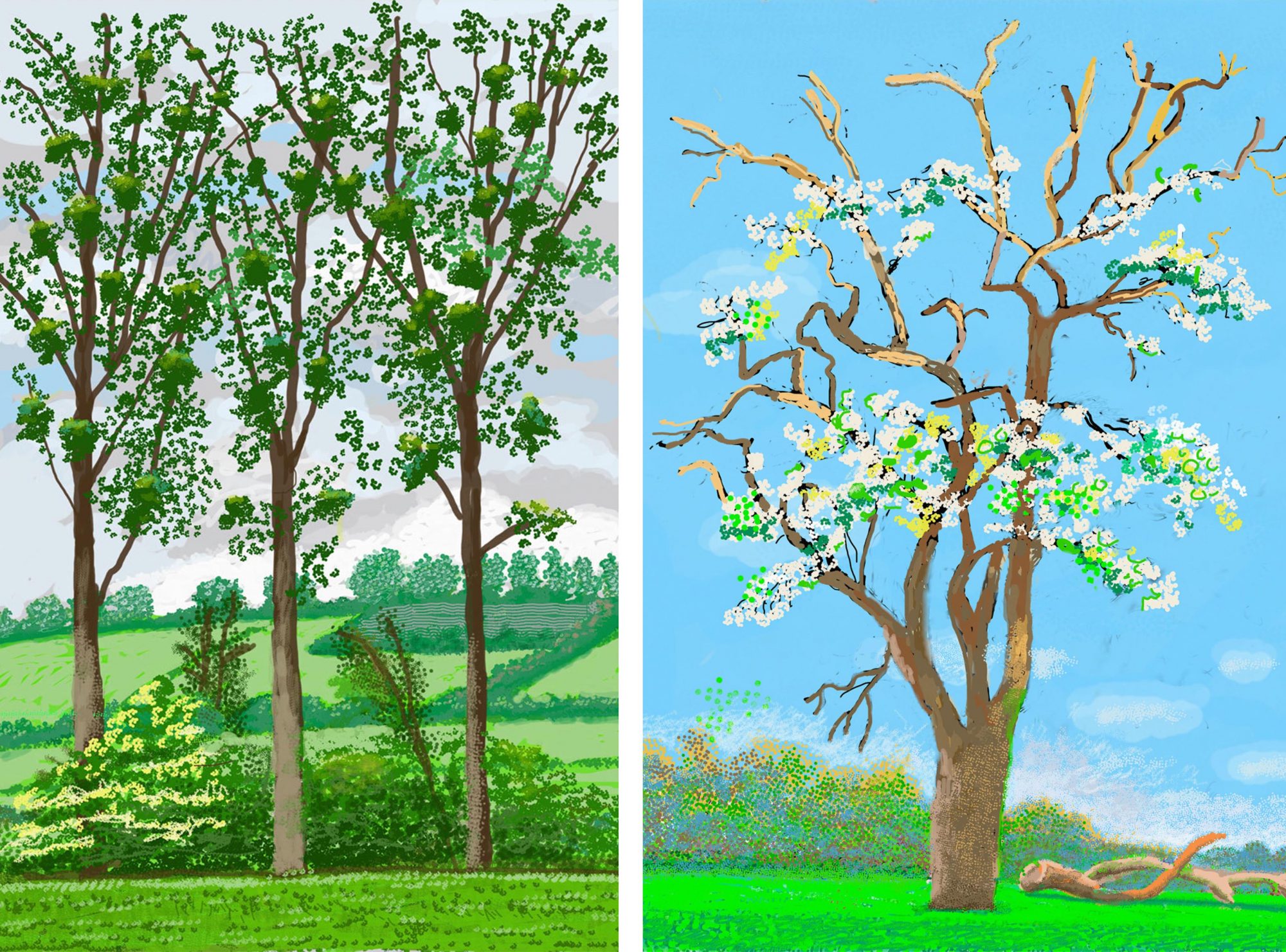 By selecting a few interior design pieces using the colour palette of David Hockney's paintings, we wanted to bring this sense of optimism and brightness to your spring home décor.
The David Hockney exhibition is planned to open on 23 May 2021 and will run until 26 September 2021. You can pre-book your tickets online.
Uplift your home with nature inspired rugs
Colours and emotions are closely linked and being surrounded by bright colours has been proven to make you feel happier and more optimistic. The use of vibrant and contemporary colours underpins what our designs are all about. You can completely transform your home with a statement piece like the Jellybean Lime rug. The fresh greens combined with the luxurious texture makes it a vibrant, yet elegant addition to your room.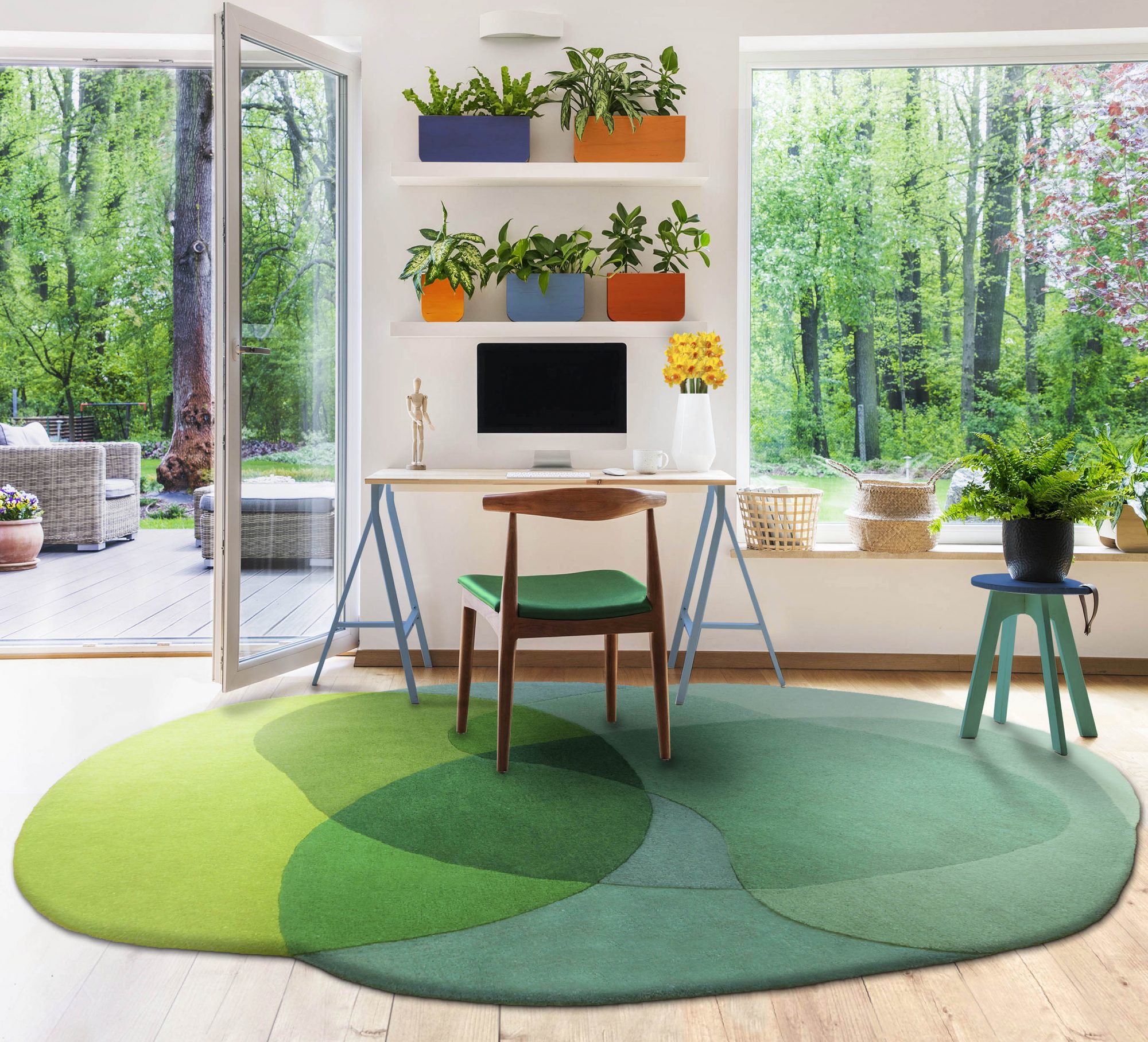 For a particularly dynamic luxury rug, use the Echoes of Light Green Rug, inspired by intricate glass art by the talented glass artist Tim Rawlinson, combining blues and greens in a soft, circular shape. Or if you'd like something more geometric but in spring colours, consider the After Albers Cornflower Rug.
The rugs are perfectly paired with our green Jellybean Lime cushion and the After Matisse Blue & Green cushion.
Use plants and flowers to create a fresh spring decor
Is there anything that says spring more than freshly cut flowers? Flowers and plants are a great and easy way to add a bit of colour and greenery to your interiors. They're also extremely good for your well-being! Creating your own flower arrangements is therapeutic and a fun project now that we are spending more time in our homes. You can use flowers from your garden, or store-bought flowers, or even tree branches and wildflowers. If you need inspiration, have a look at Willow Crossley's stunning spring floral arrangements that are full of colour and movement
For a longer lasting floral arrangement, silk and dried flowers are a great way to bring nature into your home. Bloompost create beautiful dried flower bouquets that are stylish, eco friendly and can be posted through your letterbox!
Welcome spring light
As the daylight hours get longer each day, making the most of the natural light in your home is key to make your interior feel brighter and airier – and it will also make your colourful home accessories pop. Maximising the light in your home can be as easy as re-arranging your furniture and swapping out darker curtains for light-coloured ones to ensure nothing is blocking the light from coming in. You can also use mirrors and glass to reflect the light. Accessories like mirrored vases, glass top coffee tables and mirrors are a few examples of home decoration items that will help bring light into your home. We love the mirrored designs from Reflections Copenhagen which are perfect for reflecting light and colour in your room.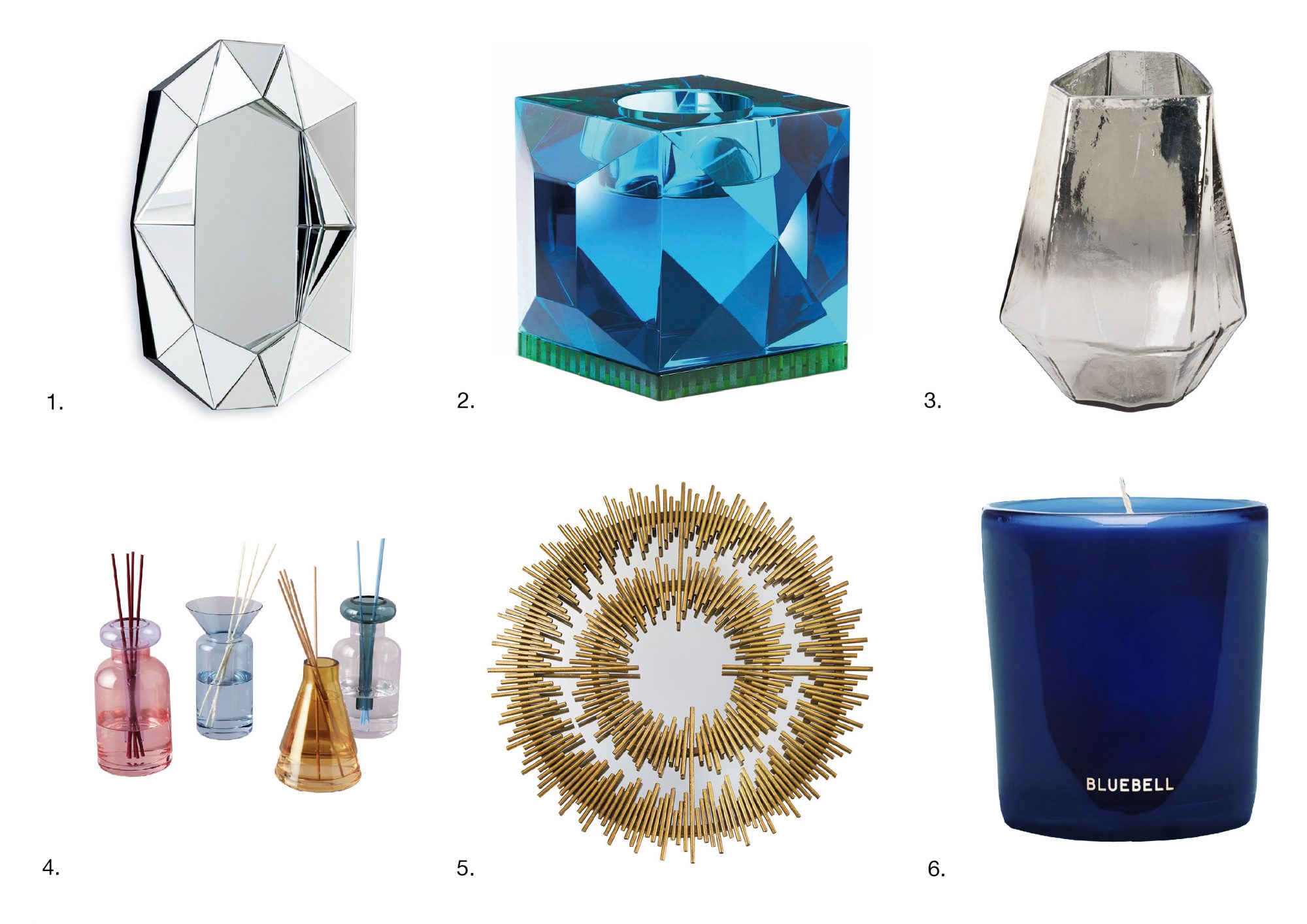 Spring decor for your walls
Using soft white colours for your walls will allow natural light to reflect better and will also balance your colourful statement pieces. That said, that doesn't mean that you can't add colour to your walls. Prints and paintings are great options for this. They are an easy way to give your interiors a fresh, new look.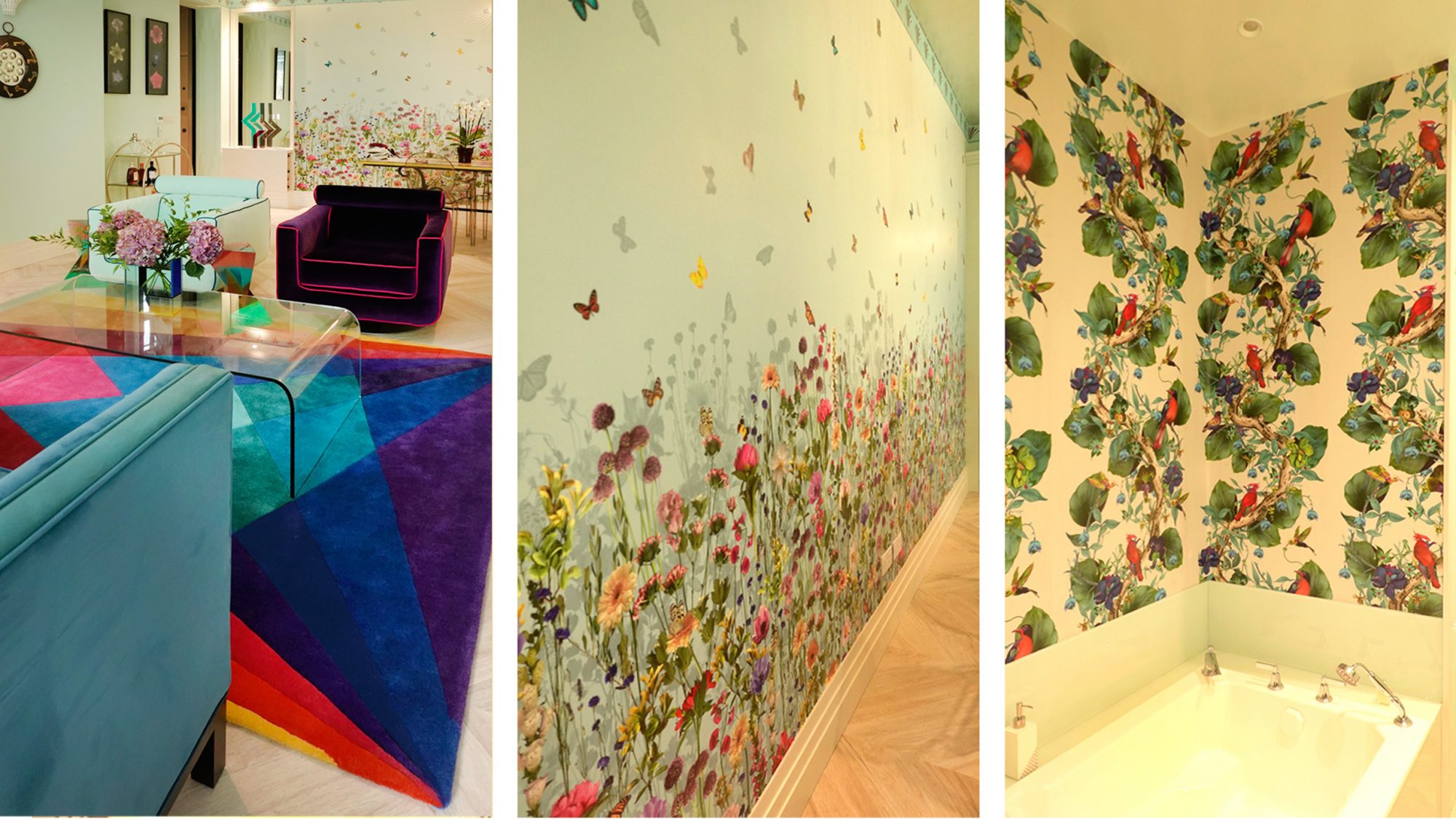 Or why not add some colour with an accent wall in a bright colour or a floral wallpaper? We love Matthew Williamson's floral wallpaper London-based illustrator Frankie Penwill creates lovely plant-inspired prints full of soft greens that compliment beautifully with the natural (or fake!) plants in your home.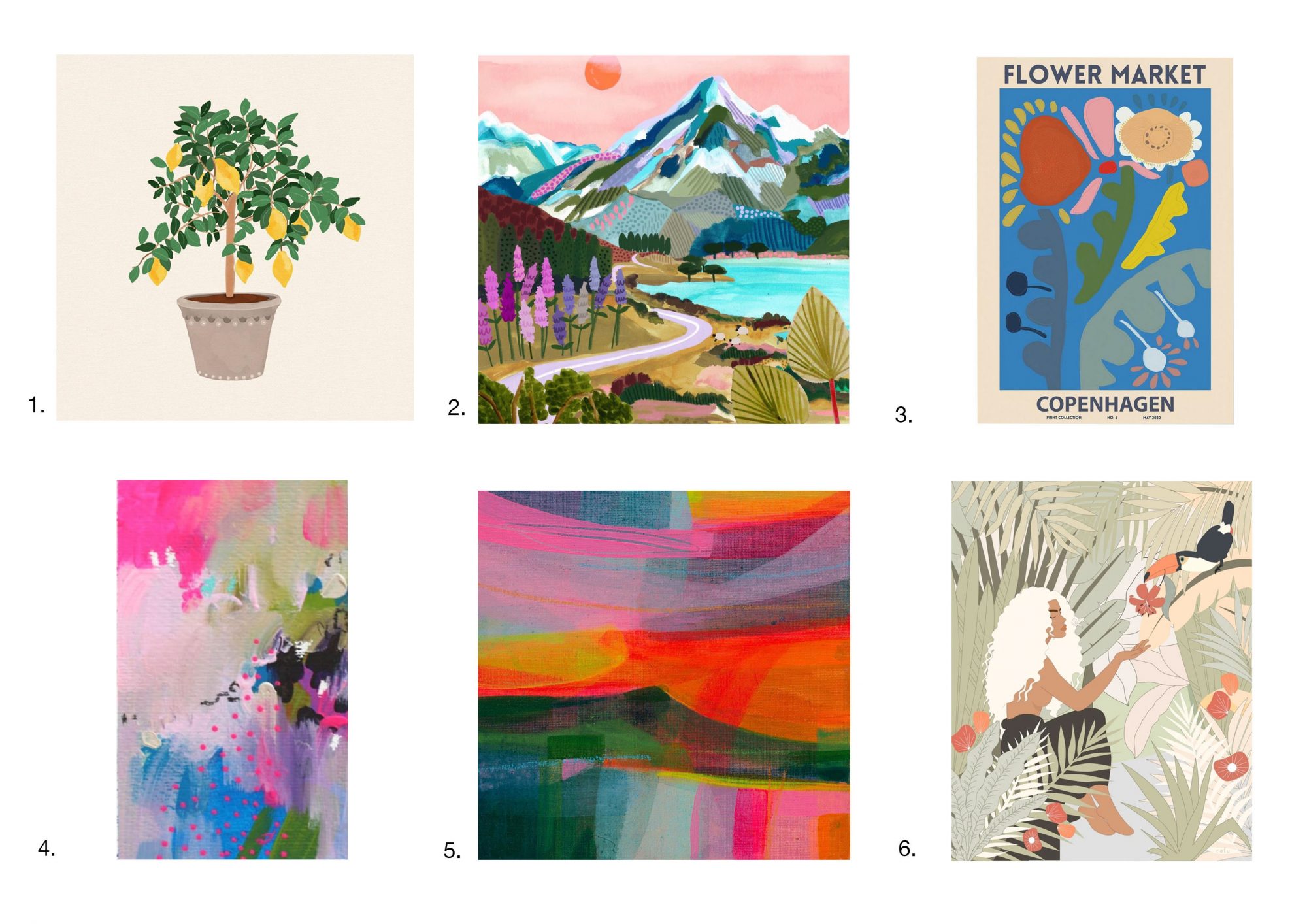 Whether you are looking for a colourful statement piece like a nature inspired rug, or just want to lighten up your interiors with a bit of greenery, there are plenty of ways to add a spring feeing to your home decor. We hope you are as inspired as we are to get started with your spring decorations!