There's no doubting that the sofa is the epicentre of the home. Often viewed as a cosy spot to end the day or reconnect with loved ones, families spend a landmark amount of time in their living rooms curled up on the couch. They're a point of reconnection, regeneration and recuperation and surely a must-have feature in any home.
A master in his area, one of our favourite sofa designers is Timothy Oulton. The British designer's stunning sofas push the boundaries of vintage furniture design, all whilst celebrating British heritage and traditional methods of craft. Timothy Oulton's Chesterfield sofa is a great example of this innovation. Inspired by the renowned sofa design that was a staple in stately homes and grand hotels, he created the Timothy Oulton Westminster Button Sofa: a vintage-inspired take on the Chesterfield. Antiquated yet modern and sleek, Timothy's sofa still pays homage to the original model.
Who is Timothy Oulton?
Timothy Oulton sofas are inspired by his love of antiques, his father's military background and his respect of British history. In order to understand the importance Timothy places on tradition and heritage, first you have to delve into his history. Timothy's father formed a small antique shop named Halo in 1976, and he grew up surrounded by vintage furniture, soon growing to realise the vast benefits to repurposing and upcycling products. In 1990, Timothy took over his father's business along with his brother, focusing on design and the recreation of antique pieces, all from a modern standpoint. From there, business boomed, and in 2008 he launched his first Timothy Oulton studio and gallery in LA. Galleries in Hong Kong, London and New York soon followed, solidifying Timothy as a leading figure within the contemporary sofa trade. His first sofa range called the Noble Souls Sofa used natural dyes, linens and feathers. Setting the standard for innovative designs, Timothy has mastered the art of elevating interiors through antique furniture making. Whether you're after a shabby sofa, a soft cloud sofa, a unique Union Jack sofa, or the classic leather sofa, Timothy has a couch to suit your wants and needs!
Timothy Oulton's furniture and couches are built to withstand all scenarios, from rambunctious children to dinner parties that get out of hand! Combining comfort and style, these comfortable sofas are inspired by the past but remade through a contemporary lens. One of the great benefits to Timothy's suave and sophisticated designs is their versatility; their sturdy presence within a room allows other elements of interior design to shine. Transcending the boundaries of time, his sofas fit seamlessly into any environment, whether that be a brand new contemporary flat or a country home. Each of his sofas are handcrafted with the highest materials and made with great care, pushing the boundaries of furniture design but also paying homage to their vintage roots.
The Adaptability of Timothy Oulton's Designs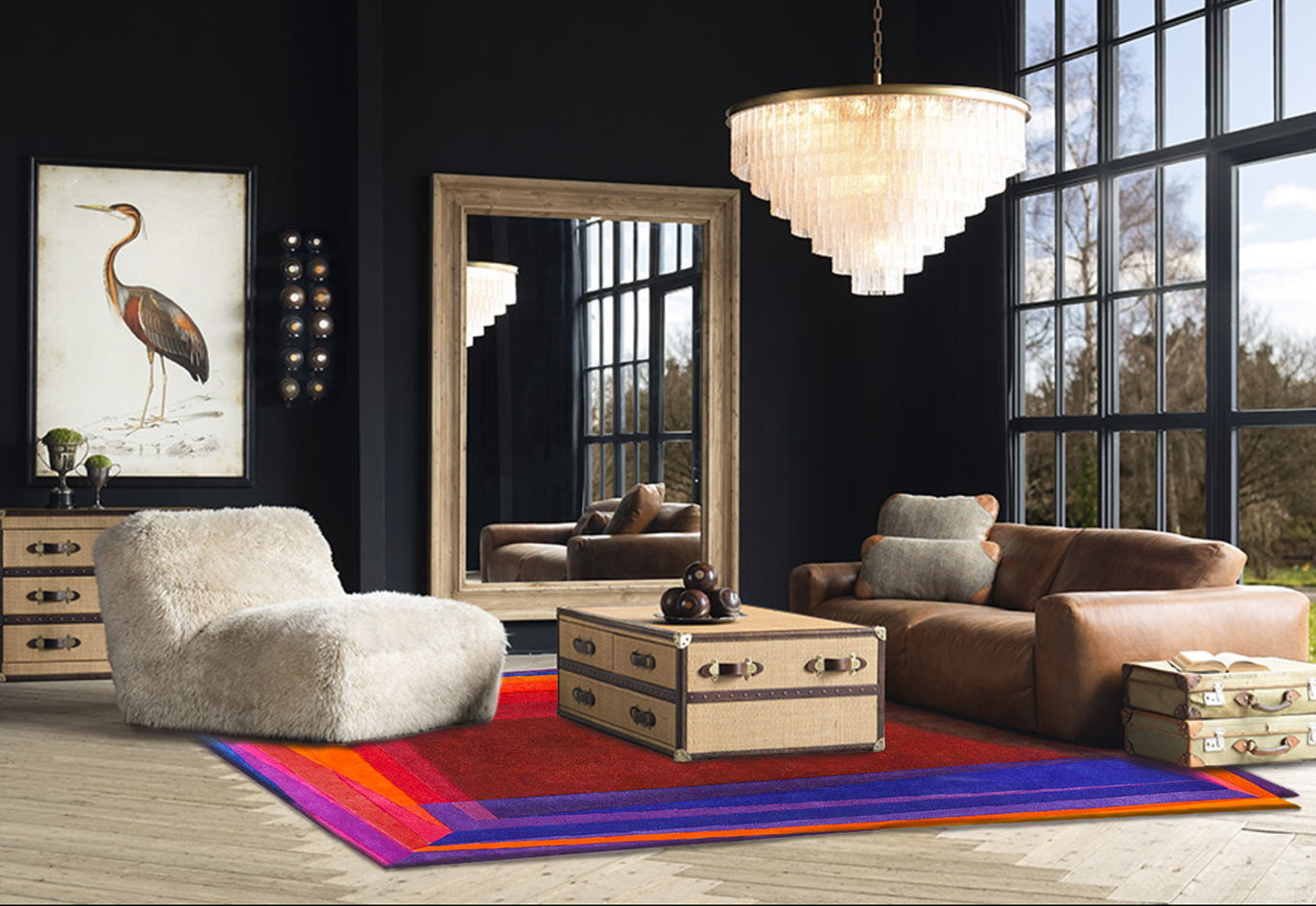 Whilst the sofa may be the element of comfort within a room, it is only one chapter of the story. Timothy's stunning sofas successfully interweave modern sophistication with elements of vintage design. His iterations provide a solid foundation on which you can build your ideal room, regardless of your interior design preferences. Whilst the sofa is often the epicentre of the room, it's the surrounding elements that create a welcoming environment. Whether you want to create a sophisticated modern home or a family-friendly haven, attention must be paid to the little details.
So, what's the next step after you've purchased your dream sofa? The adaptability of Timothy's authentic designs means that other elements of the room can shine. This is only enhanced by Timothy's favoured colour palette of neutral tones, meaning that they work in harmony with a range of other colours. Why not complete your room with a stylish rug that brings the rest of your furniture to life? This is truly the best way to make a house a home and instil your own personality into the space.
How to Style your Sofa with a Contemporary Rug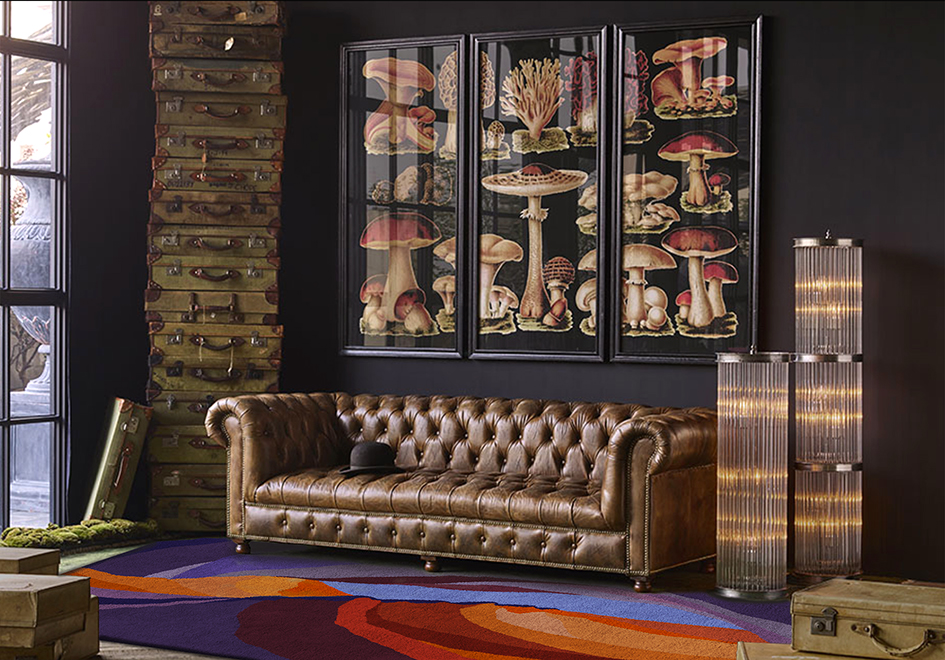 The key to creating a harmonious space is collaboration. This collaboration can be between colour, purpose or theme – as long as they work cohesively! Our rugs work particularly well in spaces where they are the focal point of the room, and versatile sofas such as Timothy's designs allow them to flourish. In many ways, our rugs and Timothy's sofas are opposites: whilst we place emphasis on contemporary innovation, he finds importance in his heritage. This juxtaposition of old and new seems counterproductive, but actually allows both elements of design to thrive. Never be afraid to merge together contrasting components of interior design!
Our colourful After Matisse Rug, for example, would work perfectly with a more neutral sofa. If you're more of a maximalist, why not combine colour palettes and make a statement? Matching your sofa colour to your hand tufted rug is the perfect way to brighten up any living room. Our After Albers Rug (Cornflower) is the perfect match for those cool toned navy, mauve or green sofas, so be bold with your colour choices! Aiming for a more laid-back, relaxing atmosphere? Check our Antelope Canyon Mist Rug. This adaptive neutral design adds character to every room yet fits seamlessly into any environment and works with any type of furniture to create an elevated space.
Whilst Timothy Oulton's sofas set the foundations of a cosy and welcoming living space, our rugs have the ability to make the house a home; they're the icing on the top of any interior! Like Timothy, we believe quality materials and thoughtful design make for a more elevated interior design experience. Regardless of whether you're moving into a new house, or you're bored of your existing décor and want to add a pop of character, make sure to browse our full collection of contemporary rugs here.