A bedroom runner could be the perfect way to bring colour and coziness into your home!
A runner rug can act as a statement and a welcome for your visitors. Most people use a runner to lead visitors down the path of their home, setting the tone of their design aesthetic. You can also continue your design story by placing runners into your bedrooms.
Introducing runners into your bedroom will make it inviting and welcoming – and choosing runners rather than a rug is a cost-effective way of bringing fibre, softness, colour, and interest into a room. Rugs in bedrooms are partially covered by a bed, whereas runners can be seen in their entirety as they do not need to be placed in any part under the bed.
Using runners in a bedroom is a great way to add individuality and personality to your space.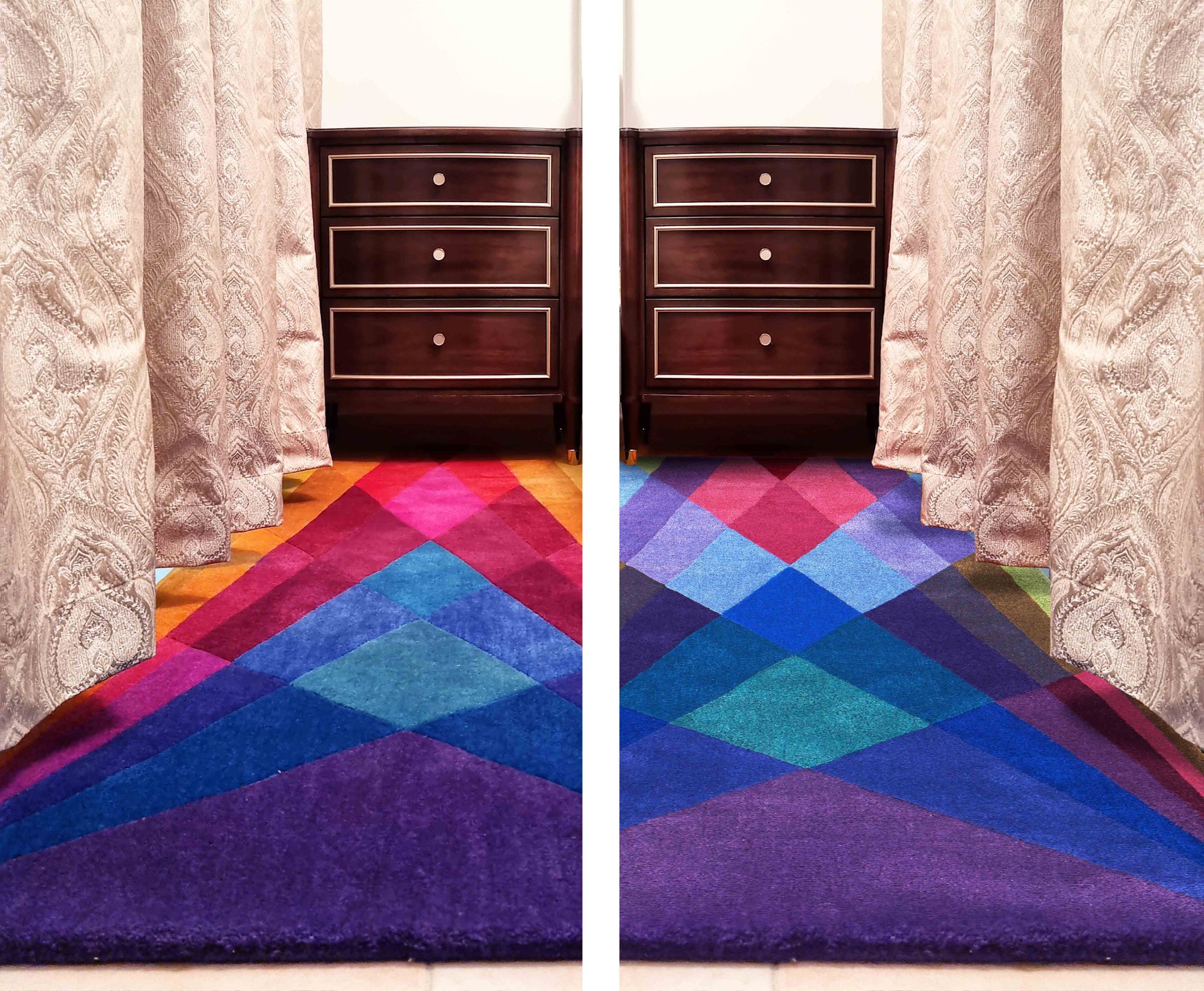 A bedroom runner rug is an excellent choice particularly as it is a smaller and more manageable addition to your room. There are a variety of other practical reasons for having runner rugs in your bedrooms. Some of them are described below.
Making your room look bigger: Whatever your room size, a runner carpet for a bedroom extends the visual length of your space, making the bedroom appear bigger as our eye naturally gets drawn to the streamline length of the runner. This skews our perception of the room dimensions to give the impression of a longer and bigger room.
A great way to wake up: Imagine waking up in the morning, getting out of your toasty warm bed, and rather than putting your feet on a cold floor, you let them sink into a luxurious warm, thick, bouncy New Zealand wool pile bedroom carpet. Adding a runner rug next to your bed allows you to keep the warmth for just a bit longer and to slowly ease into your day.
Adding Personality to a small room: A bedroom runner works perfectly in narrow rooms. Utilise the space by the side of your bed (which is usually one of the narrowest areas in a bedroom) by placing a carpet runner on either side of the bed to add depth, warmth and personality to your room. Using wool runners is an easy way to transform small floor spaces into something colourful and exciting or depending on your runner choice it could add the peace and calm colours and shapes of nature to your bedroom.
Our Landscape runner (above) can be used on all three side of a bed to bring the neutral tones and undulating shapes of nature into your home.
A runner beside your bed enables you to see all of the design, whereas a larger area rug under the bed means some of the rug design is hidden by the bed. This is why a runner either side of the bed is an excellent option.
Bedroom runners generally do not require large pieces of furniture to be moved to place them so have the added benefit of being simple and easy to install. Another added benefit of using runner rugs in the bedroom is that you can choose a different runner for each side of your bed so getting out of bed can be a different experience depending on the side you choose.
You could choose same design but a different colour-way for either side of the bed such as The Rainbow Runner on one side and the Dusk Runner on the other. Or choose the Rosie Runner for both sides of the bed but rotate one 90 degrees. Sonya's colourful an irregular shaped runners such as Magic Stepping Stones in (Vibrant) or (Deep) fit the Maximalism design aesthetic well if you are wanting to achieve this look.
The designs available at Sonya Winner Rug Studio are particularly good as bedroom runners as they are thick and luxurious underfoot as well as being distinctive colourful rugs – perfect for stepping onto straight out of bed. Take a look at our website to see which designs you prefer by searching for runners in our search tool on the top right side of website or on mobile bottom of menu bar.
Colourful runner designs work particularly well in bedroom settings that would benefit from an injection of colour and design to create an eclectic interior.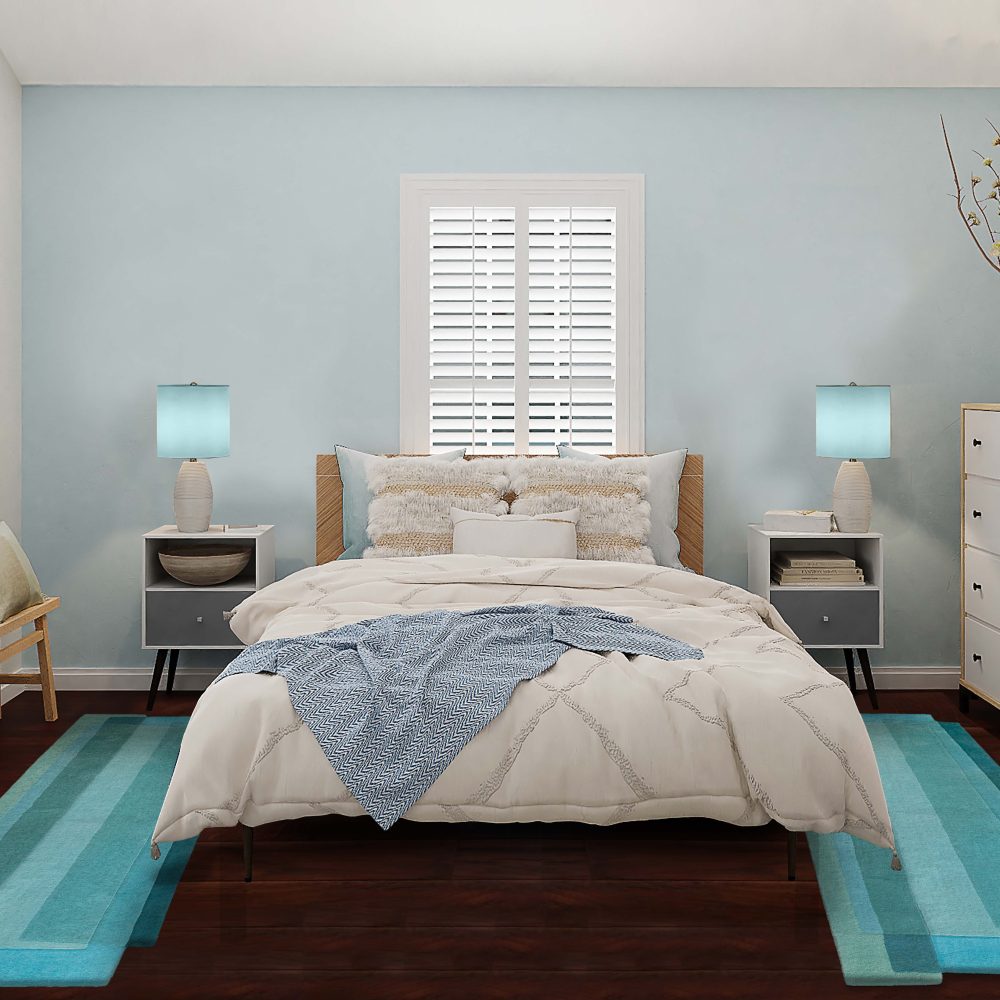 Sometimes all we want for our bedroom design is to be reminded of relaxing holidays. Our Aqua Teal Sea Runner will transport you back to memories of summer  and the calming lapping colours of the sea. Summer can be an attitude rather than a season.
Looking through your holiday photos of beautiful aquamarine seascapes and rippling water can bring on a twinge of sadness, but you can have memories of these summer shades on your bedroom floor throughout the year with our Aqua Teal Sea rug and or runners.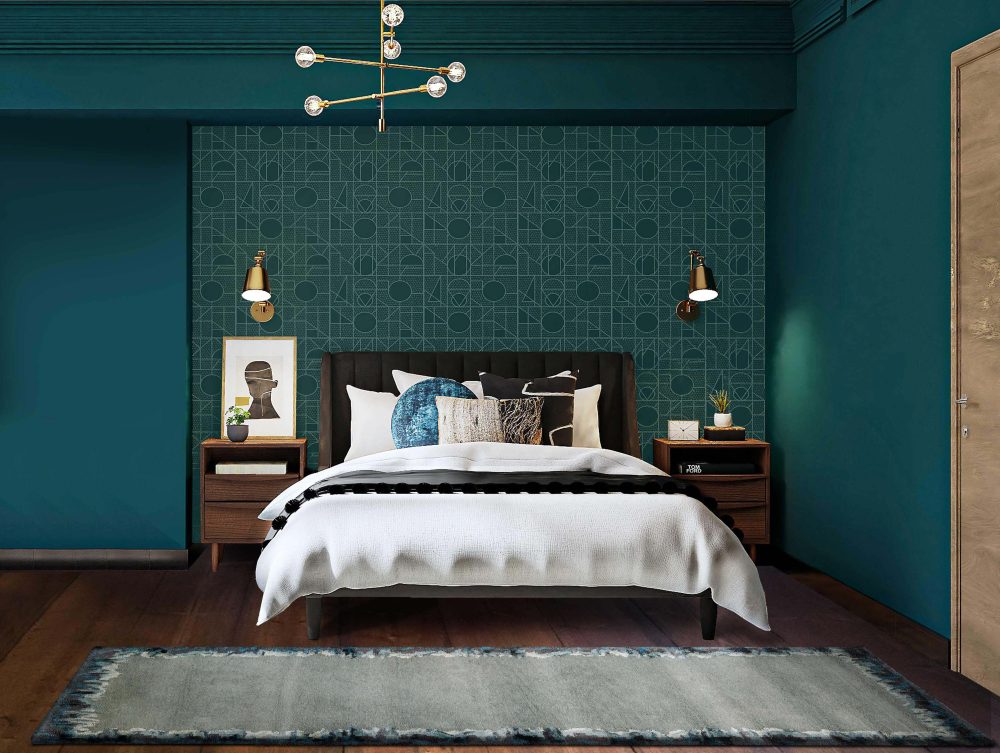 If you would like a reminder of nature in your bedroom floor runner that is more muted in colour, the Rockpool Runner is a wonderful choice. It alludes to nature while still maintaining calming and neutral colours – it can be placed at the end of the bed as seen above or on either side of the bed.
Now that you know our top tips on how to choose a bedroom runner, you might be looking to upgrade other elements of your bedroom.
When it comes to choosing a bed, there are a few factors to consider such as size, style, and comfort level. BedKingdom beds offer a wide variety of styles to choose from, including classic wooden frames, contemporary upholstered designs, and practical storage solutions. Additionally, their beds are available in different sizes, from single to super king, to accommodate different room sizes and sleeping preferences.
For more help on how to choose a runner for your bedroom, use the Visualise tool on our website which allows you to see how any our runner rugs will look in your space. Just use the tool or send photos of your room to enquiry@sonyawinner.com and we can digitally drop in the designs free of charge so you can see how the runners look before you buy!