Choosing an area rug for your home can feel daunting. The rug size, shape and color can totally transform a room. The cost is significant for a quality rug, so it's not surprising that sometimes you can start looking towards smaller rugs and more conservative colours than initially planned – beware this can lead to a disappointing result. Keep confident and remember what you initially wanted to achieve when making your final choice.
We've put together rug size guide to help you make the right choice. You can return our rugs (unused) within 14 days for a full refund or exchange if you feel you have made a mistake. You can also use our free Digital Visualising service to help you choose the best rug for your room.
Rug size for living room
The choices for rug size and placement in a living are ALL ON or ALL OFF or HALF ON AND OFF.
ALL ON: is when you choose a rug size that is large enough for all chairs and sofas to fit on the rug. Your room is large enough for this option if the furniture is away from the edge of the room. Choose a rug size that allows the furniture to have all feet on the rug with a minimum 8 inches/20cm of flooring showing on the wall side.
ALL OFF: Typically if the furniture placement in the living room is against the wall, people go for a smaller rug which results in the All Off arrangement.
Both solutions can work – it is however worth noting that with the All Off solution a coffee table can sometimes feel as though it is on a little island, with the rug drawing the eye to the centre of the room. With All On, the arrangement may feel as though it is floating – although with very large rooms the all off arrangement can be extremely successful.
HALF ON HALF OFF: A popular rug size and furniture placement solution is to have only the front legs of furniture on, so that your feet are on the rug when you sit down. Have a decent amount of rug behind the legs, so that they are not just perching on the rug, but anchoring it – we suggest around 4- 8inches/10-20cm. With half on half off arrangements ensure the rug is wider than the sofa by at least a few inches either side. Furniture around the edge of the room (sideboard, bookcase) is best off the rug.


Our distinctive irregular shaped rugs work perfectly in living areas adding interest and vibrancy and also allowing your flooring to shine through as seen below.
Rug size for a dining table
When thinking of how to choose a rug size for dinning room it is very important to have a rug large enough for chairs to be pulled out without going off the edge. You don't want to be navigating a change in level when tucking your chair in to sit down.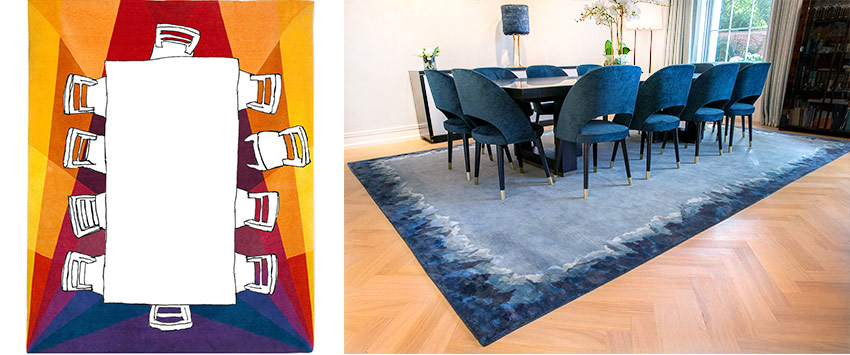 Rule of thumb when choosing a rug size that is safe and comfortable is minimum 30 inches/75cm clearance from the back of the chair, or a rug that is at least 60 inches/150cm bigger than the table on each side.

Rug size for bedroom
When selecting the rug size for a double bed go for a rug large enough that it can go under the bed and make a good sized border beyond. Make sure to allow plenty of space to step out of bed and onto the thick luxurious pile of a Sonya Winner Rug. This means ideally a minimum of 24 inches/60cm either side of the bed. If that seems like a waste (so much of the rug hidden from sight!) you may prefer a smaller rug/runner either side of the bed.

Rug size for entryway and hallway
Entryways and corridors can be made much more inviting with a vibrant contemporary rug. If your home has a long narrow entrance hall one of our Rainbow Runners will make a welcoming first impression. If you have a large rectangular or square shaped entrance hall this is an ideal location for a larger vibrant colored rug to welcome visitors such as Deep Sunset, After Matisse, Bubbles etc. Go as large as you can while keeping a border of floor showing for at least 4-8inches/10-20cm.
Investment
As with so many things, it is usually a good idea to buy the biggest you can afford, for a really luxurious feel. Smaller spot rugs can be very useful to highlight areas – eg: reading chair and cozy nook, but choosing too small a rug in a large space can result in the rug looking like a stepping stone. Be careful to choose your rug size according to the space you have. At the end of the day, the choice is of course yours. Rules are made to be broken. It's your home, and the person who has to be happy with it is you! That's one reason that our rugs can be custom made in the size that is best for your requirements. For advice in choosing one of our colourful area rugs to work in your home or project, please don't hesitate to contact us. We would be delighted to digitally visualise your favourite Sonya Winner rugs into a photo of your room – this is a free service and can be done with photos taken with your mobile phone.
Visit us at our beautiful new Showroom at 14 York Rise London NW5 1ST
Tel: 0203 283 8776 or use our contact form