The right rug can totally transform your home  – the factors to consider to make the right choice when purchasing a contemporary rug are:
DESIGN: Choosing the best area rug design for you your home
MATERIAL: How to the right rug yarn for your needs
SIZE: How to Choose the correct rug size to work with your home and your budget
QUALITY: How to the right quality rug for your needs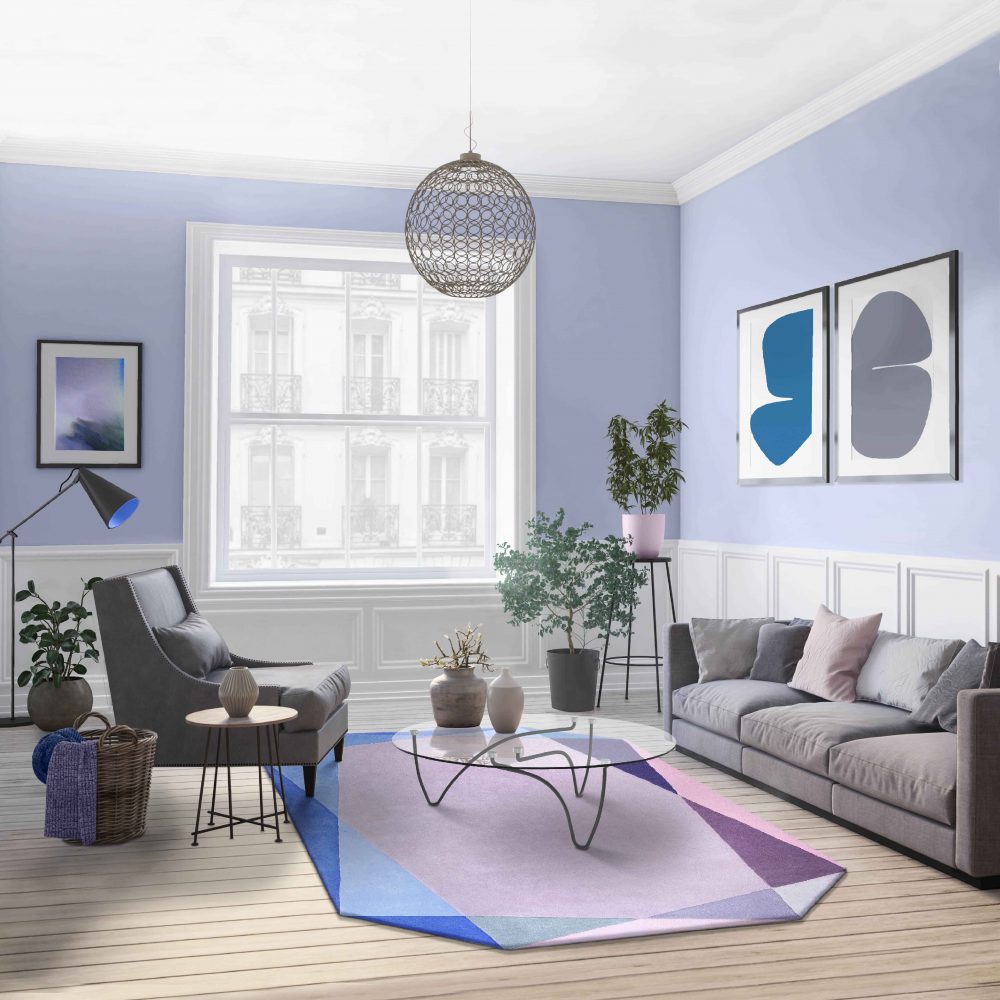 Rug Design
If you are designing a new room design it helps to decide the room style you are wanting to create. Nailing your room style will make it much easier to choose an appropriate designer rug style! Choose from interior design styles such as:
– Minimalist interiors,
– Maximalist (eclectic) interiors,
– Statement interiors, etc.
– Modern Interiors
– Contemporary Interiors
– Neutral interiors
If you have already created your room style you can select a rug design in the same vein. Choosing colours from the existing highlights within your room can work very well. For example, if you have a beautiful vase or artwork(s) pick colours from within these pieces. Alternatively, you can choose to complement the colours of your furniture which will create a bold, vibrant ambience.
If you have a neutral environment composed of greys, beiges, creams etc you can lift and transform it by adding colour with a contemporary floor art rug.
For a bold statement style decor, why not choose a vibrant show-stopper rug in your room!
When choosing a rug design we recommend going with your gut feeling! Don't rationalise it too much. Often what you like first, or what you keep coming back to, will be the right choice for you! Be careful not to be swayed by others, because after all, it's you who will see your rug every day – so choose an amazing rug that you absolutely love!
Rug Material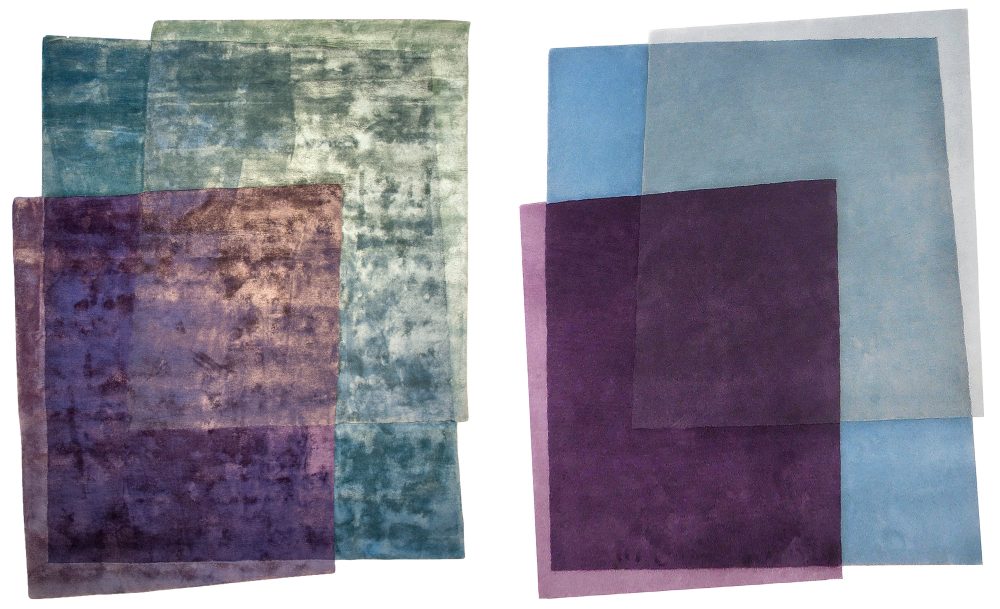 There is a huge assortment of rug materials to create a rug from (by rug material we mean the yarn the rug is woven from). You can find cotton rugs, sisal rugs, nylon rugs, Tibetan wool rugs, cashmere rugs, mohair rugs etc.
We choose to make most of our rugs made from New Zealand wool – plus a few of our designs are also made in pure Chinese silk.  We prefer to use natural rug materials / natural rug yarn. We can, however, use other materials if you are allergic to wool and wool-based rugs!
Wool rugs (like a wool sweater) can withstand wear and tear and be cleaned multiple times. Our woollen rugs are practical and hardwearing rugs. Our modern silk rugs are stunning pieces that require more care than wool rugs but they are luxurious hand-knotted rugs of heirloom quality. Our silk rugs like our New Zealand wool rugs are unique and eye-catching and whoever enters your room will notice them. Silk is a very delicate looking material, but if cared for properly it can be extremely long-lasting.
As well as bringing personality to your home, you may want your rug material to improve the acoustics of your home. This is especially relevant when your home has modern materials such a poured concrete floors, porcelain flooring, wooden flooring and wooden shutters as these materials although beautifully modern – can create an echo effect in a home due to their lack of fibre. Adding natural fibre helps enormously with acoustic problems – so instead, or alongside, using acoustic panels consider our thick pile rugs many of which have varying tuft heights that give them a sculptural quality too. Sonya has worked with our weavers to create our own uniquely twisted wool fibre that reflects light to give our vibrant coloured rugs and also has excellent sound absorption qualities ( read more about the acoustic properties of our rugs here).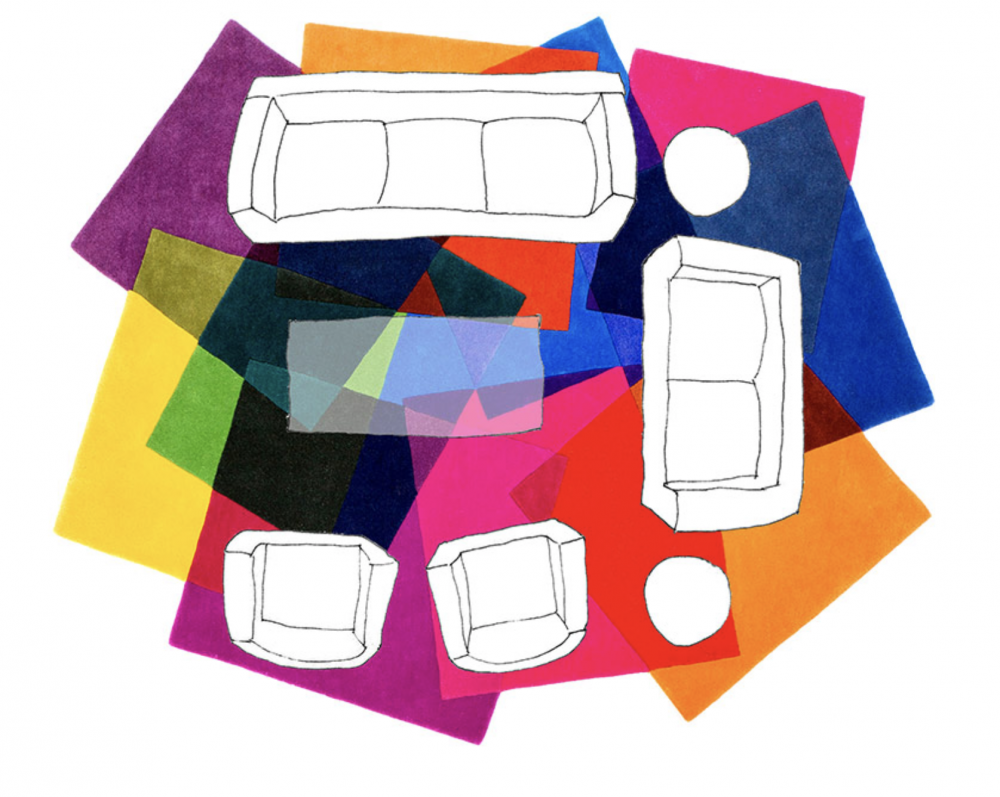 Rug Size
Choosing a rug that is the right size will enhance your room bringing balance and harmony. The rug sizes to consider usually depend on your furniture placement and involve choosing from:
– All furniture on
– All furniture off
– Half-on and half-off,
You can read more about choosing the right rug for each space here.
Rug Quality
After considering and analysing material, design and size, it is important to consider how the rug is woven. When you're looking for a contemporary rug for your home, you may notice many different production techniques. Two of the most common terms you'll come across when searching for rugs to buy are 'hand-knotted rugs' and 'hand-tufted rugs'. They may initially seem similar, but in fact, there are several differences – so let's take a look at the differences between hand-knotted rugs and hand-tufted rugs.
What is Hand-Tufting?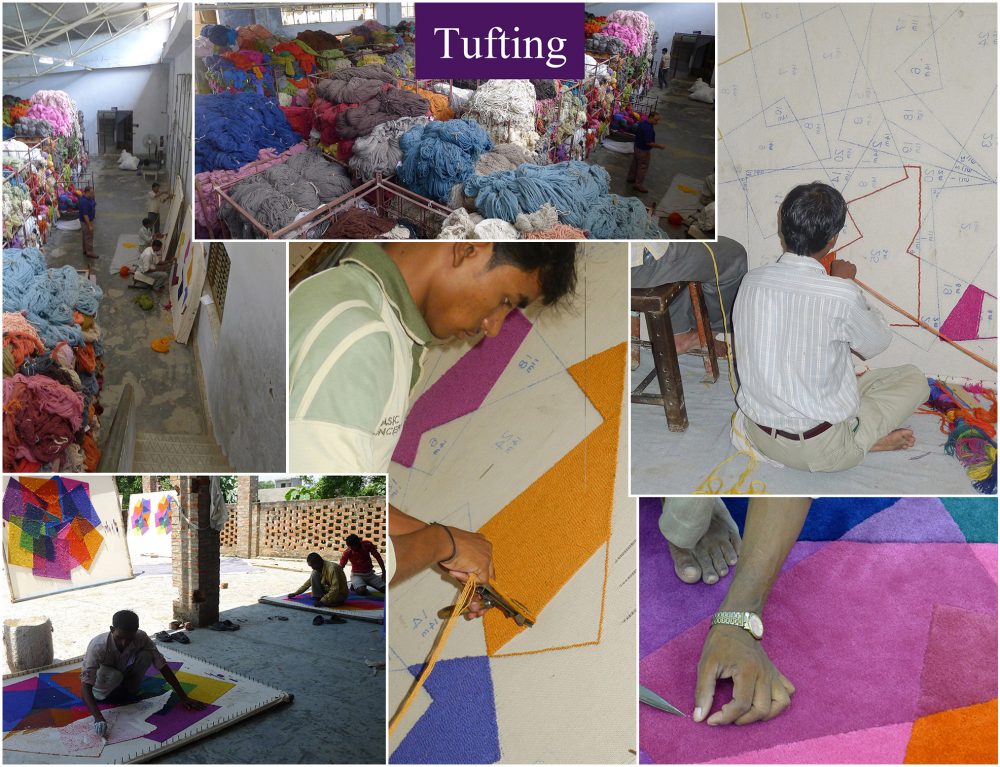 These days hand-tufted rugs are extremely popular. The way hand-tufting works is that the weaver starts with a sheet of canvas or similar material and pulls wool strands through this using a tufting gun (electrical) or tool (mechanical). This canvas backing has the rug's design drawn upon its back, and as the weavers weave the rug, they fill in the design with yarn working from the back. Yarn strands are brought in and out of the canvas base, so the rug pile is built up over time. The hand-tufted quality offers unlimited possibilities and is ideal for projects where precision, scale and time are essential.
Hand-tufted rugs require less time to be woven than the hand-knotted alternative, so they cost less to produce. However, that doesn't mean that hand-tufted rugs are low quality; far from it, these are still rugs created by hand with much care and attention – and are chosen for palaces and upmarket interiors worldwide. Hand-tufted rugs are durable and wear well if well taken care of – they are most suited to domestic environments. They may not last forever, which can be good if you like to change your interiors every 7- 10 years.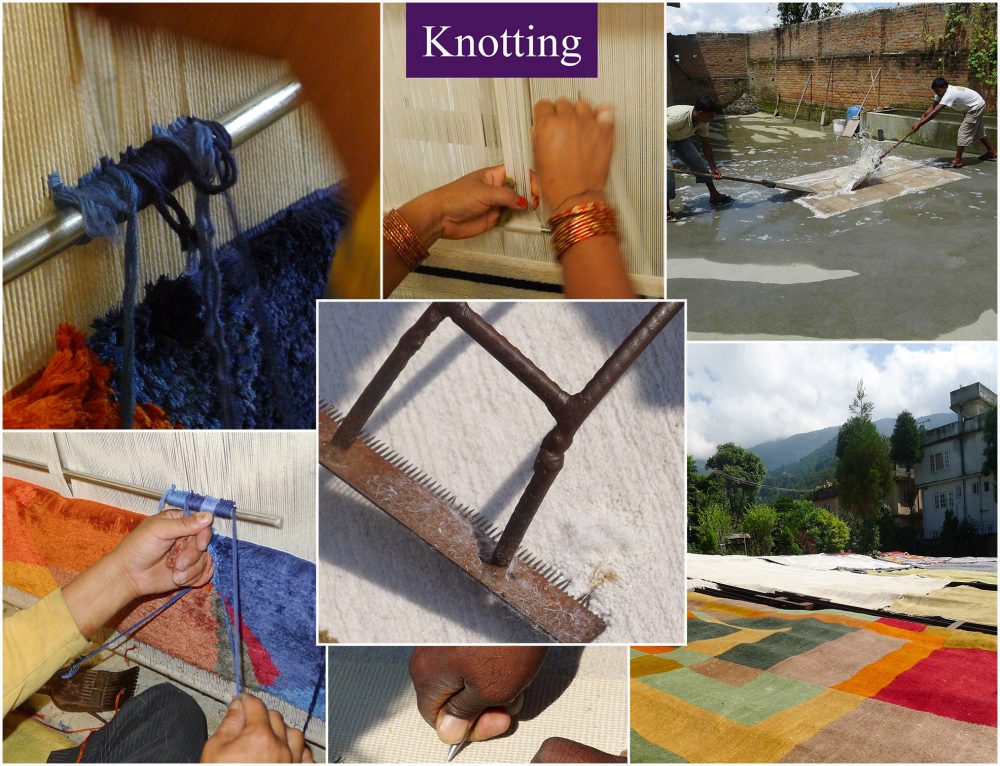 What is Hand-Knotting?
A Hand-knotted rug is a rug that is made entirely by hand on a vertical loom. Knotting is a highly specialised 2,000-year-old craft of weaving requiring remarkable precision, patience and craftsmanship. In a hand-knotted rug, each knot is hand-tied tightly around the warp and weft of the rug. These rugs are composed of many thousands of individual knots. Weaving a hand-knotted rug requires a great deal of skill and a lot of time to produce. The quality and cost of a hand-knotted rug are determined by the number of knots per square inch.
Handwoven rugs be they knotted or tufted have a unique 'craft' quality that can not be found in machine-made rugs. Comparing a machine-made rug to a handmade rug is rather like comparing a factory-made mug sold at Ikea to a handmade mug by an artisan potter!
In today's world, people are buying rugs for design, not necessarily of the number of knots in them. Many high-quality art rugs are tufted. Nowadays, the value of a rug is within the design and aesthetics, just as much as in quality.
Conclusion: Which rug is right for me?
Now that you have some pointers on how to choose the perfect rug do have a look at the Sonya Winner Studio Rug Collection to search for a vibrant contemporary rug that will transform your home!
Please remember we are here to help whether you are close to us in London or further afield. We sell directly from our showroom to over 30 countries worldwide.
If you are close by we would love to welcome you to our showroom /studio  – do book an appointment by emailing us at: enquiry@sonyawinner.com
Or if you are further afield do use our free rug visualisation service (see here) which is a perfect way to see how our rugs will look in your home. We would also be delighted to book a video call with you to discuss your rug requirements – you can book this here.
We look forward to helping you find the perfect rug(s) for your home!