It's heatwave season! Temperatures are skyrocketing in the UK and we're all trying our best to keep cool here in our busy London designer rug studio and showroom – especially our furry friends! Our two studio dogs, Paxoi (our Lagotto Romagnolo puppy) and Sparkle (our 14 year old working Cocker Spaniel), have been feeling the heat recently and they like to keep cool by spending their days lounging around and snoozing on our 100% New Zealand wool rugs.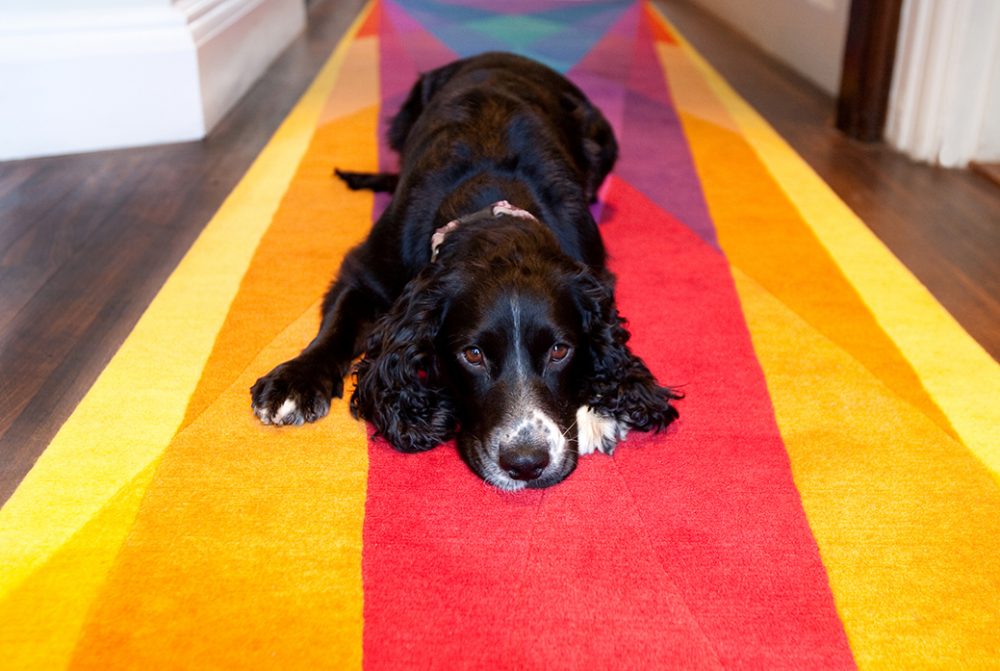 In the UK, the majority of homes are not equipped with air conditioning and are built to keep heat in, which can become rather problematic during heatwaves! Whilst homes in Europe, Australia or the USA tend to be built for high temperatures, heatwaves can make even the most prepared homes unbearably warm. You may find yourself wondering how to keep you (and your furry friends) cool this summer.
There are lots of helpful tips out there for keeping cool. For example, have you ever considered utilising wool area rugs to help battle the high temperatures in your home? It may come as a surprise, but wool rugs and wool carpet actually have cooling properties.
As well as adding design, comfort, interest and assisting with acoustics, our unique collection of contemporary rugs will help regulate the temperature inside your home. Read on to find out how wool rugs can be a perfect trans-seasonal investment for your home.
 Keeping Cool on Wool Rugs
Wool is a hygroscopic fibre. This means that each individual fibre has a small hollow space designed to decrease heat conduction and make it a natural insulator which constantly reacts to temperature changes in the home.
These natural hygroscopic properties enable wool to manage moisture, when the temperature and humidity levels in your home rise in hot weather. So, a wool rug ensures a stable temperature inside your home and creates a far more comfortable living environment. It is especially important during a heatwave, isn't it?
Consider one of our vibrant contemporary rugs for your home. Our wool area rugs are a great choice to add luxury design and colour to your space, whatever climates your home experiences.
To get the most out of the cooling properties of wool area rugs, you may want to choose a vibrant large wool rug from our designer rug collection to cover a substantial part of your room. Naturally, when a bigger area is covered by your wool rug, the cooling benefits will be enhanced (as well as the acoustics!).
See below how each of our modern rug designs changes the feel of the same room!
Shown above, Clockwise: After Albers Cornflower (Standard), After Matisse Purple (Medium), The Wave (Standard), Rothko-Esque Grey (Standard)
Alternatively, you could consider a few small wool area rugs placed under furniture or dotted around a room. Round rugs such as our Jellybean Rug series or our Bubbles Rug are a great choice if you're looking for a smaller rug which will still make a statement and produce the same cooling benefits!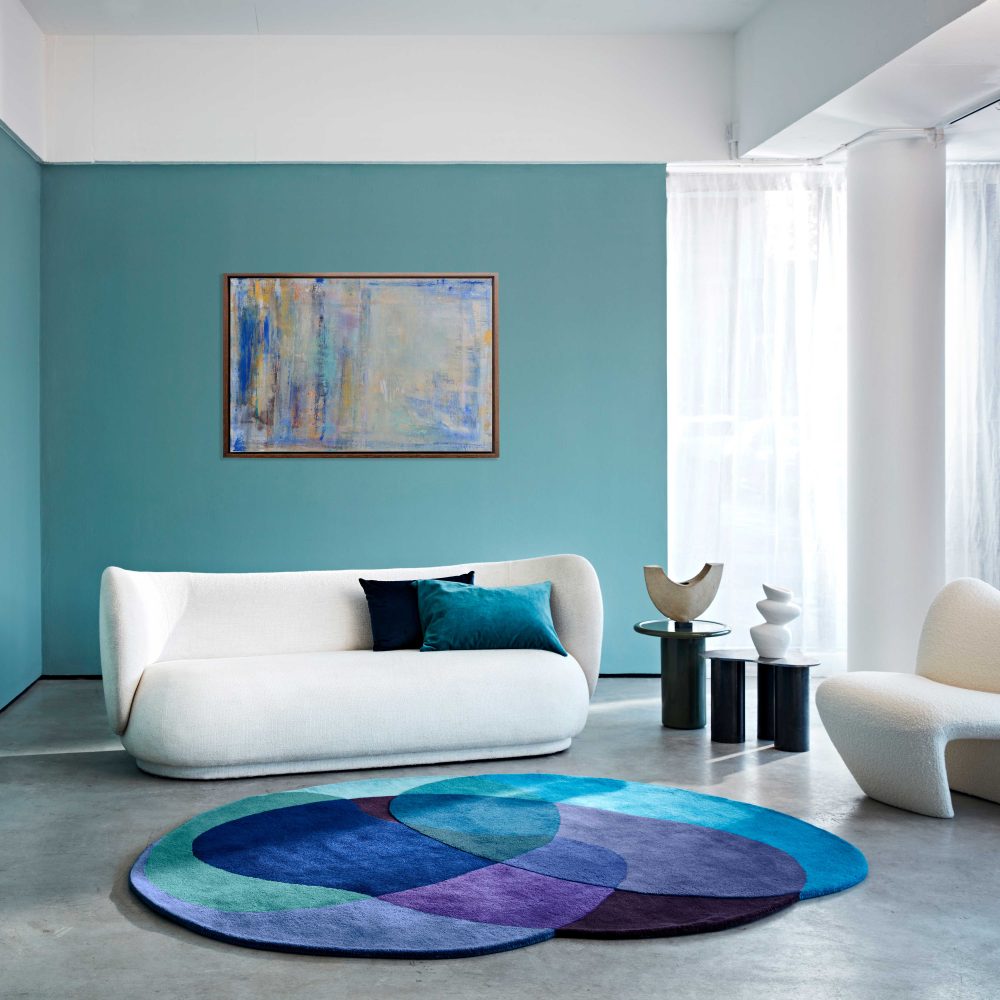 Your hallway or entrance area is also a great location to place a wool rug or two. As a transitional area of the home, some hallways tend to trap heat due to a lack of windows or fresh air to keep them cool.
Contemporary runners, such as the Magic Stepping Stones Runner, will stand out and bring a sense of excitement to your entrance or hallway. This can often be an overlooked area of the home. But, it is in fact a perfect place to set the tone of your home and welcome guests with a one of our award winning rugs, whilst taking advantage of the benefits of wool!
Take a look at how our lovely clients have styled their rugs…
A multi-climatic investment
Thanks to their hygroscopic abilities, wool rugs and wool carpet are a great choice in both summer and winter.
During spells of cold weather, wool's ability to retain heat ensures that your home stays warm and cosy throughout the winter. Choosing a wool rug for your home is also great for you and the planet! By naturally insulating and keeping your home warm, the addition of a wool area rug reduces the need to use heating – thus reducing your energy bills and the need to use excessive energy.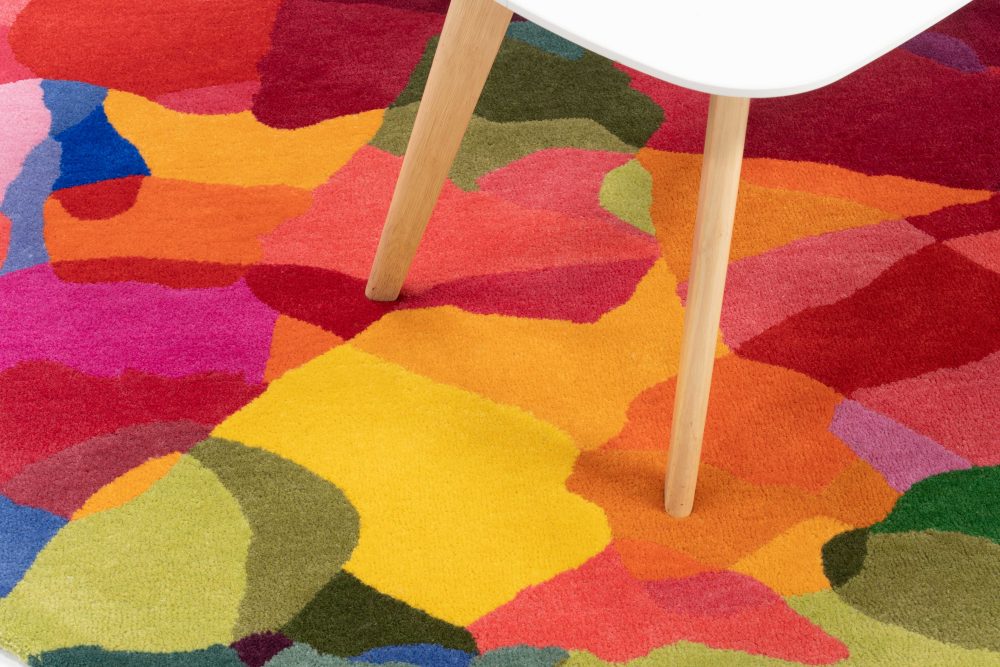 Purchasing a wool rug from our independent designer rug studio means that you will be investing in a unique statement rug designed to be treasured for years to come. No matter which climate or season you're experiencing, a wool area rug is an investment for all year round!
Our Wool Rugs
Sonya Winner Rug Studio is committed to designing and creating beautiful wool rugs of the highest possible quality!
Our designer rugs are created using the best quality, 100% New Zealand Wool. The rugs are lovingly hand-tufted or hand-knotted by our artisanal weavers, to ensure that you are investing in a rug that will stay with you for life.
With their cooling and heating properties, as well as sound absorption, there are endless benefits to investing in vibrant wool rugs!
View our rug collection, and also read about our free rug visualisation service here.