Over the course of the last few years, Covid-19 has confined us to our homes, and we've found ourselves becoming accustomed to the comforts of working from the sofa or the dining room table. However, with the majority of the workforce now returning to the office, it's more important than ever to create a welcoming environment in the commercial space. Introducing more homely elements such as office rugs adds character to communal office spaces, inspiring productivity and increasing creativity levels. There are facts to back this up, too. Around 97% of employees believe their working environment in the office is a reflection of how they are valued as a worker. Furthermore, 65% of employees claim they would actively improve their performance levels if their workplace was a more comfortable environment to work in.
The interior design of a workplace goes beyond aesthetics; ergonomics and overall comfort is a leading factor in levels of productivity, too. So, how can you make a workspace more welcoming? Decorative area rugs are a practical yet comfortable way to add personality to an office space, as they create a balance between a productive work space and a welcoming environment. In order to help employees realise the benefits to working in the office instead of remotely, it's best to capitalise on the advantages of communicating with your colleagues face to face. Collaboration is the key to success for many businesses, and this is most successful in warm and comfortable workplaces. The main purpose of an area office rug is simple: to make a space more inviting for both workers and visitors. Here are our tips on how to use contemporary rugs to aid in workplace efficiency and productivity.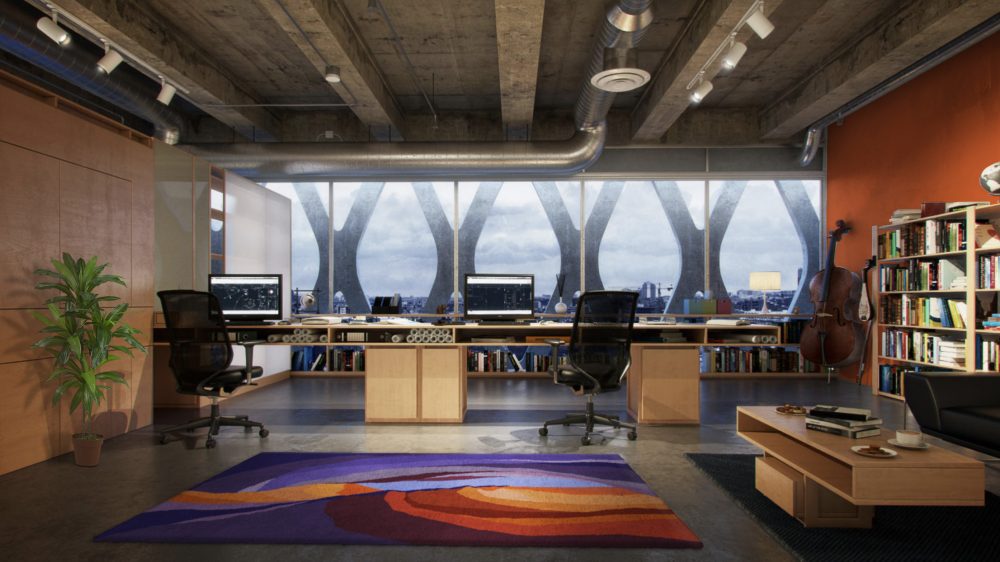 For Making a Good First Impression
The entryway and waiting room of a commercial establishment is the first impression potential clients will receive of your business. The interior design of this space is therefore reflective of your business ethos, your attention to detail and dedication to your staff. This area is essentially the living room of the office, and you should decorate it accordingly. A comfortable client seating area with a striking contemporary office rug is an efficient and effective way to make a statement. Along with the appropriate furniture, a large office rug is a great way to create a focal point in a waiting room, drawing the surrounding design elements together and creating a cohesive space. The best office rugs are ones that accentuate the furniture already in the space, and bring the familiarity of the home into the work environment. This will immediately put your visitors at ease and make them more open to conversation. A circular office rug or oval office rug are particularly good for welcoming spaces, as they encourage creativity and discussion. Our Colour Wheel Rug, Rosie Circular Rug and Vortex Circular Rug are all ideal examples of office rugs that would enhance a space whilst also maintaining that professional atmosphere. To find out more about circular area rugs and whether they are the right fit for your office, make sure to read our Round Rugs article.
The entryway is also an extremely important part of the office, and it needs careful consideration. Regardless of whether you're a regular employee or valued guest, the first emotional response that is triggered when you walk into the office sets the tone for the rest of the day. Entryway rugs are an excellent tool that can be used to elevate this often-overlooked space. For a smaller entryway, try a small round office rug or a small irregular office rug such as our Jellybean Rug (Berry). This pop of colour is sure to brighten the mood of all visitors, and your employees are sure to feel more enthusiastic about starting the day. For a longer entryway, a long office runner rug placed in the middle of the space is an effective way to draw visitors in. More neutral toned office runner rugs such as the Landscape Carpet Runner and Rockpool Runner are a subtle way to introduce visitors and employees alike to the commercial space. However, bolder office runner rugs such as our Magic Stepping Stones (Vibrant) Runner is the ideal addition to a less formal commercial space.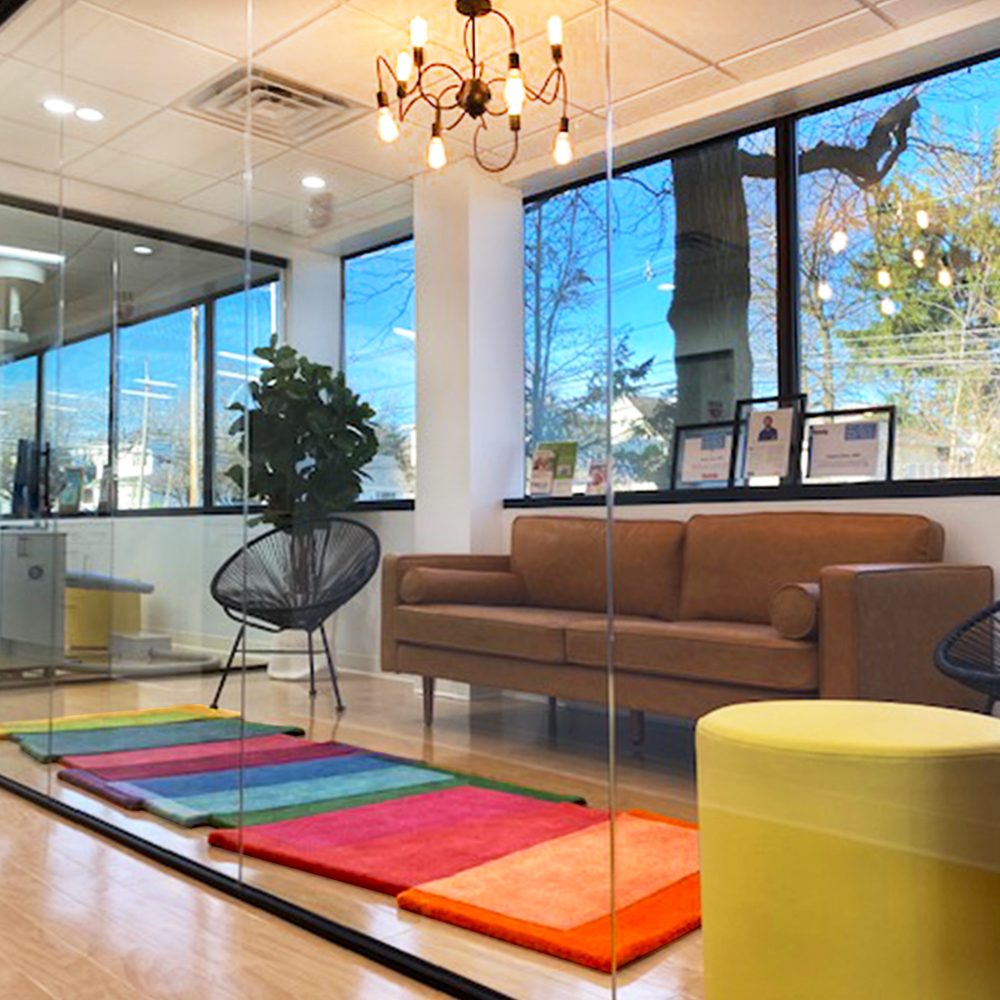 To encourage relaxation and creativity
In a healthy work environment, it's important to have relaxation spaces where employees can take a break and recharge their batteries once in a while. A cosy space consisting of a few sofas is made all the more inviting by a round office rug that pulls the space together. It also provides the area with more character and liveliness, two characteristics that are often missing in common corporate spaces. Transporting the comfort of the home into the office will help breach the gap between the remote working we are all used to, and the regular office working that now feels so unfamiliar. Reducing the 'corporate' feel of the office space is sure to increase the comfort levels of workers and consequently raise productivity, and a welcoming relaxation area is the perfect way to do just that. The best office rugs are there to bring warmth to a space, and an employee rest area is the perfect place for this.
The majority of the time, offices can feel like bare spaces that lack personality. The white walls and neutral furniture are often anxiety inducing, contributing to an environment of distrust and fragility. Not only do area rugs for offices brighten up the work space, but their homely quality has the ability to completely transform the energy of a room. Our vibrant rugs are smile-inducing and our creative designs can thrive in any environment – and they're durable too! They make the perfect under desk rugs too, bringing that extra sense of style to your private office space.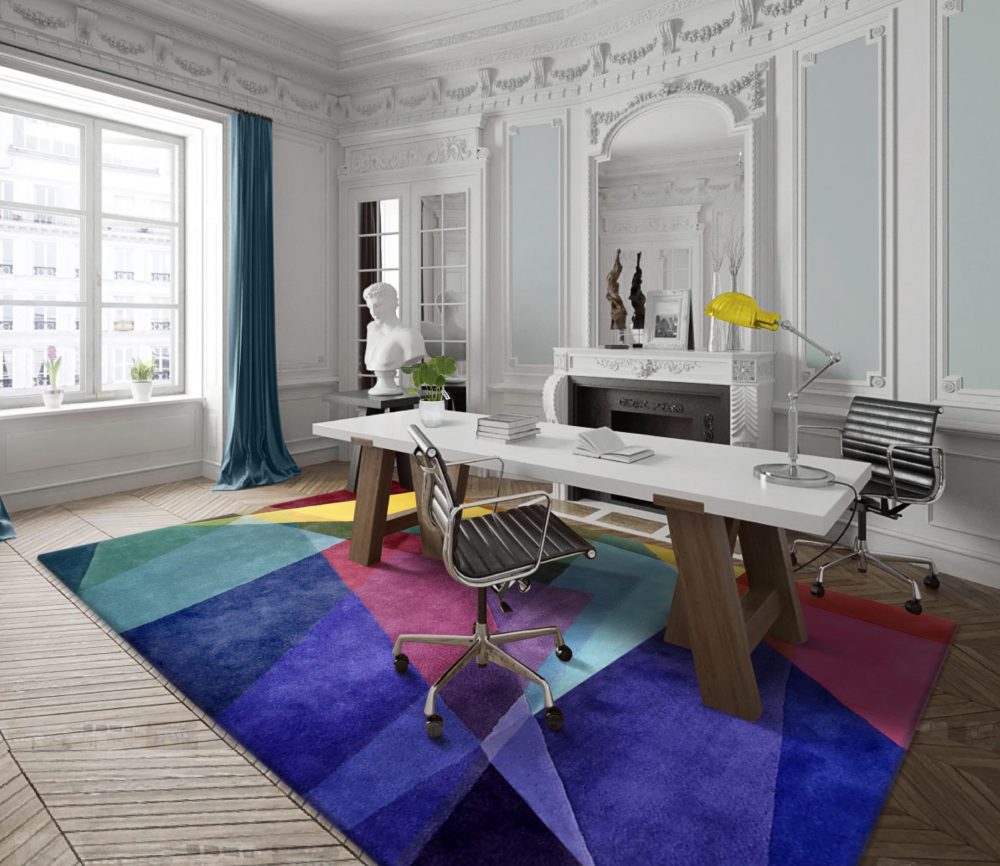 To help create boundaries
Modern office rugs are also a successful way to delineate functional spaces in an open plan office. Contemporary rugs can hint at a change in purpose without it being obvious. Shying away from corporate furniture such as dividers and sharp desks and instead using area rugs is an efficient way to delineate between zones without creating a boring and draining corporate environment. The benefits to introducing large rugs to your office space go further than aesthetics. Contemporary rugs are also particularly effective in large offices, as they absorb sound effectively when placed in rooms with an echo. Large office rugs such as our popular After Matisse area rug is the ideal addition to a bigger office space, as it adds character and serves the practical functions of absorbing noise and making the room feel more cohesive. If you would like to understand the intricacies of rug acoustics, make sure to check out our Sound Absorption article. Introducing modern office rugs to the corporate space can inspire productivity and creativity within staff, all whilst contributing to a comforting work environment. As the pandemic continues and we find ourselves back in the office more, introducing a piece of the home into the office space is a successful way to make employees feel most welcome, and an immaculate modern office rug is the ideal way to do just that.
If you're still unable to find the right rug for your space, make sure to get in contact and we will be more than happy to help, and perhaps even help you design a custom office rug especially for your corporate office. Are you also struggling to settle on the right rug size? Contact us and we can provide you with tips to help you find the correct sized commercial office rug for your space.