Ever wonder why you're drawn to round shapes more than to others? On an elementary level, circles are representative of harmony and completion, but the relationship between shapes and emotional response actually runs much deeper. Round shapes are the embodiment of reliability and comfort, evoking feelings of calm, relaxation and peace. The eye is drawn to round curves seamlessly, eliminating the need for sharp eye movements and calming the mind. Straight sided shapes, however, have the opposite effect. These harsh lines are more difficult for the brain to process. Whilst both round rugs and oval rugs have the ability to transform any room, first we need to understand the effect of curves on an interior living space. So, why are round shapes so desirable to the eye? Science has the answer. It is believed that our preference to circular shapes originates from the brain's evolutionary adaptation to pay more attention to smooth and curved lines making circles more comforting and welcoming to the eye. Researchers have conducted a variety of studies that confirm that brain activity is higher when people are in a room filled with round objects, and overall these rooms were judged as more beautiful by the majority of participants.
So just how important are round shapes in interior design, and how can we apply this? Whether you're decorating a new home or want to change your existing decor, make sure to take shape into consideration as well as colour and texture. As we now know, shape can have a serious effect on the atmosphere you are trying to create within a room, helping to draw the eye around the space and distract from harsh angular features. If you're looking to introduce a sense of calm and regeneration to your room, look no further than one of our circular rugs. A curved rug is the ideal example of an interior design element that can transform the overall feel of your space. These round rugs are best used in living rooms and bedrooms to promote a sense of calm, but the relaxed and positive vibes they contribute can work successfully in any room of your home. If you're interested in the spiritual flow of energy, Chi, also known as energy flow, moves in a circular motion. Round rugs allow Chi to flow freely in your space, creating balanced Feng Shui in your home. Suggestive of harmony and unity, round area rugs and oval rugs can be used to soften harsh and cold interiors.
How do you Style a Round Rug?
There are a multitude of ways to use round rugs in the home to create a unified and comfortable space. The trick is to understand both the function and layout of your room, and determine where the round area rug will work best. Circular rugs in particular are a great way to break up a multifunctional living space. Without relying on sharp lines to delegate space, a curved surface such as a rug subtly hints at a change in functional space without being obvious. This creates a seamless and natural space that flows easily. A deep coloured green circular rug such as our Echoes of Light Green Rug or a comforting yellow round rug is the perfect way to suggest a change between functional spaces in an open plan living space. This is a subtle way to delineate between zones without overwhelming the interior.
Round area rugs can also be used to segregate a small part of the same functional space, such as a reading nook in the living room, a feeding area in a nursery, or a seating area in a bedroom. A round nursery rug or even a small round kitchen rug can create intimate areas in the home. These rugs provide spaces of oasis in otherwise busy households. Circular rugs also work well with rounder room features such as bay windows. Placing a large round rug underneath these round design features enhances the beauty of these gorgeous curved lines.
Bored of round rugs on the floor? Why not hang your area rug on the wall like a work of art? Circular modern rugs are a great way to elevate your interior, and they're a work of art, so it makes perfect sense that you want them to be appreciated by all! Hanging your contemporary rug on the wall is the perfect way to introduce texture, colour and curved lines into your space. As we know, circles promote feelings of safety and reliability, making them comforting artworks to look at each day. To find out more about hanging one of our rugs on the wall, read our article on Designer Rug Wall Hangings.
Finding the Right Space for your Circular Rug
Is your round area rug still not sitting right in your space? Try placing the rug partially under a sofa or item of furniture to create a new unique silhouette on the floor. Play around with its positioning within the space, don't be afraid to contrast straight and curved lines – not everything has to be perfectly matched! This also helps to draw attention to other statement pieces of furniture you may want to highlight. Whilst a round rug can undoubtedly be used as the statement piece in a room, why not use your rug to subtly highlight other elements of your interior? Perhaps you have a curved feature in the house you want to highlight? A round rug is the ideal accompaniment to this, and is a successful way to draw attention to the piece of furniture you want to highlight. Whether it's a round dining table or a circular coffee table in the living room, a circular rug is sure to draw the eye.
Here's a helpful design tip: when introducing a round rug to a room, make sure surrounding large pieces of furniture such as a sofa or a side table are touching the rug at one corner. This helps to draw the space together and help it look more cohesive. If you've got a room of a smaller size, add a small circular rug! This will immediately make the space look bigger and more inviting, softening the space completely. In small rooms people are often scared to add elements that aren't always necessary, but a contemporary round rug is a sure-fire way to open up the space. We suggest complementing your space with our Echoes of Light Purple Area Rug. Its undulating curves draw the eye outwards, giving the illusion of a larger area.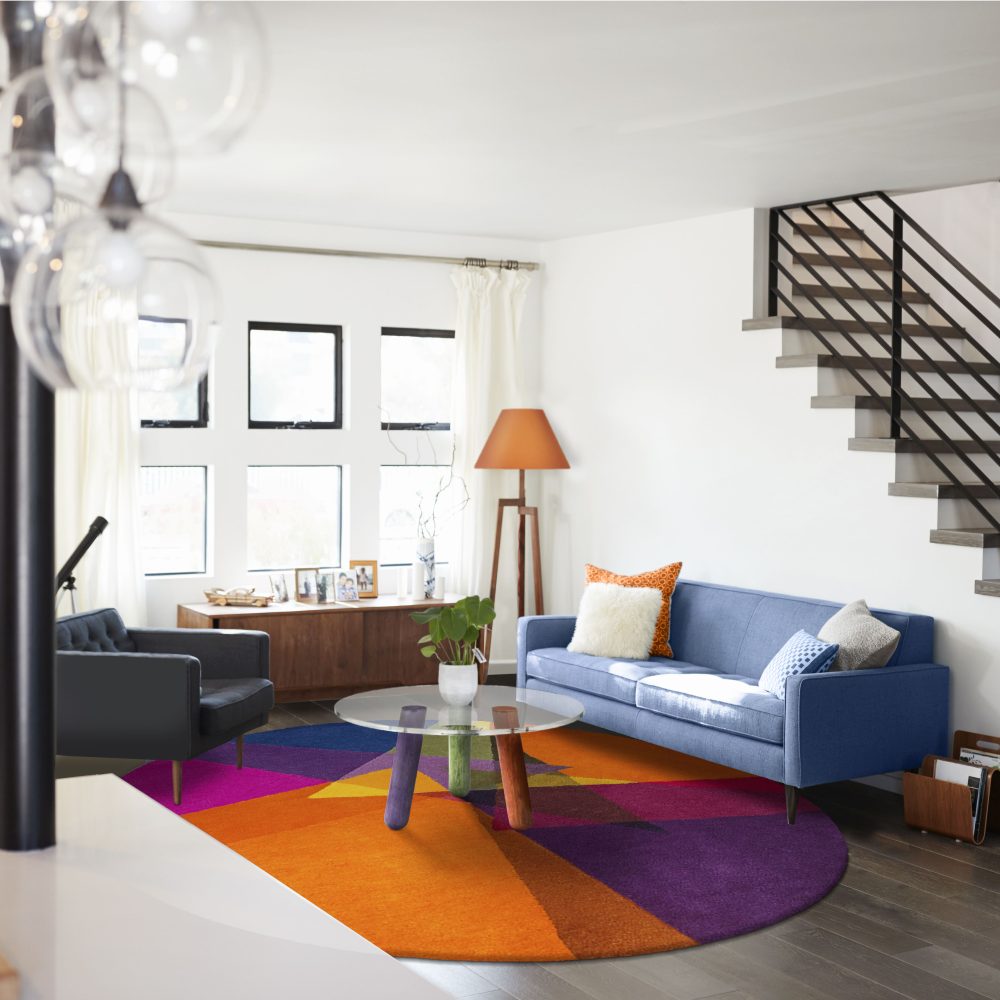 Why Not try an Oval Rug?
If you're not too keen on a round shape, our collection of Jellybean rugs provides the perfect alternative. If you're new to the art of interior design, these quirky oval rugs are a great way to introduce curves to your space. Whether you're looking for an earthier toned green circular rug or orange circular rug, or you're looking to add a pop of colour with a blue or red circular rug, our Jellybean Collection provides ample choice. The Jellybean Mango Rug and Jellybean Berry Rug both work great in social spaces, whereas our Jellybean Coconut Rug compliments more calming rooms such as a nursery or bedroom. These curved shaped rugs add an element of fun to every room – they're a great choice if you want to stand out from the crowd!
If you're looking for something even more unusual, yet still want to feel the effect of curved shapes, why not try our curved Tree Trunk (Wool and Silk) round rug? It's plethora of curved lines draws the eye directly to the centre of the rug, and consequently the centre of your living space. This is a great statement piece that is sure to impress your guests!
Whether you're looking for a large circular rug or a small circular rug to spruce up your interior, we're sure to have the perfect round rug for your home. Browse our collection of rounded area rugs here.