Often our customers enquire about using our rugs as wall hangings. Instead of selecting a painting or a print for your wall art, choosing a contemporary rug for your wall can truly elevate your room to a unique and transformative level.
Hanging textile art is nothing new, it has been done for centuries and is one of the oldest art forms. A famous example being the Bayeux Tapestry, one of the world's most famous pieces of medieval art made in the 11th century.
Tapestry wall hangings have been displayed in some of the most important homes throughout Europe for centuries. Using modern tufted rugs and knotted area rugs as art has a lot of benefits and these are considered modern tapestries. Let's talk through some of the benefits of hanging rugs as art and how exactly to hang your rug as a piece of textile wall art.
The Benefits of Using Rugs as Wall Hangings
Create Impact with Wall Hangings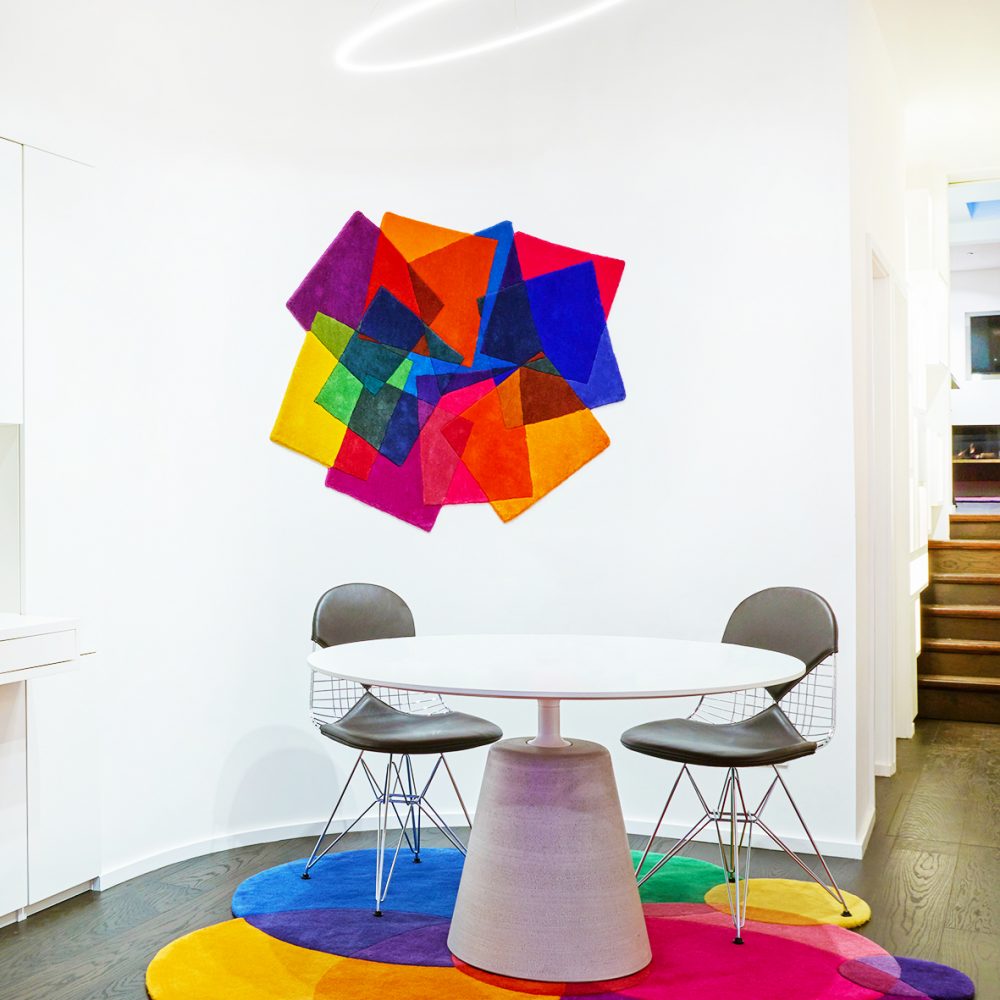 Modern rugs are a fantastic way to upgrade your interior, whether you choose to use it on the floor or as contemporary art. Hanging rugs as wall art is a fantastic way to inject colour, texture and fibre into your room and gives your space a modern, sophisticated feeling.
Unlike paintings or prints, the texture and tactility of rugs is just as important as the colour and shape. Hanging a piece of tactile art fills your wall with softness, warmth and colour. It is an excellent way of creating a full, interesting and beautiful space – we think the bolder the rug, the better!
Wall Rugs Add Cosiness and Hygge to Your Interior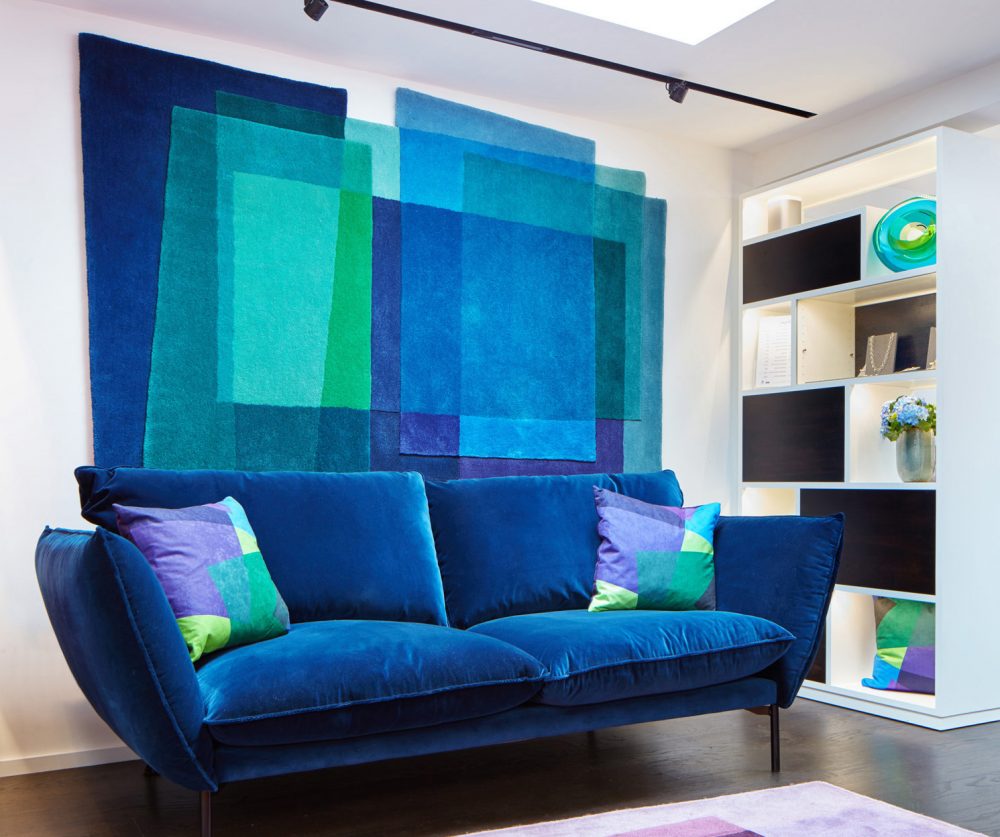 Modern homes often use less fabric and soft materials than traditional and transitional home design. Sleeker surfaces and materials can look beautiful and contemporary, but they can often feel cold and sterile. Adding textile art is a brilliant way of bringing cosiness and warmth to your room. Wall rugs are perfect for this as they are soft, warm, cosy and stand out on an otherwise plain wall.
Improve Acoustics with a Rug Wall Hanging
It's common for modern homes to have issues with acoustics like echoes, travelling sound and background noise. Wool is one of the best materials for absorbing sound so a contemporary thick pile wool rug is a great solution to easily improve your interior's acoustics and they can supplement the effect of acoustic panels. Why not solve a practical issue with something beautiful and decorative like a wool rug wall hanging? Read more on this here.
Cost-Effective Contemporary Art
A contemporary designer rug is an investment piece for your home, but when we consider rugs as art it is evident that they can be a more cost-effective option than buying a contemporary painting or print.
Depending on the size of the wall space you have, you can opt for smaller sized rugs, or to really make a statement in a big space you can invest in a large, impactful rug as wall hanging decor.
Why our Wall Rugs are Special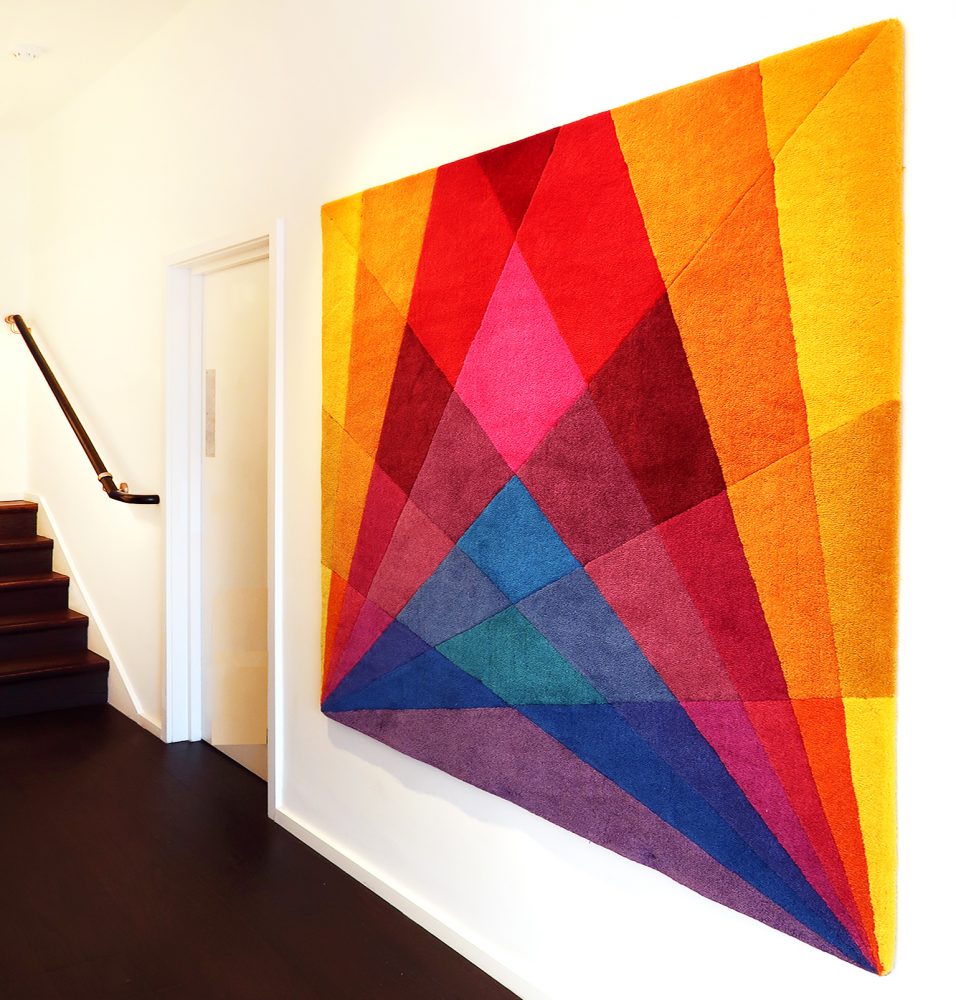 Our contemporary rugs have an enormous impact because of their colour, shape and sculptural quality which makes them interesting and distinctive. We consider our rugs as both practical interior products and as works of contemporary art and they work just as well as wall hangings as they do on the floor.
Our hand tufted wool rugs have a particularly thick pile and many designs have a variety of tuft height which gives them a sculptural quality. Our uniquely specified New Zealand wool yarn is twisted in a particular way to ensure our colours are extremely vibrant.
Our clients choose our modern rugs to express their colourful personalities. They are graphic, vibrant and highly original designs but they also provide an effective way of filling an empty wall with many additional benefits compared to a painting!
How to Hang Your Rug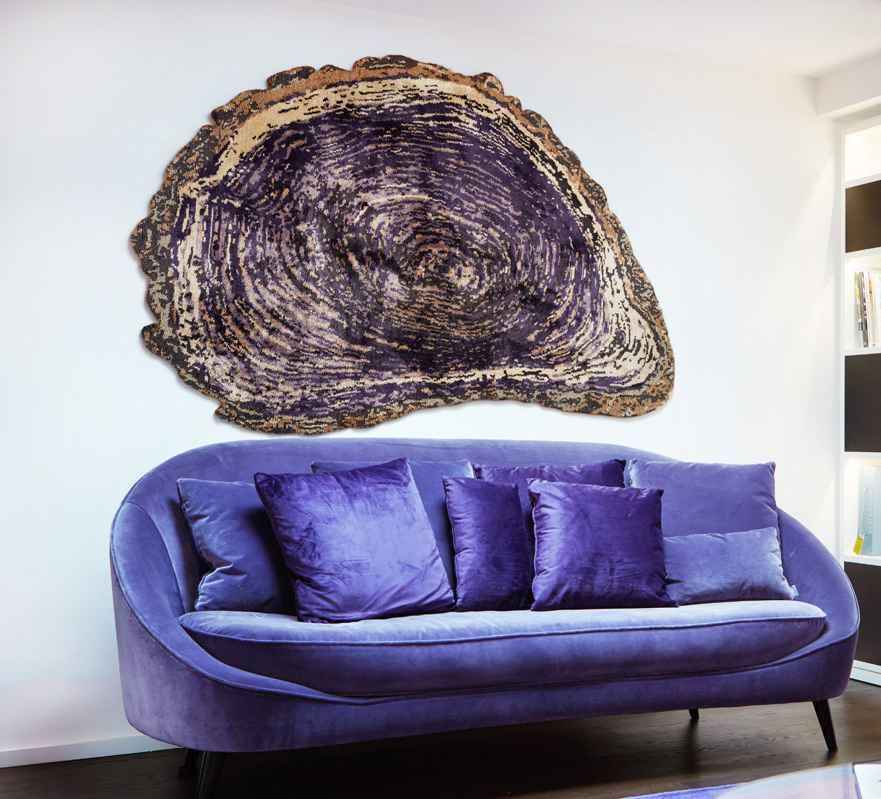 Hanging a rug as a wall hanging sounds tricky, however it's actually far simpler than you may think. See our simple instructions here.
In these uncertain times we are living in, there has never been a greater need to find inspiration and comfort from the colours and textures of Art and Art-inspired interiors. Hanging Sonya Winner contemporary designer rugs on your wall brings Modern Art into your home and is guaranteed to inspire you every single day. See how our customer use our rugs in their homes.