The minimalist trend that gained strength over the last years seems to be coming to an end! Most interior design lovers are celebrating colour, shapes, textures and their memories of meaningful special moments!
From 2018 the design press has started talking about bold steps towards electric interiors, and since then the Maximalism trend has been gaining momentum.
Maximalism in the 70s
Maximalism appeared in fashion in the 50s after the second world war. After a long period of sadness, reflected in the shapeless and colourless clothing designs, women wanted to uplift their mood by investing in exaggerated femininity. However, it took 20 years for this trend to gain strength in the interior design of homes around the world! During the 60s, people believed that Minimalism and clean designs reflected youthfulness and optimism for the future, often inspired by the minimalist space-age look of Andre Courrèges. However, in the 70s, as Neo-expressionism emerges (in response to the 60s sleek Minimalism), Maximalism emerges in interiors too!
Since then, Maximalism never really disappeared – it had its ups and downs and was even dormant for a while, but now it is back.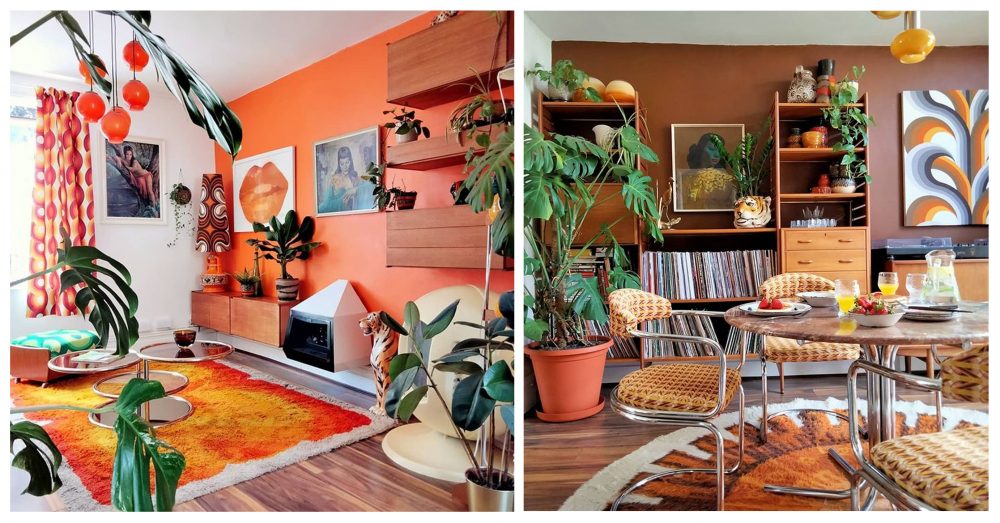 What exactly is Maximalism in Interior Design?
Maximalism in interior design is a mix of:
Layering
Patterns (i.e. florals, animal print, etc.)
Bold, vibrant colours
Unique statement pieces (i.e. colourful and unique rugs)
Mixing and matching of everything, including different styles  (i.e. modern and vintage)
A vast selection of unique items (i.e. books, frames, artworks, etc.)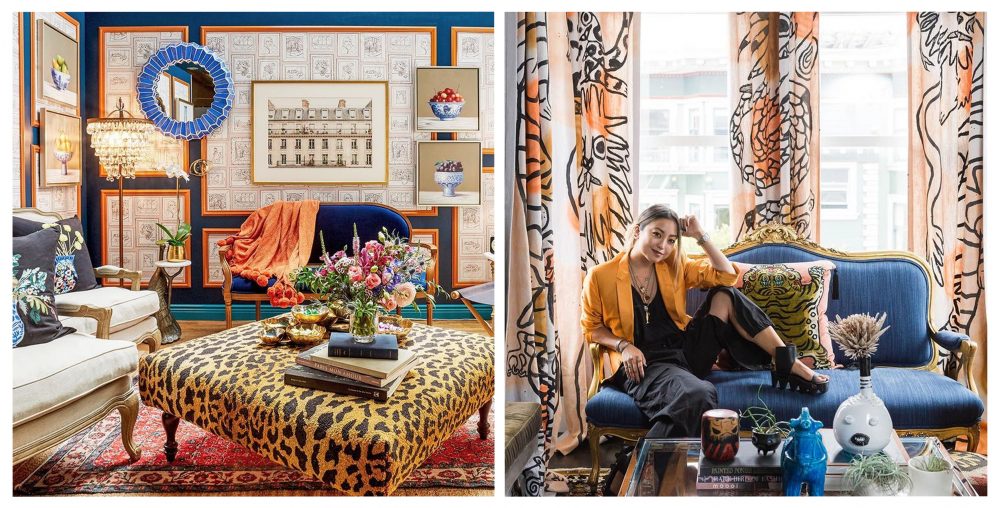 Maximalism in 2021
An influential social media post (224,00 likes, 32,000 retweets and 4,000 quote tweets) addresses how today we only want hardwood floors, a green velvet sofa and colourful rugs! This doesn't necessarily mean we are all choosing a green velvet sofa and a colourful rug but the reaction to this post shows clearly the move towards the colour and textures of maximalism.
In 2021 Maximalism has gradually found its way back in fashion, music and the visual arts, it is also evident in interior design and the interior design press! Influential contemporary designers such as Noz Nozawa, Jaime Hayon, Luke Edward Hall, Roman and Williams and Sonya Winner are helping to strengthen this trend by promoting an explosion of vibrant colours, contemporary and art-inspired pieces full of life and personality!
As the name suggests, Maximalism is the polar opposite of Minimalism. It is a direct reaction against the previous trend, and while Minimalism promotes "less is more", Maximalism says "more is more" and we are loving it! Adding vibrant colours to our homes is an easy way to uplift your mood! It is all about fun and celebrating life, memories, colour and happiness, especially after a long and tedious period in lockdown. All around the world are now celebrating and promoting happiness by adding vibrant contemporary rugs, mixing and matching different styles, shapes and textures into our homes!
Maximalism is a way of standing out, being our own unique selves and not following the crowd! So, how do we ensure our maximalist interior is as unique as ourselves?
The key to the right maximalist decoration is to add personality to our homes! We are talking about precious pictures of unique and cherished moments, prized collections of limited edition items, and eclectic furniture with fun and bold characteristics (full of stories that you may have collected over time), by selecting a rainbow of hues, textures, and styles.
One thing to be careful is that, while it embraces the idea of excess, Maximalism is not about accumulating things. The excess that Maximalism promotes is a curated selection of complementing pieces, mixed patterns, textures and colours all in the right amount. So, it is not about cluttering the environment, but rather about expressing yourself, your taste in music, movies, colours, etc by choosing your own eclectic choice of interiors pieces. Entering a maximalist room is like stepping inside of the decorator's personality!
It could be your grandfather's piano, your grandmother's vintage porcelain tableware, a teddy bear or a doll from your childhood. Mixing and matching these precious items from your life's story generates beauty in the dazzling gathering of unique tones and textures.
How to start?
Perhaps you have started to feel like you would also like to decorate your home in a Maximalist way or maybe you now realise you have already been doing this in a subconscious way!
Being afraid of overdoing it is a common fear that those who are starting their maximalist journey encounter. However, do not be scared! We want to share our top tips to create a maximalist interior:
1)  Start slowly and choose a base (i.e. base colour, base pattern etc.). Mixing contemporary rugs, wallpapers and adding photographs is often a great start. You want to add every item thoughtfully to curate a perfect maximalist room. This journey can be an enjoyable and satisfying experience as you will, along the way, discover what you really like rather than just decorating your home in a similar way to your friends and copying magazine spreads. This decorating process is an adventure inside your own mind to find your true self and express it by adding the right pieces to the space you are decorating.
While we could not travel in the past two years, it is entirely understandable why this trend gained more and more followers! It is a trip within ourselves that no lockdown restrictions could prevent!
2)  Do not feel intimidated. Enjoy your adventure, every piece of memory you will bring back from your early days or loved ones, and share your final results with us! We are looking forward to seeing your unique maximalist homes!
3)  There is no right or wrong – do what pleases your eye – don't worry about what other people think! Your home is an expression of you and what you like and who you are – plus you are the person who will be living with it and see it every day – so go with your gut instinct and what looks right to you!
We've created a Maximalism Inspiration board by curating a selection of our favourite rugs and other furnishing pieces that will inspire you! Check our Pinterest Board here.
Show us your Maximalist ideas, boards, or interiors by tagging us on social media (Twitter and Instagram: @sonyawinnerrugs) or send us an email at enquiry@sonyawinner.com